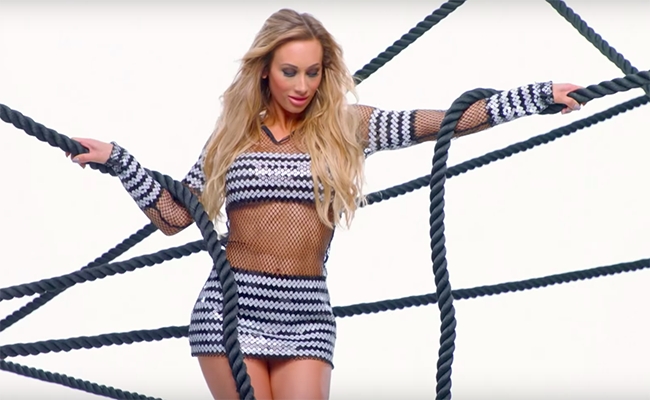 As she prepares to battle for the title of "two-time Miss Money in the Bank," Carmella just added a new out-of-ring accomplishment to her resume when she launched her new Capo Cagna wine brand at the Daytime Emmys. And while beer is probably the alcoholic beverage most associated with wrestling, Carmella's wine definitely fits the spirit of sports entertainment – all of its advertising tells the world that it is not for "snobs."
While the Bella Twins went in a rustic/classy/Italian vineyard direction for their Belle Radici brand and Cody Rhodes directly referenced he and his father's wrestling characters with his contributions to the Nocking Point wine club, Carmella's wine brand mixes #girlboss language with a reality TV/Instagram influencer aesthetic.
She told Cheddar that the name Capo Cagna, "in Italian loosely translates to 'boss bitch.'" When you click a link to the brand's website, a pop-up tells you that its material is adults-only and asks "Are at [sic] least 21 years of age?" to which you can answer "YAAAAS" or "No." Basically, this could not be more Carmella.
Carmella revealed that this business venture came about because she "wanted to do something new" rather than because she knew anything about the wine business. Because she's on the road 300 days a year, she likes "a glass of wine at the end of the night." It is very easy to empathize with this statement!
Could this have any effect on the outcome of the women's MITB ladder match? It's hard to say, but the brand's website says that "a Capo Cagna knows exactly what she is and you do too, by the trail of 'basic bItches' in her wake," which would not be the worst line for a wrestling promo, so I might put my money on Mella this year.