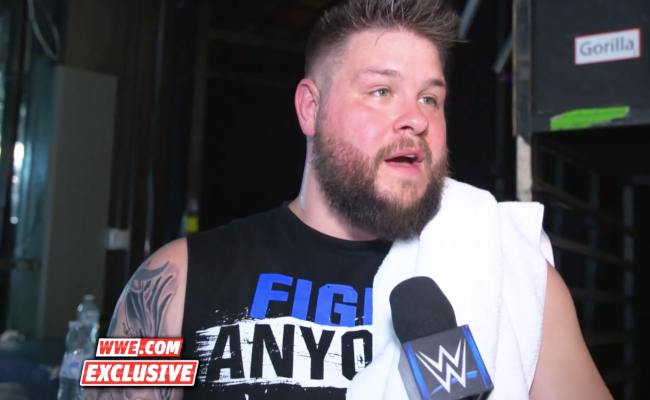 The WrestleMania 35 go-home shows have happened, both Raw and Smackdown, and we finally have a pretty good idea how the event will look. That also means we can see which Superstars appear to be left off the card. Some of those absences are pretty surprising, like Kevin Owens, and some of them aren't surprising at all, like the Colóns.
So with some help from the Wrestling Observer, here is a list of everyone on the WWE Main Roster not currently booked for a match or segment (including the battle royals) at WrestleMania 35:

Akam
Alexander Wolfe
Alicia Fox
Big E
Bray Wyatt
Dean Ambrose
Dolph Ziggler
Epico Colón
Eric Young
Kevin Owens
Killian Dane
Lacey Evans
Luke Harper
Mojo Rawley
Primo Colón
R-Truth
Rezar
Rowan
Sami Zayn
Xavier Woods
Obviously, not all of these are mysterious. Last we heard, Rezar was out injured, and WWE hasn't shown much interest in the Authors of Pain as singles wrestlers, so it's not weird for Akam not to be around in his absence. Sami Zayn is expected to return from his injury any time now, but obviously that hasn't happened yet. Dolph Ziggler is reportedly on a leave of absence to pursue his comedy career.
Then there are the guys on this list who we still expect to see on Sunday. Big E and Xavier Woods will be there supporting Kofi Kingston, while Rowan will definitely be in the corner of Kingston's opponent, WWE Champion Daniel Bryan. Kevin Owens will surely do something, considering he was in the main event of the previous PPV. Sanity has recently been acting as Shane McMahon's muscle (a role they're not suited for, but that's a separate topic), so they could show up in that capacity. And of course there's Dean Ambrose, who by all accounts is leaving WWE soon, and may show up to interact with his Shield brothers one last time.

Lacey Evans will almost certainly walk down the ramp to her music, and while we'll all expect her to turn around and walk back up, she might just swerve on us and get in the ring for the Women's Battle Royal instead. As for Alicia Fox, the only other woman not booked even for the Battle Royal, she hasn't appeared in WWE since Arn Anderson was reportedly fired for allowing her to wrestle while intoxicated, so I wouldn't particularly expect to see her here either, although she is scheduled to be at Axxess. R-Truth might come out with Carmella (who's in the Women's Battle Royal) for a dance break, and it seems like he's likely to be in the André as well.
Obviously anybody on this list could be given a role in a battle royal or some other segment, but that's the thing about WrestleMania, and honestly most things in life: We won't really know what's going to happen until it does.