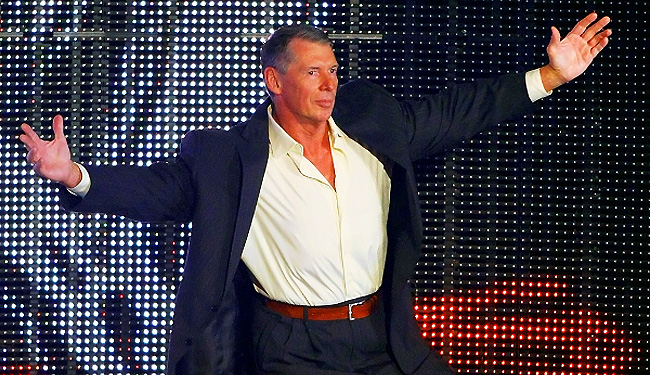 WWE has been adding some international names to their NXT and Performance Center rosters over the past year, and recently held a big European tryout in Glasgow. While they are of course attempting to fortify NXT with future call-ups in mind, and are preparing for events like their upcoming women's tournament, it appears they're willing to lock up European talent to not wrestle for them, as well.
In the latest issue of the Wrestling Observer Newsletter (subscription required), Dave Meltzer reports that a UK promotional war is brewing, and WWE is trying to ensure they get a leg up on the competition. WWE's programming in the UK currently airs on Sky Sports, which is a subscription/premium cable channel. Meanwhile, ITV — the No. 2 network in the UK — has taped a pilot for a revival of World of Sport, which was a program synonymous with British wrestling for 20 years, from 1965 until 1985.
While World of Sport has not been picked up, any wrestling airing on ITV will likely reach a much more massive audience than WWE pulls in in the UK from week to week. Since they don't want to lose a hold on their claim to the dominant wrestling company in the UK, Meltzer reports that WWE has begun offering very unorthodox contracts to a number of British wrestlers, in hopes they can keep talent away from ITV and World of Sport. ITV has sent out amendments to their wrestlers' contracts that don't allow them to appear on shows on major networks (although they are still allowed to work non-televised independent dates), and WWE is responding in kind.

WWE at the same time is starting to offer unique contracts to the key U.K. wrestlers who are marketable or have some name value that don't already have deals. The deals were described as different from anything they've done in the past. These are not main roster deals, nor developmental deals. Those in the U.K., and for that matter even some in WWE who are friends with talent that have been offered the deals, have termed then "competition-killer" deals. They are low dollar guarantees, the talent would stay in the U.K. and be allowed to continue to work indies, but now would have a small cushion. The key would be in locking the talent down to where they can't go to the ITV promotion, but would also not be allowed to appear for promotions like WCPW (a group that spends big money for foreign talent and does its own Internet weekly television show and iPPV shows), or with promotions that have streaming services. The contracts would give WWE the right to approve or not approve of their indie dates.
While he doesn't offer any specific names, Meltzer says WWE is casting a wide net with these deals, offering them both to "fairly well known" names, as well as complete unknowns. In addition, just about everyone that attended the Glasgow tryouts has been offered one of these deals, regardless of whether WWE was actually interested in signing them to contracts.
It appears these new contracts might become the source of some divisiveness among wrestlers, as the transparency of their nature is leading some to derisively refer to them as "mark deals" and encouraging others not to sign.
At the ICW show in Glasgow, the WWE contracts were major talk, and the peer group pressure was to not sign with people calling them "mark deals," with the idea that "They don't want you, they just don't want anyone else to have you."
The World of Sport vs. WWE battle will be a close one to monitor, and we'll have to see whether this ever leads to any further influx of