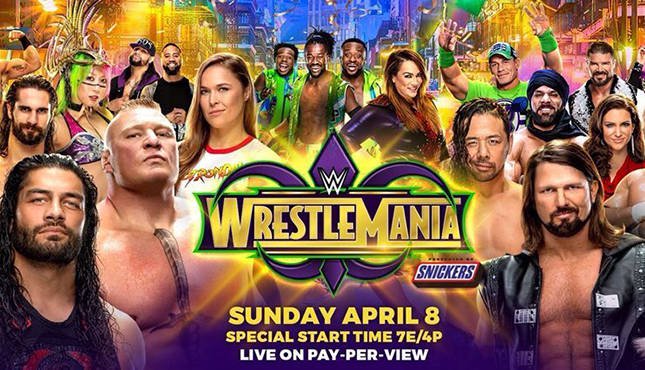 WWE WrestleMania 34 airs this Sunday, April 8, live on WWE Network and … pay-per-view, somewhere, probably? The Showcase of the Immortals™, Granddaddy of Them All® and Ultimate Thrill Ride™ heads back to New Orleans for a 7-hour, possibly 14-match card featuring Ronda Rousey's in-ring debut, Brock Lesnar's final match for a while (maybe), the return of Daniel Bryan and so much more we should just get to the card part. Here's the full card as we know it, with a bonus "John Cena?"
WWE WrestleMania 34 Card:
WrestleMania 34 card
1. WWE Universal Championship: Brock Lesnar (c) vs. Roman Reigns
2. WWE Championship: AJ Styles (c) vs. Shinsuke Nakamura
3. Smackdown Women's Championship: Charlotte Flair (c) vs. Asuka
4. Raw Women's Championship: Alexa Bliss (c) vs. Nia Jax
5. Ronda Rousey and Kurt Angle vs. Stephanie McMahon and Triple H
6. Intercontinental Championship Triple Threat Match: The Miz (c) vs. Seth Rollins vs. Finn Bálor
7. United States Championship Fatal 4-Way Match: Randy Orton (c) vs. Bobby Roode vs. Jinder Mahal vs. Rusev
8. Smackdown Tag Team Championship Triple Threat Match: The Usos (c) vs. The New Day vs. The Bludgeon Brothers
9. Raw Tag Team Championship Match: The Bar vs. Braun Strowman and TBD
10. Daniel Bryan and Shane McMahon vs. Kevin Owens and Sami Zayn
11. Kickoff Cruiserweight Championship Match: Cedric Alexander vs. Mustafa Ali
12. Kickoff Match: WrestleMania Women's Battle Royal
13. Kickoff Match: Andre The Giant Memorial Battle Royal

BONUS: Whatever John Cena does with his "fan" experience.
We'll be here on Sunday with an open discussion thread, results and more. Until then, scroll down and check out our full rundown of the event card, featuring analysis and predictions for all 13+ announced matches. Be sure to drop a comment in our comments section to let us know who you think will win, as well.
And now, Additional Nickname For WrestleMania™, brought to you by Snickers®.
Bonus Prediction: What's John Cena Doing, And Does It Involve The Undertaker?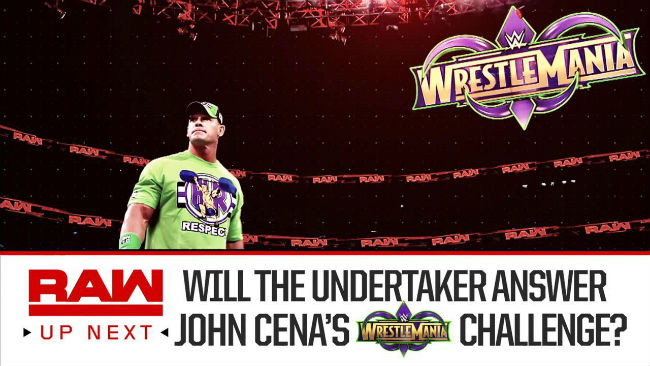 John Cena vs. The Undertaker was never confirmed, Undertaker never showed up to answer Cena's challenge, and nothing's been announced. But Cena wouldn't spend a month-plus on two different shows challenging the guy if nothing was going to happen, would he? We can't believe they'd make a major WrestleMania angle out of, "no answer and everyone's disappointed." Cena's supposedly going to WrestleMania 34 "as a fan," so we wonder: what the hell are they gonna do?
My guess is that (maybe) Undertaker's not physically ready to go again yet, but maybe he'll be later this year. So they have Cena get in the ring to do the crowd attendance announcement or something, the lights go out, and when they come back on, Undertaker's in the ring. Taker lays out Cena on the grandest stage without actually accepting his challenge for a match, and maybe they drag something out to SummerSlam. That way, last year was really the Undertaker's final WrestleMania match, which is important, but it doesn't have to be his last match period.
Alternate plan: Samoa Joe jumps Cena and completely wrecks him while we all cheer.
Staff Picks:
Emily Pratt – The Undertaker's music hits and John Cena stands from his seat in the front row, eyes brimming with happy tears. Then Michelle McCool comes out and hands him a restraining order on her husband. And then fights Nikki Bella in the stands.
Robby Cole – The Undertaker never shows up and John Cena just sits quietly and enjoys the show.
Chris Trew – I know the segments have been goofy and sort of illogical but I'm pro us seeing something we haven't seen before. Everyone was SURE Undertaker was coming out this past week and it was LOL city when he didn't. I hope the match is as iconic as that moment. Undertaker with the win, then John Cena leaves his wristbands, hand towel, and jean shorts in the ring and walks out.
Bill Hanstock – I think the biggest question in this one is how, exactly, it's going to go down. I feel like John Cena will be actually sitting in the front row for at least a portion of the event, but I hope it's not too much so as not to pull focus (and to allow me to believe that Cena big-timed the card after talking it up on Monday). He'll likely get in the ring (just like a fan) to call Taker out one more time, and then game on. It's been the weirdest build of all time, maybe, and I don't know why they have been trying to get people to boo the Undertaker, but if there's a match, Undertaker wins. He just does. And that's that!
Robby Kalland – Taker? I don't know, he should've stopped wrestling after losing to Brock and just let it be, but I feel like the only way he comes back is to retire with a win and then Cena takes a leave of absence of his own to go shoot another movie or something. My real hope is that Cena sits in the front row the whole time and Taker never shows up.
Scott Heisel – American Badass or GTFO. There is literally zero reason for Taker to return as the Deadman, as that character had the perfect send-off last year (substandard match aside—but let's be real, Taker hasn't had a good Mania match since 29 against CM Punk). To unretire that character would reek of desperation, and would reveal more about Mark Calway the person than anything else. So why the hell not climb back on top of a motorcycle, let Kid Rock play you to the ring and wave an American flag around before pounding the snot out of Cena and sending him off to Hollywood permanently? Oh god, what if this is actually Cena's retirement match, and Taker sticks around for another 5-10 WrestleManias? The darkest timeline, indeed.
UPROXX Sports Editor Martin Rickman – No contest. This is an elaborate marketing campaign for the hit new comedy Blockers, in theaters everywhere on April 6.
Brian James O'Connell – Is this the on the pre-show, a Youtube Exclusive, the WWE Twitch feed or is Vince bringing back Tout for one last go-around and just slathering it in XFL adverts? We have a great time here at UPROXX, poking fun at Sad Cena in the front row and Undertaker needing a van with the hydraulic lift, but If I Can Get Serious For A Moment, what are we doing? There are THIRTEEN matches on this card. We are two years removed from one of the longest, dullest WrestleMania cards I have ever seen in my life. Why is this here? We don't need this. No one who refrained from buying the Network at this point is going to do it because of Taker/Cena. Jesus Christ, Bill Watts took more time off between Stampedes than Taker has from his "Last Match" to this one. I'm exhausted just thinking of this match. Taker wins, I guess?
Kickoff Match: Andre The Giant Memorial Battle Royal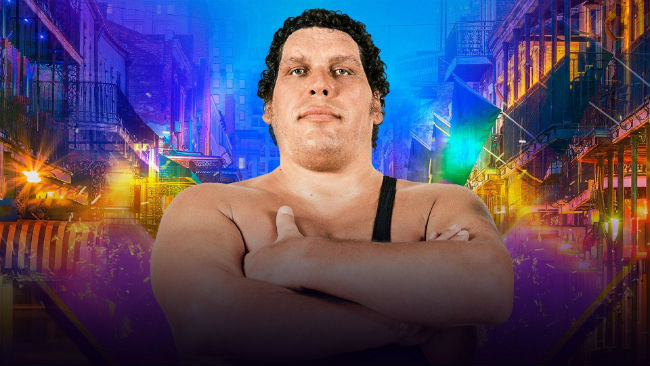 What Should Happen: The Andre the Giant Memorial Battle Royal trophy needs more "giants" on it to really sell the concept, and all the important giants (Braun Strowman) are busy. That leaves either a returning Big Show, who I assume's gonna be Brock's partner, or Kane, which would be cold boogers on a paper plate. If we're saying what should happen, Hall of Fame inductee Mark Henry should get a spot in the match as his retirement match and win it all, getting WWE's strongest man's name on the trophy that celebrates its biggest.
What Will Happen: On our WrestleMania preview podcast, God spoke to me and told me Apollo. Note: God may have been a bad burrito I ate for lunch. Last year's winner was random as hell, and if we're doing this on the pre-show in front of 20% of the crowd, why not give it to a guy who desperately needs something to brag about? Apollo or Titus.
Staff Picks:
Emily Pratt – Give me the Fashion Police as the final two or give me the instinct to order pizza at the exact right time so that it will get delivered right after the Fashion Police get eliminated. Serious version: a surprisingly returning Samoa Joe, Dean Ambrose, or Jeff Hardy would be strong and I don't think too fantastical choice here.
Robby Cole – Dolph Ziggler. I mean, sure? Who cares. Let Dolph win and vacate the trophy.
Chris Trew – I am still Team This Means Something despite my better judgement. So therefore I'm going with "The Field." The Field is a faction of people that come to the ring from the audience and wear bright green riot gear okay but seriously I'm taking "The Field" as in someone who is not currently announced is winning this thing. Like the new North American champion EC3.
Bill Hanstock – Fun fact: as of me writing this prediction, Elias is the odds-on favorite to win this match, so that's neat! It would be great if the Revival won it, but they'll likely get tossed at the same time within the first second. I really have absolutely no idea who's going to win this thing, but I'm going to go out on a limb and say the returning Samoa Joe wins it, and it's awesome, and he uses the Dre victory as a means to insert himself into the Universal title picture ASAP.
Robby Kalland – Baron Corbin becomes the first two-time 'Dre champ because WWE is all about pretending that the first time something happens it's super special no matter what it is, just like they've pretended the 'Dre matters when it never has.
Elle Collins – This is a hard one to predict, but I'm guessing Dolph Ziggler. I don't want him to win (I never do), but experience tells me that sometimes he wins anyway.
Scott Heisel – This year's Andre doesn't deserve to be any higher on the card than the pre-show, given its current star power (or lack thereof). The biggest announced name thus far? Dolph Ziggler. The rest of the currently announced field is littered with tag teams, enhancement talent and two previous Andre winners, which shows you just how much this thing actually does for your career. That said, I'm betting a surprise entrant wins the whole thing, and I'm betting said surprise entrant is Samoa Joe, because goddamn, do we need Joe back on our TV sets pronto.
Martin Rickman – Early returns have this as the match that will lead to the most memes, kickoff or not. I reserve the right to delete my pick pending surprise entrants, but I'm going with Matt Hardy here. I fully expect Goldust to do something completely ridiculous though.
Raj Prashad – As much as I'd love to watch Matt Hardy stare longingly into Andre the Giant's golden eyes again, Elias makes sense here as one of the few mid-card guys without a premier match.
Brian James O'Connell – If Elias isn't going to be Braun's Surprise Partner in the Tag Team match, he goes over here. That's what they do, but fear not my friends! Unlike previous Andre winners, the Drifter has already gotten over himself and the push he would receive here is one of those rare times that WWE's thinking and the WWE Universe (TM) thinking lines up. Unlike Baron or Mojo, Elias has all the tools to answer the inevitable question, "We gave you the big trophy. Now what do you want to do?" I particularly like the idea of an opportunistic heel winning a battle royal. If it is not Elias, then Curtis Axel runs in at the last second, claims he still technically never got eliminated and then he and Truth just stand their looking confused at each other while the production truck do their best Super Deluxe impression. "My bad"'s all around and they both roll out under the bottom rope to set up next year's Andre Memorial at next year's Mania.
Kickoff Match: WrestleMania Women's Battle Royal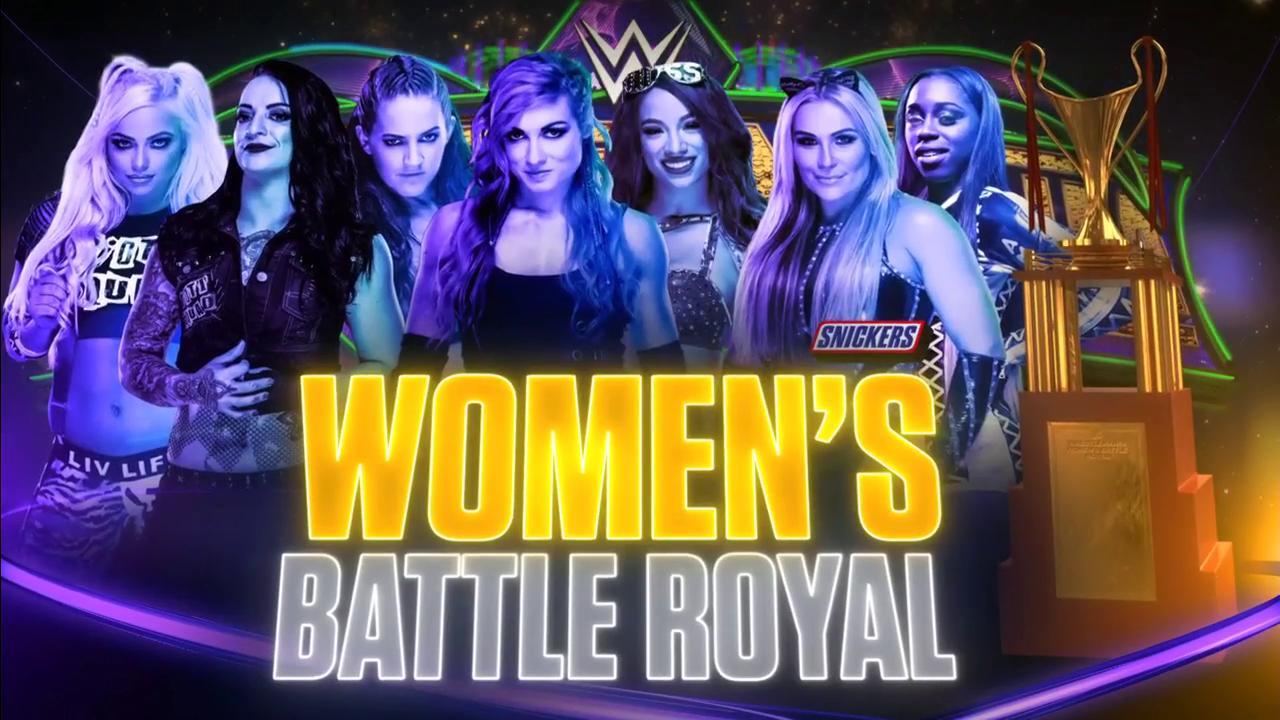 What Should Happen: They rename it the Mountain Fiji Memorial Battle Royal and let Ivory win it. Or Betty Gilpin's Liberty Belle character from Glow.
What Will Happen: Sasha wins, because this is one of the first "making history" matches she's in that doesn't include Charlotte, Asuka, or someone else as the current Women's Champion. I could see them doing the "Bayley eliminates Sasha, Sasha comes back in and eliminates Bayley" angle or vice versa, but if they put those two in a pre-show battle royal instead of giving them a one-on-one showcase match on the main card, they better give them something. It'll probably be Becky, which is also fine.
Staff Picks:
Emily Pratt – The biggest question isn't who will win, it's what will happen if the Riott Squad are the last three in the ring, am I right? No? I'm not? Then maybe an NXT call up. Ember Moon and Baron Corbin both have those Secretly A Werewolf vibes, so that could give her the power to win the Meaningless WrestleMania Battle Royal (Lady Version) in her debut.
Robby Cole – The main story during the match will be Sasha Banks and Bayley's deal. I think Bayley eliminates Sasha, but Sasha quickly thereafter causes Bayley to get thrown over the ropes as well. Becky Lynch wins and uses the momentum to challenge for the Smackdown Women's Championship after Asuka and Charlotte finish up their feud.
Chris Trew – I would give anything to have Bayley and Sasha be the first two eliminated. Then Mickie James pulls off the win, giving her something to gloat about the next night while Alexa deals with her loss, leading to a Bliss/James program.
Bill Hanstock – The main thing here is that this is going to come down to Sasha Banks and Bayley as the final two (maybe with Becky Lynch added in), and they'll get enough of a handful of minutes that we can pretend like this is a WrestleMania blowoff match. Banks finally turns evil for good and makes ~history~ by being the winner.
Robby Kalland – Bayley takes Sasha out as the final two in the ring after Absolution and the Riott Squad have a Timecop scenario where they run into each other only to realize the same matter can't occupy the same space and melt to the floor.
Elle Collins – I'm going with Becky Lynch, because she needs something right now, and she's over enough that they might give it to her. Either that or it's Bayley or Sasha to build up their feud, but I think the more likely story is that they're each responsible for the other's elimination. I'm looking forward to this match, but honestly the thing I'm most rooting for is the main roster debut of the Iconic Duo.
Scott Heisel – I'd love to see this play out like the 2007 Royal Rumble, where Shawn Michaels and the Undertaker cleared the ring and had a 15-minute singles match inside the Royal Rumble match. Let Bayley and Sasha clean house of your Riott Squads and Absolutions (and whoever gets pulled up from NXT for a one-shot), then turn them loose for a solid quarter-hour in front of a nearly packed house (as this will invariably be the final pre-show match). As for who wins, I'm split: Sasha had the iron woman spot in the Rumble this year, eliminating Bayley in the process, so giving her the trophy would make her the early threat for next year's Rumble. But I think Bayley will come out on top, leading to the lengthy singles program we've all been waiting for.
Martin Rickman – Just a hunch, Bayley is going to sneak a win out here.
Raj Prashad – Taking Ms. Money in the Bank, Carmella to win.
Brian James O'Connell – Isn't it weird that this Bayley/Sasha story we're telling here would be more compelling if we were at least doing the bare minimum "Tag Team Champions Who Break Up" angle? I mean, WWE just loves doing the same story lines anyway. I don't know why they just don't fire up the Network, write down the Top 20 Most Successful story lines from the last 30 years and just re-tell them in the women's division? It's literally the thing Hollywood does in every single other movie pitch out here i.e. "It's a female (Fill In Name of Movie from The 80's)!"). Here's one for free: Nia Jax and Nikki Cross re-do The Rock & Sock Connection. There. You're welcome. I suppose Sasha wins this one.
Kickoff Cruiserweight Championship Match: Cedric Alexander vs. Mustafa Ali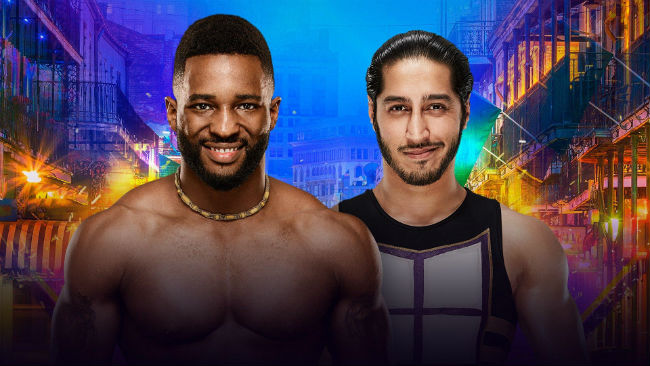 What Should Happen: Like everyone else is going to say, this should be on the main card. And whoever wins should get jumped by Neville when it's over.
What Will Happen: Both of these guys deserve love, so the winner doesn't really matter. Cedric's the easier choice since he was positioned as a championship challenger before everything went to hell, and Ali is the slightly better choice because he's the most underrated guy in the entire company and should be a huge deal. I'm picking Ced, but my heart's rooting for Ali.
Staff Picks:
Emily Pratt – DON'T MAKE ME CHOOSE. Both of these guys deserve it, but Cedric will win. He's been so close to becoming champion for so long now. But Mustafa is definitely a future Cruiserweight Champ as well.
Robby Cole – I'm personally very dissapointed that this didn't make the main card, but whatever. I think this has the potential to be the match of the night. Mustafa takes a beating from Cedric but still keeps managing to kick out, leading to a frustrated Cedric to start taking bigger risks until he's eventually caught. 054 from Ali and we have a new Cruiserweight champion.
Chris Trew – Cedric Alexander (winner, new champion) and Mustafa Ali have such a good match they decide to run it again on the main card where it deserves to be.
Bill Hanstock – The great thing about this match is there's no wrong winner. I think Mustafa Ali SHOULD win, but I think Cedric Alexander WILL win. And then we'll get months and months of awesome stuff on the new and improved 205 Live: Now With A Champion!
Robby Kalland – Cedric Alexander wins in what will be the fourth or fifth best match on the card.
Elle Collins – These guys are both great, and I'd be fine with either of them being Cruiserweight Champion. That said, I'm actually rooting for Cedric, because we're from the same part of the country, and that's how wrestling works sometimes. As for an actual prediction, I guess I'll say Mustafa, but that may only be because I don't trust WWE to give me exactly what I want.
Scott Heisel – When was the last time WrestleMania had three separate face-vs-face title matches on the card? Literally never? Kinda wild to think about. Anyway, here's to hoping Cedric and Mustafa get as much time as Neville and Austin Aries got last year on the pre-show. Both men are deserving champions, but I'm gonna pick Mustafa Ali, because I saw him wrestle once in a VFW hall in LaSalle, Illinois (on a card that also featured Johnny Gargano, Tommaso Ciampa and, most importantly, Supercop Dick Justice) and he rules.
Martin Rickman – Ali has a good story and I'm extremely here for the 054 splash at WrestleMania, even if it's an opener match.
Raj Prashad – Sleeper for match of the weekend here. These guys are some of the best workers in the company, but Cedric Alexander should win his first title in WWE here.
Brian James O'Connell – Honestly, with how much terrible news has come out of this division and how poorly it has been handled since the inaugural CWC, I'm just thrilled to watch a great match between two people I like try to burn down the house. This is the first legitimate candidate for show stealer and it's not even on the main card! Cedric is the star and if you want to bring up guys like Gargano, Ciampo and King Ricochet and finally make this division mean a damn, put Cedric over here. Then give it to KENTA next and let the man do what he does. He's overcome so much. He has earned it.
Daniel Bryan and Shane McMahon vs. Kevin Owens and Sami Zayn
What Should Happen: Shane McMahon should sub in someone who isn't Shane McMahon to wrestle in his place. Anybody. I'd rather see Curt Hawkins in a baseball jersey than Shane McMahon wrestling with a debilitating illness on WrestleMania.
What Will Happen: I'm calling the Dustin Rhodes/Arn Anderson turn here. Daniel Bryan has to work the entire match and take all the heat. Just gets his ass kicked for 20 minutes with intermittent comebacks. He FINALLY tags out to Shane, Shane hops in and does his little dance, then immediately DDTs Daniel Bryan. Kevin and Sami win, they get their jobs back, and a McMahon never, ever changes his stripes. The next Smackdown begins with Bryan kicking Shane so hard Shane's shirt turns purple.
Staff Picks:
Emily Pratt – There are so many possibilities here, but I'd say Daniel and Shane win, but split up in the process. Hopefully via Shane finally revealing the heel he's secretly been for the past several months. Kevin Owens and Sami Zayn get drafted to Raw because either Steph vs. Shane reasons, HHH protecting his NXT babies and also hating Shane reasons, or Kurt being an incompetent GM who doesn't realize you shouldn't hire people who try to kill their bosses.
Robby Cole – As with Ronda, there is no way they aren't going to give Daniel Bryan the victory in his first match back, right? If this doesn't end with a triumphant Daniel Bryan leading a Yes! chant in the middle of the ring then I don't know anything about wrestling. Expect some miscommunication between Sami and Kevin, and a lot of punches from the best pure striker in WWE Shane McMahon.
Chris Trew – If anyone on this website correctly calls this match I'm Venmo'ing them whatever is left in my account. It's so hard to call, there's so many ways for it to go, so many things to root for. My final answer, however, is Owens/Zayn get the pin on Shane and then Bryan beats the hell out of Shane McMahon for a semi-heel turn that nobody will treat like a heel turn at all.
Bill Hanstock – The stipulation that Owens and Zayn get their jobs back if they win is kind of a tell. So let's pay off the months and months of interminable general manager intrigue by revealing that Shane McMahon was in league with Owens and Zayn this whole time, and waited until Bryan was cleared to return to actually make his life a living hell, because they hate everyone. McMahon tags in at the end, low blows Bryan, and Owens gets the pin. And then we strap Shane into a rocket and fire it into space. He'll be happier there anyway.
Robby Kalland – KO and Sami win after Bryan turns on Shane. Hopefully we get some fun, vintage Bryan in his real return to the ring.
Elle Collins – I know people are aghast at the idea of Daniel Bryan losing in his first match back, but let's not pretend he wasn't losing all the time while everyone was falling in love with him in the first place. Also, that's why Shane is there, to eat the pin. That way KO and Sami get to stay on Smackdown and each have solo matches with Bryan down the road, which will rule.
Scott Heisel – I don't get the people who are predicting a heel turn for Daniel or Shane here. Why would either guy align with Sami and Kevin at this point? And how in the hell could you possibly flip DBry heel given his sudden clearance and comeback? If Bryan turns on Shane, the Superdome is going to cheer regardless. If Shane turns on Bryan – why?? There's literally no plausible explanation. The easiest answer is Bryan taps out Sami Zayn while Shane is baby-punching KO in the corner or something, and Sami and KO head off to Raw — or, hell, maybe even NXT to really shake things up.
Martin Rickman – You don't bring back Bryan, let him get his butt kicked on TV, put him with Shane, and have him at Mania if you're not going to have him win. I just don't see any other outcome here. He (and we) have waited way too long to lose a match to KO and Sami.
Raj Prashad – This is another tricky one that should be relatively simple. Daniel Bryan is getting the spotlight unless he turns on Shane-O-Mac and helps his old buddies stay employed. Going the safe route again, with D-Bry and Shane getting their revenge and sending Kevin Owens and Sami Zayn to Smackdown.
Brian James O'Connell – What is a shoot anymore? What is a work? I don't know what is truly going on with Shane here but if he is truly injured, Jesus, let this family man stay home and rest up. Turn it into a triple threat and keep the stips OR let Authority Figure Daniel Bryan pick his own partner and put over a guy the office likes with the single most significant rub in the last 20 years. You just got a star back in Bryan. Let him make a star for you in one night. Bryan wins this, Owens/Zayn moves to Raw and they play their greatest hits in the tag division until we break them up again just in time for Ladder Wa…I mean, Money in The Bank.
Raw Tag Team Championship Match: The Bar vs. Braun Strowman and TBD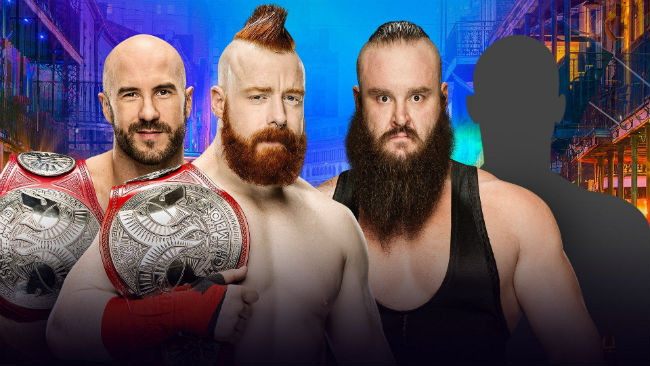 What Should Happen: As long as it's not Hulk Hogan, I'm good. Braun's partner could be a cardboard cut-out of Roman Reigns he bought at FYE on clearance and I'd be like, "well, at least it wasn't Hulk Hogan." Bonus points if Braun destroys the ring with his bare hands like The Giant did on that one episode of Thunder.
What Will Happen: Speaking of The Giant, Braun's partner will be the slightly underwhelming but totally logical Big Show, since they hossed each other to death and presumably became Brothers In Hands. Plus, who better to team with Strowman than a guy who literally forces opponents to get his hand? New Tag Team Champions, no matter what. Total lock, unless Strowman's partner is New Bray Wyatt and they end up fighting each other.
Staff Picks:
Emily Pratt – It's hard to think of a good tag team partner for Braun because I feel like he's probably alienated most of the locker room through attempted murder at this point. It seems like the slot should go to either a jobber or a surprise return. The ideal combination of both would be James Ellsworth, but I think someone like Big Show or Big Cass is way more likely. But then again, I feel like we're headed for the image of Braun with both tag titles, so maybe it'll be a one-off Rey Mysterio or something like that. Whoever his partner is, I'd say Braun will win, although I'd like to see him lose and then feud with Roman for the Universal Championship.
Robby Cole – I haven't read anything online so I don't know if it is already proven for this to be impossible, but I'm predicting/hoping that James Ellsworth returns to be Braun's partner. It all comes full circle. I think regardless of how they handle the partner thing, Braun is still walking out with the tag team titles.
Chris Trew – Braun Strowman and James Ellsworth win the titles and since Braun is also leaving WrestleMania with the Universal title (you'll see) he chooses to vacate his half of the tag titles the next night on Raw. James Ellsworth holds auditions to be his tag team partner which ends up being Curt Hawkins who ends up eating the pin for the debuting Authors of Pain the very same night.
Bill Hanstock – My top picks for Strowman's partner are Samoa Joe (if he's not winning the Dre), Lars Sullivan, or Keith Lee. But the most likely partner is the Big Show, who is BACK, BABY! We really have no idea who it's going to be, but we DO know that Braun Strowman will be the tag team champions after WrestleMania. And then maybe Cesaro and Sheamus get to do fun singles stuff for a while after being great as a team! Probably not, though.
Robby Kalland – Braun and Brains get the win here. My actual prediction is they pair him with Big Cass in a surprise return to work Cass back into the fold in a post-Enzo world, eventually leading to those two breaking up fairly quickly and going off on their own feud.
Elle Collins – This is a tough one because we still don't know who Braun's partner is. If it's somebody who could be a legit tag team with Braun at least for a while, I think they win. If it's somebody who's just around for Mania or if it's Braun by himself, I think the Bar retain.
Scott Heisel – If TBD isn't James Ellsworth, what are we even doing here? Give Braun the gold, give Cesaro a long overdue singles run, and give Sheamus some time off to heal up.
Martin Rickman – I'm gussing this is going to be my favorite match of the night, whether Braun is partnered up with Lil Wayne or Anthony Davis or an actual realistic partner who makes slightly more sense than either of those two suggestions. Braun's taking down The Bar, and the arena, and everyone who gets in his way. Bonus points if Braun commits to the Brains bit and wears those nerd glasses in the ring.
Raj Prashad – Braun and Brains are winning the belts and no one will convince me otherwise. Unless Curt Hawkins is Strowman's partner and he gets pinned in 3 seconds.
Brian James O'Connell – It's Elias as Surprise Tag Partner and he takes the loss because neither he nor Braun needs the straps right now OR Braun does it himself and Sheamus gets the surgery we're all worried about (Cesaro goes into the Intercontinental picture). My dark horse here is that this is a perfect time to do a surprise return of Big Cass and/or Dean Ambrose and get them immediately back to where they were (give or take) in the card. Personally, the idea of Braun as Spike and Dean as Chester gives me a LOT of joy.
Smackdown Tag Team Championship Triple Threat Match: The Usos (c) vs. The New Day vs. The Bludgeon Brothers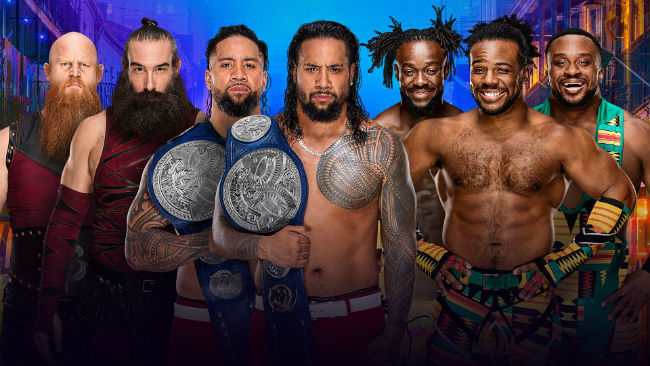 What Should Happen: The Bludgies should get lost on the way to the arena, and New Day and the Usos should get the 25-minute WrestleMania tag team masterpiece they earned.
What Will Happen: I think New Day's taking it here. They hosted the show last year and didn't have a match, so I'm thinking this'll be the make-good. I'm also totally fine with the Usos retaining, and one of those two teams getting shuffled to Raw in the next Superstar Shake-Up™.
Staff Picks:
Emily Pratt – I have no idea what's going on with either tag division right now because it looks like they're about to be Super Star Shaken Up! I'd give this to The New Day here, especially since they hosted last year. This match should be next level great, so I don't really care who wins. As long as it's not the Bludgeon Brothers.
Robby Cole – I won't lie. I haven't really been following the SmackDown tag division. I'm just going with the New Day because they're my favorite of the three teams, and they would have the most fun championship celebration in New Orleans.
Chris Trew – The Usos deserve the intro of the century. I hope that they get it, I hope that every notable rapper in the history of New Orleans comes out and contributes a verse. I hope The New Day throws out beignets instead of pancakes. I hope the Bludgeon Brothers get beat so bad they change gimmicks. Most of all though, I want the Usos to have a big deal WrestleMania moment.
Bill Hanstock – I think of all the people in this match, the New Day are actually the least likely to walk away with the titles. The Budgos can be the big bad champions that the rest of the division needs to overcome, and the Usos deserve a respect WrestleMania win after finally earning a WrestleMania main card match. The New Day don't need the titles, and they're going to be around winning belts for years to come, anyway. So I'm going to say Hammer Babies win and go on to be a fun monster team for a while.
Robby Kalland – The Usos retain in what hopefully will be another classic New Day-Usos match with some Bludgeon Brothers stuff tossed in. I'm terrified they feel the need to justify the BB's existence by putting the straps on them, but the Usos deserve this kind of Mania moment/opportunity and I think this is the "you deserve it" type moment they go for this year (not totally unlike the Naomi win last year).
Elle Collins – The Usos and the New Day are two of the best tag teams of all time, and they have amazing chemistry together. That said, they can't pass these titles back and forth forever, and I think the Bludgeon Brothers have a good chance of winning here. And as a Luke Harper mark, I'm fine with that. Yes, the Bludgeon Brothers is a silly gimmick, but I think it can evolve into something better if they're given a chance to succeed.
Scott Heisel – Why couldn't Rowan and Harper have fallen into the Lake Of Reincarnation with Bray Wyatt? Cranberry jumpsuits aside, they've had the same general look, attitude and moveset for six years. Six years! And, save one brief moment last year when Harper was feuding with AJ Styles, they've never been over as singles competitors, and as a tag team, they're DOA without a bigger name like Bray or Randy Orton attached to them. They are instant match killers for m
Martin Rickman – Total homer pick here, but it just feels right to have The New Day pull out a win here.
Raj Prashad – The Usos are finally on the WrestleMania card, and there's no reason for them to drop the belts here.
Brian James O'Connell – I don't want this. It's too soon after Hell In A Cell to have these guys go at it again. The New Killer B's don't add or subtract anything when these other two teams are in the ring together and you can't justify leaving off either of them to help Harper/Rowan Books get over. It's a pickle to be sure. This match is going to be very, very, very good and will probably steal the show but, in the words of Mitch Hedberg, we're taking a big risk in getting sick of pancakes, you know?
United States Championship Fatal 4-Way Match: Randy Orton (c) vs. Bobby Roode vs. Jinder Mahal vs. Rusev
What Should Happen: Rusev should enter on the tank again and shoot Randy Orton with the cannon. Seriously though, Rusev should win this. His "downfall" began losing the United States Championship to John Cena at WrestleMania, and now he's back where he needs to be. He's popular, so capitalize on it. Give us a RusevMania moment of Handsome Rusev breaking Orton's back and making him humble.
What Will Happen: I've got a bad feeling Randy Orton's just going to RKO everyone and retain, but there's also a case to be made for Jinder Mahal. WWE loves an evil foreign heel with the United States Championship. As long as something happens to nudge Bobby Roode toward heeldom, I'm prepared to accept the result.
Staff Picks:
Emily Pratt – I predicted this one a while ago in a Best and Worst of Smackdown when it seemed like a sure thing that Bobby and Randy were going to be the WWE version of the Golden Lovers (the Burnt Orange Lovers) and Randy would use the Grandest Stage Of Them All to show up his old rival John Cena's romantic gesture from last year. Then Jinder said the US Title made its holder "the absolute ruler of the United States," and I was all in-der for Jinder. Now that Rusev's in the match, I'd still say Jinder should win it, and new babyface Rusev should feud with him for it after Mania. The Sunil vs. English hype man battle on Tuesday was too good to only do once.
Robby Cole – I know Randy just got the title recently and they might not want to hotshot it off to someone else, but who cares. WrestleMania falls on Rusev Day this year, and I think we should take advantage of that. It's also worth noting that Rusev is the only reason I even care about this match at all.
Chris Trew – I really believe this belt belongs on a heel like Mahal but it's hard to bet against Rusev right now. So I'm going for both – Mahal wins at Mania, giving the casual fans in the audience something easy to boo then Rusev wins on Smackdown giving all the maniacs who paid for an extra two days of hotel rooms something to go bonkers for.
Bill Hanstock – I honestly believe there's a good chance that Rusev is in this match to get a for-real WrestleMania moment other than riding a tank, and that he's not just there to be RKO'd and pinned into oblivion. So I think Rusev wins the title on Rusev Day, in a rare occurrence. Please don't tell me that's actually the LEAST likely of all outcomes, please. I don't deserve to hear that news today, on Rusev Day.
Robby Kalland – Rusev wins because WWE finally realizes they can't stop the momentum of Rusev Day and putting the U.S. strap on him would make people actually care about it because they actually care about Rusev.
Elle Collins – Rusev should obviously win, but my gut says that if they're going to take the title off of Orton they're probably going to give it to Jinder Mahal.
Scott Heisel – There is only one outcome that is going to keep the stadium from hijacking the rest of WrestleMania with "RUSEV DAY!" chants for four-plus hours, and that's to award Sweet Baby RuRu his third U.S. Championship. So of course, they're going to let Jinder win and suck the wind out of the Superdome. ¯\_(ツ)_/¯
Martin Rickman – If every day is Rusev Day, then that has to count double in New Orleans. It's just science.
Raj Prashad – Rusev was a late addition and my goodness, I'm going with him for the win. Just like years ago when WWE couldn't shy away from having thousands of people chanting "YES!" they'll do the same here with Rusev Day.
Brian James O'Connell – /Jay Cutler Voice "DON'T. CARE." We all know Rusev isn't going to win. Wake me up when Orton & Roode are the Smackdown tag champs where they rightfully belong. The country has never been more ready for a Usos vs. Rich Bros match. Tell me you wouldn't got apeshit for a new Evolution faction of Randy, Bobby, Charlotte with Ric managing the stable. Think of all the robes! Have Randy go the Full Cam'ron and rock the pink robe and purple trunks. The mash-up of their three theme songs is not as hard to pull off as you might think. Orton wins here because out of those 4 names who the hell do you think Vince is picking?
Intercontinental Championship Triple Threat Match: The Miz (c) vs. Seth Rollins vs. Finn Bálor
What Should Happen: Can this be the match where the WWE version of the Bullet Club becomes a thing? If not, I want the Demon to show up — it's been a while — only for Miz to score a cheap win on Rollins. Anything to keep Finn and Seth in the ring together, preferably in that Bálor Club vs. Whatever's Left Of The Shield fantasy feud most of us were expecting a year ago.
What Will Happen: I think Miz retains. I don't know why. It doesn't make sense, but if any match on the card's going to have a by-the-numbers Raw and Smackdown finish, it's this one. Miz lets Finn stomp Rollins, tosses him out of the ring and steals the pin.
Staff Picks:
Emily Pratt – No clue with this one! I'm sure it'll be a sleeper hit thought, if not MOTN.
Robby Cole – The Miz has been WWE's MVP for the last couple of years. (Gratz on the kid, btw.) I think the WWE intends to reward all of the Miz' hard work by letting him become the longest reigning IC champ of all time. Expect some Miztourage interference and for Miz to sneak a victory after Rollins and Balor beat the hell out of each other.
Chris Trew – In order for The Miz to be Intercontinental Champion forever he needs to win this match. All my chips, all the money in my bank, all my assets on The Miz retaining here. Really counting on Miz to get a juiced up intro sequence as well. I want an intro so complicated that they don't have time to do Balor's demon entrance. Ever again.
Bill Hanstock – Seth Rollins has the best story going into this match, Miz is the best all-around performer and person in this match, and Finn Bálor probably needs this more than the other two. Rollins has had some massive Mania Moments of his own, so let's let Bálor be a fighting IC champion for a while before he finally, one day, gets his Universal Championship rematch.
Robby Kalland – The Miz wins by way of being opportunistic and sneaking in for a skull crushing finale on someone. Seth and Finn do super awesome stuff and set themselves up for a feud moving forward into the next PPV.
Elle Collins – I'd be fine with the Miz being Intercontinental Champ forever, but he probably wants to go be a dad for a month or two. I think Finn Bálor would benefit the most from winning the belt, but something tells me Seth Rollins probably gets it anyway.
Scott Heisel – Ever since Finn Bálor's very first appearance as the demon at NXT TakeOver: R Evolution in December 2014, I've always said to myself, "Man, this is going to look so cool at WrestleMania. I can't wait until we get to see it." Sadly, I think we're gonna have to wait at least another year, because there's been no hint of Bálor bringing the demon out for this triple threat, and frankly, I think it would be a bit wasted, especially because Finn ain't gonna win. Miz is! (I won't apologize for rhyming.)
Martin Rickman – Discretion is the better part of Bálor. I think Ghandi said that once. Finn's winning this thing (sorry, Miz).
Raj Prashad – The Miz's title reign has to end at some point, and Finn Bálor is just the guy to take the belt away. He took the clean pin in a doozy of a match Monday night and could use a nice little IC title run to get him back on the level of Seth Rollins and Miz.
Brian James O'Connell – I dunno. The Miz retains? The mid-card belts are in pretty, pretty, pretty bad shape these days. I never thought there would be a place holder match at Wrestlemania but this is it. The strap can't leave The Miz until D-Bry is getting the one two three and they finish that business. Bryan gets the Intercontinental strap back and they go back to the original plan; this is the worker's belt of Savage & Steamboat and all the dream matches (Bryan/AJ, Bryan/Nak, Bryan/Balor, Bryan/Ricochet, Bryan/Black, etc. etc.) are slotted in here and Bryan works a light schedule for another 5-8 years.
Ronda Rousey and Kurt Angle vs. Stephanie McMahon and Triple H
What Should Happen: Stephanie shows up having injured herself during training, and Triple H announces his new tag team partner Holly Holm.
What Will Happen: As long as they keep this short and sweet and Ronda truly knows enough about what she's doing to be part of a WrestleMania match a la Floyd Mayweather, it'll be fine. I really want to see what would happen if the Authority wins here, because Triple H is Kurt Angle's Lord and Commander, but yeah, no, Ronda throws Triple H to death and "rips off" Stephanie's arm for the submission victory. We'll probably see stereo submission finishers here with the Authority grasping desperately at one another for kicks.
Staff Picks:
Emily Pratt – Tbh, I'm only here for Triple H and Steph's uncomfortably sexual, extremely expensive WrestleMania entrance. Ronda and Kurt are going over, and I hope it's through Ronda inter-gender tapping out The Game. That's the most fun outcome I can think of. I just hope this doesn't take forever and nobody gets hurt are embarrassingly botches anything.
Robby Cole – There is no way that Ronda Rousey is losing in her first match at WrestleMania. I mean it's possible that Kurt could take the pin from Triple H, but that would still be pretty stupid. I'm more interested in seeing if Ronda can work as a passable pro wrestler yet. I'm predicting stereo submissions Angle with the anklelock and Rousey with the armbar for the in.
Chris Trew – I talked to the Greater New Orleans Sports Foundation director the other day about prepping for WrestleMania and asked him for a prediction. Even though he's not that familiar with the product he did say he would never bet against Stephanie McMahon. I think that spells doom for Trips and Steph and I wonder if they are bold enough to have Hunter tap out to Ronda instead of Stephanie.
Bill Hanstock – Rousey wins LOL. I, unlike a lot of other people, do not believe this will be the final match of the night, but then again, maybe if it isn't the final match, the Authority will win the thing. But I think this match and this WrestleMania partially exists to pay off a moment three years in the making, when Rousey makes Stephanie (or heck, maybe Triple H!) tap out to an armbar. It should be good fun, Rousey should be well protected, and the good guys should win. Unless Triple H Pedigrees Angle three times in a row and pins him. That's always a possibility.
Robby Kalland – Rousey wins with an armbar on Stephanie McMahon. She probably also hits Trips with something to save Kurt from a pin. It's probably wishful thinking to ask them to keep this one short and sweet and let Ronda just be Ronda and be a beast.
Elle Collins – I can't imagine that this match ends any way except Ronda pinning Steph, but the bigger question is how will she look in the ring as she does it? My guess is probably a little better than a lot of people are expecting (she's an experienced professional athlete who's been training for this), but there's still a non-zero chance that the whole thing is a big mess.
Scott Heisel – I wonder if anyone on the With Spandex staff is bold enough to pick anything besides, "Ronda Rousey taps out Stephanie McMahon with an armbar." I sure as hell won't. Hopefully this takes under 10 minutes, but knowing Triple H, we're in for 25 minutes of slow paced action, and probably a sledgehammer along the way.
Martin Rickman – We've rushed into Rousey in a match that doesn't make a whole lot of sense. We've seen her take a bump through a table. We've seen her give extremely weird interviews. We've seen her grimace and scowl her way into this. But she's got a long way to go, and the quickest path through that is getting hosed against Hunter and Stephanie. I'm excited to see Kurt Angle's facial expressions during this one though.
Raj Prashad – WWE didn't bring Ronda Rousey in to take a pinfall here, so she's either winning or turning on Angle. Going the safe route and picking Rousey/Kurt Angle to finally give Stephanie McMahon and Triple H their comeuppance.
Brian James O'Connell – Rousey gets the pin but it's what happens on Raw the next night in the opening 20 minute promo which lets us know what the story is from here until Summer Slam. If they are not going with "It's a female Goldberg" (see how easy that it is?), then I don't know what we're doing here? It's literally who she was in UFC. You have a ton of local enhancement talent in every city WWE goes to in 2018 and you have more than enough folks in the Performance Center who can pull off a 90 second squash. Tapping out to an armbar is not a bump that Sara Del Rey has to spend a ton of time working on with Zeda, you know? If we're not starting the road to Wrestlemania 2019 toward Asuka/Flair/TBD on April 9th, WWE paid too much for Rousey.
Raw Women's Championship: Alexa Bliss (c) vs. Nia Jax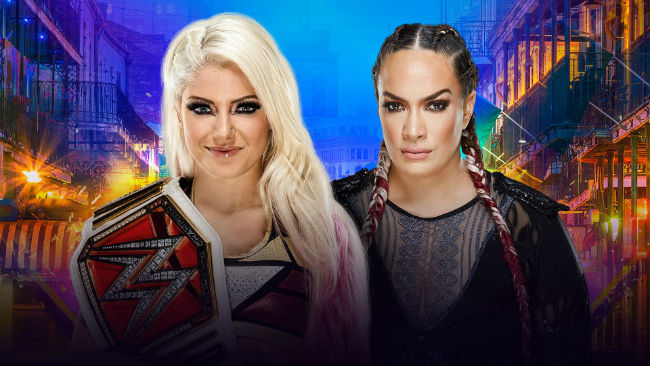 What Should Happen: They justify the dumb bullying angle by having Nia Jax steamroll Alexa in like 10 seconds, Samoan drop her — possibly her and Mickie James simultaneously — and become the new Raw Women's Champion. Any other finish would be downright foolish.
What Will Happen: That, but with a lot of stalling before it happens. I honestly wouldn't be surprised to see this end in a DQ or a purposeful count-out loss or something silly.
Staff Picks:
Emily Pratt – Alexa Bliss tries to run/hide, and then Nia Jax just straight up murders her. And nobody cries. Please, no more crying. Please only violence. I can get all the body positive stuff I want in certain Instagram tags. Give me Aja Kong and not Tess Holliday on the wrestling show.
Robby Cole – Nia Jax should just destroy Alexa, but I think Alexa is going to find a way to make this more competitive. There will be a lot of stalling, cheap shots, and interference from Mickie James, but Alexa will barely be able to squeak out a win, after which Nia WILL just destroy her. Carmella will CASH IN her Money In The Bank briefcase and we'll have a new champion leaving WrestleMania.
Chris Trew – I'm just like the rest of you Alexa Bliss super fans in that I kind of want her to be champ forever. But just like all of you Alexa Bliss haters, I want her to get squashed this Sunday. It will be exciting seeing Nia celebrate the victory since Alexa has us in the palms of her skeleton glove hands no matter what she does. When Carmella cashes in the next night let's all try and be supportive.
Bill Hanstock – Nia wins, we put this bad body-shaming angle to rest, and the rest of the Raw women's division is forced to SOLVE FOR JAX. We're going to get all the good and correct payoffs!
Robby Kalland – Nia Jax wins this in dominant fashion. This should look like a Brock Lesnar squash match.
Elle Collins – Nia has to win here. She has to. I love Alexa as a performer, but at this point she's bullied too many people who then failed to beat her, and Nia should be the one to finally give her some comeuppance.
Scott Heisel – Hot take incoming: Nia Jax is not a very good professional wrestler, nor is she a very good sports entertainer. However, there's no way she's not winning the belt WrestleMania weekend — but I could see Alexa squeaking out a win here and then Nia getting another shot on Raw and winning there, just to shake what is a relatively predictable Mania card up slightly.
Martin Rickman – Alexa's too good to fail here, heel or not. Alexa's reign of terror needs to go on for a lot longer, so sorry Nia, it's not your time yet.
Raj Prashad – Weeks of Bliss body shaming Jax should only have one path — Nia taking home the title. Going with Jax here in what could be a pretty entertaining match.
Brian James O'Connell – This card is SOOOOOOO long. Any other night of the year, you could make this one of the last 4 matches and I'd be pumped. On this card, I'm on my 4th bathroom break just writing this article. I hope that they give this enough time but I don't know how they can? I mean, look at this card? Where are the cool down matches? Is there anything on here that isn't going to need at least 8-12 minutes? Is there any match that will give us a chance to breathe before this highly anticipated blow off? I think you have to give it to Nia here and see if she can run with the ball.
Smackdown Women's Championship: Charlotte Flair (c) vs. Asuka
What Should Happen: Match of the night. Hell, let's go for Year, assuming Charlotte doesn't moonsault off the top rope to the floor onto her outstretched arm instead of her body. Even then it'll be cool. I think Asuka wins, because Ember Moon's the only person in the world who should ever end her streak. And that's a while from now. At least let her get to 1,000 days.
What Will Happen: I really hope this one lives up to the hype, because I truly believe it can. Also, Asuka's the dark horse choice for best entrance on WrestleMania weekend, especially now that Bobby Roode's lame. I can totally buy Charlotte picking up a win on a rematch, but after all the pyro and ballyhoo about The Streak, you've gotta give Asuka a championship win at WrestleMania. ESPECIALLY since she's the first women's Royal Rumble winner. ESPECIALLY if you're gonna have Carmella fail to cash-in the first women's Money in the Bank immediately after and lose.
Staff Picks:
Emily Pratt – On Smackdown, they've basically been spelling it out that Carmella's going to cash in during this match. I think the ideal version of this is Carmella cashing in to beat Asuka (hopefully after she and Charlotte have gotten a good amount of time), making her the 205-Live-Enzo-esque Smackdown Women's Champion. Then we get Asuka having to recover her pride and reputation after a cheap end to her streak.
Robby Cole – Charlotte is amazing, but I don't think she's breaking Asuka's streak with no build at all. Charlotte is going to be the first real challenge for Asuka since coming up to the main roster, but she won't be enough to stop the Empress of Tomorrow, Today.
Chris Trew – The "first woman to ____" resume bullet points are running out but there's one major accomplishment left – defeating Asuka. I vote to give that to someone who could use the rub down the line (Ember Moon Ember Moon Ember Moon), so Asuka goes over on Charlotte here. It's very exciting how very good this match is going to be.
Bill Hanstock – Asuka might get her toughest match to date, going up against the Digivolved peacock main-roster legend version of Flair. She will prove no one is ready for Asuka, and will win the Smackdown Women's Championship and get to terrorize THAT roster for a while. It's going to be awesome. This could very well end up being the best match on the show, and that's saying sooooo much for these two performers given how beyond-stacked this WrestleMania is.
Robby Kalland – Asuka wins because of course Asuka wins and the streak cannot die until Ronda Rousey says so. Hopefully they give this match time to let both women shine as these are two of the best (if not the best) female wrestlers in the world and they deserve that. We'll get some big Charlotte spots (undoubtedly a dope Moonsault) and some general Asuka awesomeness leading to a submission win.
Elle Collins – Charlotte should win here. If Asuka takes the belt with her streak in tact, her only story is being an unbeatable champ until somebody eventually beats her and then she's neither. If Charlotte breaks the streak on the other hand, Asuka can have a great babyface story about striving for a championship to prove herself all over again after losing the air of unstoppability that made everybody fear her. Whoever wins, this match is going to be great, and it's probably the one I'm most looking forward to.
Scott Heisel – It's been said plenty of times recently, but man oh man is this Mania card stacked from top to bottom. And after serious reflection, I've decided that this is my personal most anticipated match. I ***love*** Charlotte, and have long had her back in predictions posts on here, but I *****love***** Asuka, and I don't see how she could do anything but win here. Charlotte will take only her second WWE PPV loss in her career at the hands of the Empress Of Tomorrow — who will then get cashed in on by Carmella. (Asuka will beat her too.) The final shot after the match will be Tom Phillips saying, "Is anyone ready for Asuka?" Smash cut to Ronda Rousey in the back, taping up her hands.
Martin Rickman – I fully expect this one to end controversially, and wouldn't be shocked if this ends up a no contest or something. But Asuka's going to get her streak broken eventually, and Charlotte doing so unfairly and with a variety of fireworks (and a chorus of boos) would be fitting. Something just doesn't feel right here.
Raj Prashad – Asuka's unbeaten streak isn't ending anytime soon. Charlotte is wonderful, but there's just no one on Asuka's level right now.
Brian James O'Connell – My single most anticipated match of the night and my even money for MOTY and/or the match that steals the show. These two have been dying for a moment like this and they are going to go all out. That moonsault from the top to the outside is going to look incredible and Asuka is going to sell it like death. Charlotte is going to make it back inside the ring with the last bit of strength she has left and before Asuka gets counted out, Carmella's music is going to hit and we're going to have the first ever Women's Money in The Bank cash-in at Wrestlemania. Asuka and Charlotte will be chasing this incredible chickenshit all the way until Summer Slam where interference from a re-debuting James Ellsworth gets us an amazing reverse Macho Man moment where Carmella hoists the lovable scamp onto her shoulder and parades him around the ring.
WWE Championship: AJ Styles (c) vs. Shinsuke Nakamura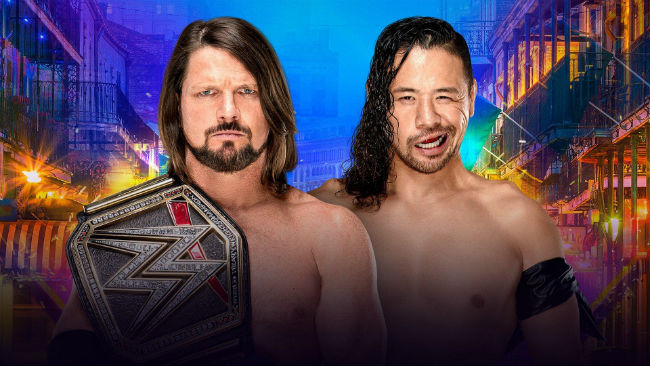 What Should Happen: They should just do the Wrestle Kingdom match again, beat for beat, while I happily clap my hands.
What Will Happen: I haven't had many chances to say it, but I'm so impossibly happy that they're doing this match straight up without any bullshit. Thank you, WWE. I'd like to see Nakamura win, because that'd be a hell of a moment, but I'm picking Styles to retain. Either result is fine, though. As long as they do the fist bump after the match again, I'm golden.
Staff Picks:
Emily Pratt – NOW SHINSUKE NOW. After a barnburner of a match that will almost immediately be pooped on by people on Twitter for not being as good as their Wrestle Kingdom 10 match or not being as good as X Great Match One Of These Guys Had Previously, Shinsuke Nakamura will win the WWE Championship. He's the champ we need, the champ we deserve, and the champ I really really want to see Daniel Bryan win the title off of in a while in a match that ends in MUTUAL RESPECT.
Robby Cole – I have a feeling this might open the main show proper. This should be in contention for match of the night. There's nothing too complicated with this one. Shinsuke won the Rumble, said he was coming for AJ, and we've been moving forward from there. Shinsuke wins after a twenty plus minute match.
Chris Trew – It's not only the match of the night for everyone watching in the building or on the Network, it's also the pre-determined match of the night according to every podcast I put in my ears this past week. AJ Styles with the clean win and Nakamura moves on to feud with whatever NXT Tuesday night call-up calls him out for not completing the WWE-Champ-in-one-year trek.
Bill Hanstock – I'm pumped for this. Mega super massive pumped. The Superdome crowd is going to be spectacular and on fire, and it's going to feel and look and BE amazing. Nakamura always turns it up when it counts (and arguably ONLY when it counts), and this is the match these two have wanted ever since they've both been in WWE. Now they're getting the match, and it's at WrestleMania, and it's for WWE's most prestigious title. That's incredible. I believe Nakamura is going to win, but I won't be surprised at all if Styles retains. The winner of this one is irrelevant. We're just here for the good time.
Robby Kalland – AJ Styles wins in the best match of the night. I don't think they would flip every top singles title on the card and this is the one that's easiest to not flip. Styles has deserved a strong feud with his title and giving him the win over Nakamura here in a 25-minute classic would let them continue on for a trilogy-type deal over the next few PPVs.
Elle Collins – The important thing here isn't who wins the belt, it's how much time they get to put on an amazing wrestling match. That said, I really want Shinsuke to win, and I wish I had more confidence that WWE will let him.
Scott Heisel – I feel like this match has gotten the lion's share of hype for the past three months, and I fully expect it to deliver. Frankly, I wouldn't cry if both McMahon tag matches got pulled off the card and this thing was bumped to an Iron Man match (and since we're fantasy booking, let's throw DBry in there and make it a triple threat too). As much as I'd love to see AJ retain, I think Nak gets the duke here, but the real winners will be all of us.
Martin Rickman – No disrespect to AJ who is a fine guy in his own right, but it seems like this is the time to put Shinsuke over the top a bit. I mean, hell he got a full brass band treatment of his intro. Dude isn't losing.
Raj Prashad – Is there any chance lives up to the hype? Nakamura-Styles is one of the best matches of the weekend, and it finally looks like the King of Strong Style's time to take the WWE title. Nakamura has to be the pick here.
Brian James O'Connell – 30 minutes. Pure joy. Anyone talks to me during this match is dead to me. Either way it goes, I'm happy.
WWE Universal Championship: Brock Lesnar (c) vs. Roman Reigns
What Should Happen: Can Seth Rollins cash in Money in the Bank again? I know he doesn't have one of those, but can we let him?
As long as they keep this to a hot 5-7 minutes and don't talk themselves into thinking they've got to go 25, it'll be great. In the world's most predictable finish, Roman Reigns looks strong, hits 5 Super Man Punches and like 3 spears and becomes the Universal Champion.
But what if he doesn't.
What Will Happen: Brock Lesnar made magic out of pure chaos the last time he had a big WrestleMania match in New Orleans, and I'm hoping against hope that he'll pull the same magic here and retain. I'm in no way saying that will happen, but I'm putting it in the "What Will Happen" section to put that good energy out into the world.
Staff Picks:
Emily Pratt – Roman is clearly going to win this and take the Universal Championship to a weekly presence on Raw, activating between one and like a million possible really good title feuds. The build for this match has been shaky at times, but it's had some very good moments, and I'm excited. Hopefully Brock doesn't worry about protecting his body for UFC and these guys just go balls to the wall for like 15 minutes.
Robby Cole – Stop me if you've heard this one before. Roman Reigns closes out WrestleMania to a reception that we'll charitably called mixed. Let's do it one more time. I still laugh at Roman Reigns saying that Lesndar is "Vince's Boy" like we haven't been having the Roman Reigns Experience shoved down our throats for years. Roman wins after 20 Superman Punches, 5 Spears, and kicking out of 3 F5's.
Chris Trew – I predict what happened between these two last time (kind of) happens again. Except this time instead of Seth Rollins and Money In The Back, it's Roman Reigns, triumphant-ish, with the title and confetti, on the microphone, saying he plans on being the most fighting-est champion of all time. Enter Braun Strowman and a Hulk Hogan/WrestleMania 9 moment. Braun leaves New Orleans with the Universal Championship, everyone loses their mind forever.
Bill Hanstock – Well, I mean, Roman Reigns is going to win. Paul Heyman's "you'll never see Brock Lesnar again" promise on Monday has me hedging a little bit, but I think this is going to be a fantastic match, just like their WM31 match was, and I think Reigns finally gets to win this time. It makes the most sense of anything, and you set up just oodles and oodles of world-class Universal Championship feuds on Raw with Reigns as champ. Let's make this happen already.
Robby Kalland – Roman Reigns wins via his fourth Superman punch of the match. Brock hits a buncha suplexes and an F5 but can't put Roman away. Hopefully this match is no longer than 10 minutes and is basically a "feats-of-strength-off" between a couple hosses and not a grueling, 25-minute slog.
Elle Collins – Of course it's Roman Reigns. It's time to pull that trigger, now or never. All I want is for Lesnar to go back to UFC or whatever, and for Roman to make the Universal Title matter for the first time since Kevin Owens held it in 2016. Am I sure Roman's up to that task? Not entirely, but at this point I'm ready to give him a shot.
Scott Heisel – Should this close the show? No. Will it? Ehhhh, probably. Will the crowd continue to boo Vince's actual golden boy, leading to yet another coronation attempt at Mania 35? All signs point to yes. Man, this cycle is getting tired. Let's just hope Braun Strowman takes the belt off Roman at SummerSlam.
Martin Rickman – It feels like we've been leading up to a Roman Reigns title win at WrestleMania for months and it's not as if WWE is exactly subtle on selling us on this stuff. Let's just get it over with as the two beefy boys have a match that lasts probably 20 minutes too long. Then we can move on and hopefully get to a more enriching and fulfilling storyline.
Raj Prashad – If Brock is really heading back to the UFC, Reigns wins the belt in a relatively dominant fashion. Even if he's not, getting beaten up over and again by Lesnar probably means we get 10 minutes of insanity and Reigns earning the pinfall.
Brian James O'Connell – Roman wins. We all know it. Either Brock re-signs or he takes a year or two off to go wreck Jon Jones for a metric fuck ton of money and then comes back and we start this whole thing over again. And then you still have Cena hanging around. Taker apparently can never die in kayfabe or real life because WWE has no other plans. Bryan might be back in the main event picture soon enough. Trips will never pass up a moment to put himself over. Randy might get his millionth shot because his grandfather saved the precious tapes from a fire. This is where we are now. This has been an incredible season of television for WWE. It's just a bummer that the A story has been so obvious all season long.
So, What Do YOU Think Will Happen?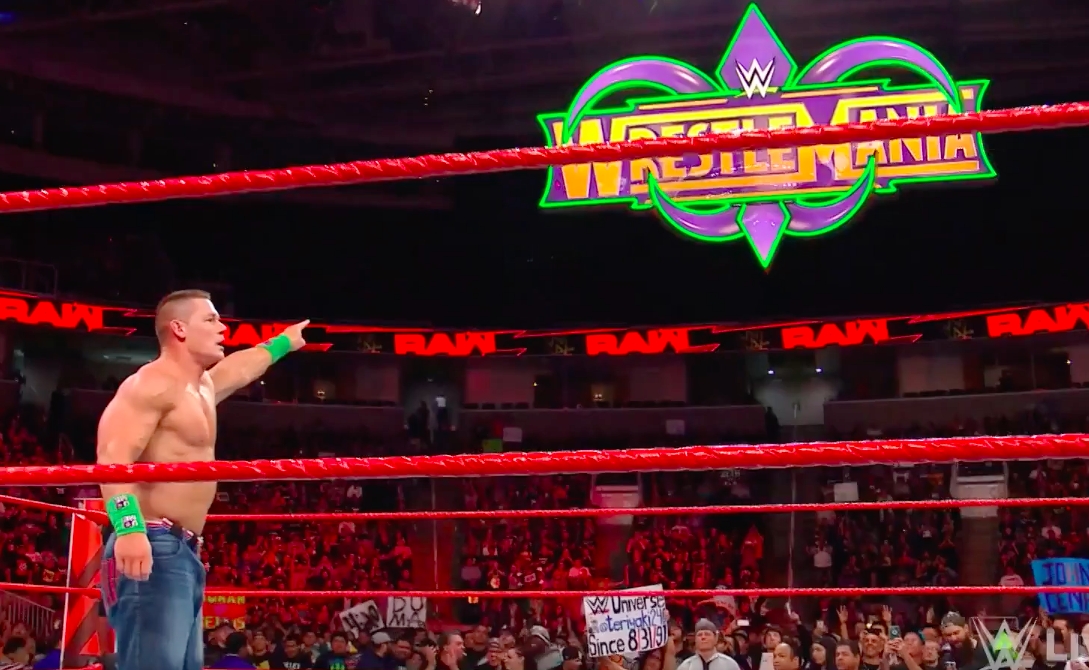 Congratulations if you made it this far! Drop us a comment to let us know your match predictions, and make sure you're here all weekend for WrestleMania coverage. [whew]
Have you checked out the WrestleMania preview on the With Spandex podcast?
[protected-iframe id="958cd23cb5d1d07da000fe0d01668482-60970621-10222937″ info="https://omny.fm/shows/mcmahonsplaining/episode-34-wrestlemania/embed?style=cover" width="100%" height="180″ frameborder="0″]