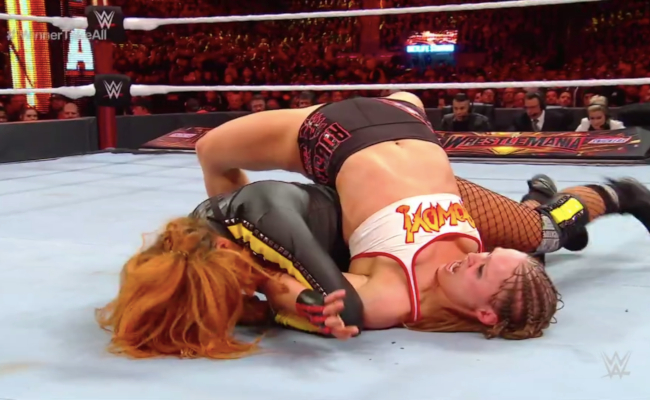 Becky Lynch won the Winner-Takes-All Triple Threat match against Ronda Rousey and Charlotte Flair in the Main Event of WrestleMania 35, so now Becky's both the Raw Women's Champion and the Smackdown Women's Champion. However, the finish of the match looked off in a way that some viewers have been concerned might have storyline implications, as Ronda's shoulders popped up during the 3-count, and the ref kept counting anyway. According to Dave Meltzer at the Wrestling Observer, that wasn't actually a storyline choice.

Per Meltzer, Ronda's shoulders leaving the mat were a mistake on her part (probably her shoot fighter's instincts taking over, but that's me talking, not Meltzer). She was booked to lose the match to Becky in that moment, and the ref chose to continue the count despite Rousey's botch. Rousey would have jumped up and yelled at the ref anyway, because that's her character, but with the optics of the messed-up pin it started to look like a story being told. That's when Corey Graves started talking about Ronda's shoulder being up, which was probably an instruction from backstage.
In any case, Meltzer also reports that Rousey broke her hand in the match, but that she was planning to take time off anyway, so that shouldn't affect any of the booking. She and Becky are both supposed to be on Raw tonight, going by advertisements for the event, and after that we don't know for sure when we'll see Ronda again, outside of the next season of Total Divas. As for Becky, she'll probably go back to feuding with Charlotte Flair and then on into the future.