Here he loses to Intercontinental Champion Bret Hart, while screaming AAAAAAAH, RAAAAAH, RAAAAAAH NOOOO AHHHH, RAAHHHHHH the entire time. For more on the forever wonder of Iron Mike Sharpe, please consult the following promo, low key one of the best promos of all time.
"HOW ABOUT THAT? [pause] YOU BETCHA." Love you, Iron Mike.
Also getting the jobber font during Iron Mike Sharpe vs. Bret Hart this week is Bret's Mom. There's no way to tell what her actual name is, they checked, nobody knows.
Anyway, Bret Hart is defending the Intercontinental Championship against The British Bulldog at SummerSlam in Wembley Stadium, and Vince McMahon lets the cat out of the bag that "not a lot of people know" Hart and the Bulldog are related by marriage. To explain this in detail, and to expound on how two babyface wrestlers competing for the same championship is tearing a family apart, they get this 68 year old untrained Canadian mom to "shoot" on it. Poor Helen's comments amount to, "Bret has the belt and Davey wants the belt, they both want the belt, I dunno what to do!"
Bret's Dad was unable to be reached for comment, but rumor has it he thinks, "eeeeeh meeeh weeeh meeeeehhh"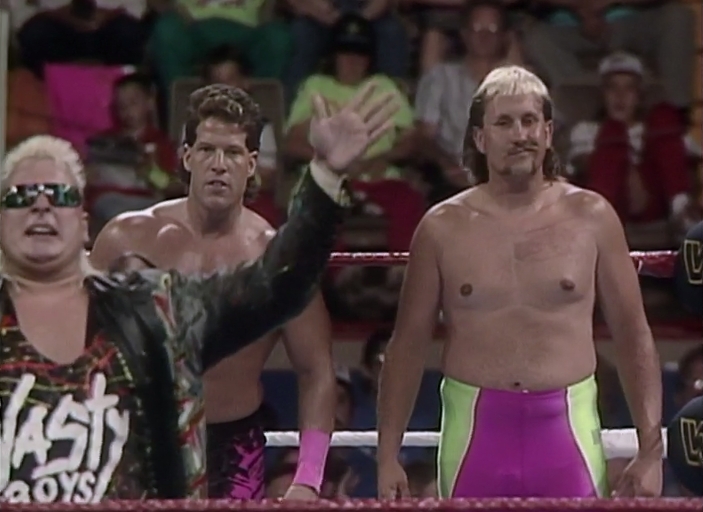 Opening up the show with a loss to the Nasty Boys (and their nasty butts) is horrible looking jobber stalwart Kerry Davis and his new tag team partner, country-western superstar Randy Travis. Wait, sorry, that's Ross Greenberg, a '90s enhancement guy who put over the Hardy Boyz in his final appearance and in his post-wrestling career has apparently enjoyed a lucrative career as a pharmaceuticals snitch. The things you discover when you Google quote jobber name unquote wrestler!