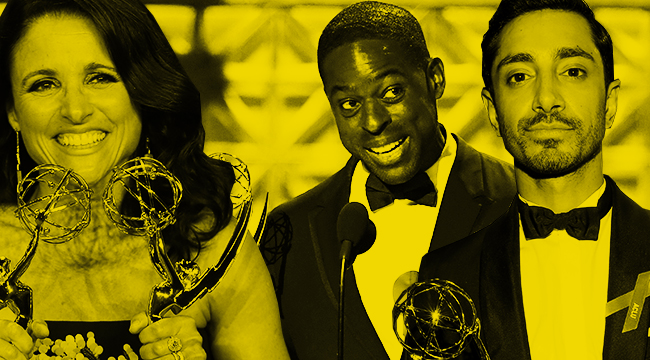 Two overarching thoughts on last night's Emmys:
1) Those were some awfully terrific, and often pleasantly surprising, Emmy results.
2) That was a really uneven telecast.
In an ideal world, great awards — and in this case many great speeches — would equal a great show, but that's not always the case, as last night reminded us.
Let's hit the good first. This was a history-making — and at times history-honoring — night at the Emmys in a bunch of areas.
Start with The Handmaid's Tale dominating the drama series awards — it won for supporting actress (Ann Dowd), lead actress (Elisabeth Moss, finally getting the trophy she deserved for playing Peggy Olson), writing (Bruce Miller), directing (Reed Morano), and drama series, making Hulu — not mighty Netflix, or wealthy Amazon — the first streaming service to get an Emmy win for best series.
Atlanta creator and star Donald Glover became the first African-American man to ever win a comedy series directing Emmy, and later in the evening Master of None writer/co-star Lena Waithe became the first African-American woman to ever win a comedy series writing Emmy (shared with Aziz Ansari) for the show's autobiographical "Thanksgiving" episode. The Night Of star Riz Ahmed became the first male actor of Asian descent to ever win an Emmy.
Some wins weren't firsts, but came after extremely long gaps. This Is Us star Sterling K. Brown dedicated part of his wonderful speech (more on that in a bit) to Homicide star Andre Braugher, the last black man to win the drama lead actor category before him, back in 1998. Morano was the first woman to win the drama directing trophy since Mimi Leder for the famous "Love's Labor Lost" episode of ER back in 1995. Glover also won the comedy lead actor category, the first African-American to do so since Benson's Robert Guillaume back in 1985(*).
(*) That gap comes with a bit of an asterisk, as Bill Cosby refused to submit himself for the category for the run of The Cosby Show, when at the time — long before the sexual assault allegations went mainstream — he was so beloved he would have likely won a bunch of trophies. The gap would still be long, just not quite as long.
There was, as a result, a ton of new Emmy blood, even when the winners had been around a long time like Dowd. (I will pretend her award was at least partially boosted by her work on The Leftovers, even though she lost the drama guest actress race last week to Handmaid's co-star Alexis Bledel, and no argument you make can sway me.) The marvelous Black Mirror episode "San Junipero" won the TV-movie award over more high-profile projects. (It's a series, but, like Sherlock, can submit individual episodes as TV-movies due to an Emmy loophole.)

Even a very familiar and inevitable winner like Veep star Julia Louis-Dreyfus had a bit of history to her, as she tied Cloris Leachman for the most acting Emmys, at eight. She's also won six straight for this one show, which no one has ever done before. It would be nice to see other actresses get honored, but Louis-Dreyfus is incredible, and at a certain point there's something fun about the streak.
All of this was great, not just for the inclusiveness of it in an industry that has a bad track record in that regard — "Thanksgiving" is about Waithe's character coming out to her mother, and even "San Junipero" is about an interracial romance between two elderly women, one of them profoundly disabled — but because everyone was so deserving. Atlanta was the comedy of the year, and if it couldn't dethrone Veep for the series award, Glover's two wins felt awfully nice. Brown almost singlehandedly elevated This Is Us into a must-watch show. "Thanksgiving" was a marvel, packing so much comedy and emotion and life into a single half-hour. Ahmed's performance carried The Night Of through a lot of patchy storytelling. With Leftovers unfortunately ignored by Emmy voters, Handmaid's Tale was the most emotionally wrenching show in the drama field. And while everyone knew Big Little Lies was going to steamroll everyone in the movies and minis categories (one of the few awards it didn't win was for writing, as that went to "San Junipero"), it was also a superb example of a star-studded prestige miniseries done right.
Also great, at times, was the sense of history on stage. TV legends Norman Lear and Carol Burnett presented the comedy series trophy, and got one of the fastest standing ovations in Emmy history. The crowd also stood for Roots star Cicely Tyson as she came out with Anika Noni Rose to present the limited series award, and waited patiently as she at first struggled with the teleprompter. The Handmaid's Tale author Margaret Atwood got a rapturous response when she seemingly materialized out of thin air right before Miller accepted the drama series award. And Brown's speech — by far the best of the night — was a love letter to television, name-checking not only Braugher's Frank Pembleton, but Walter White, Dick Whitman (he invited confused viewers to look that one up, rather than giving them the easier Don Draper name), plus the shows (Diff'rent Strokes, Webster) he grew up watching about black kids, like Randall Pearson, adopted by white families.
But Brown got played off by the orchestra before his speech was done, despite a valiant attempt — endorsed by the live audience — to keep going, and when he wouldn't stop, the camera pulled way back, they cut his mic, and shut the lights to transition into the next award. He later got to finish it backstage, but it was a really bad moment, not just because Big Little Lies star Nicole Kidman had talked for even longer just moments before without facing the wrath of the band or the director, but because this was one of the night's biggest awards, spotlighting one of the few big broadcast network hits left and a relatively fresh talent (Brown also won an Emmy last year for The People v. O.J. Simpson), and because he was in the middle of a speech extolling the many ways in which television is great!

This was the last speech that should ever be cut off so abruptly, but the show was running a few minutes long, and the opening hours were, as usual, filled with unnecessarily protracted bits of alleged comedy business — the filmed segment with host Stephen Colbert and RuPaul, the traditional presenter banter that fell flat — without concern for what would happen when the awards that people really cared about had to be handed out at the end. It's a familiar awards show sin, and thus it's amazing that no one has ever figured out how to avoid the problem, especially when they're as committed to ending on time as CBS apparently was last night. It's familiar Hollywood big sibling/little sibling psychology in action: Kidman (and Reese Witherspoon, who also got to speak, when other categories that had shared winners tended to only let one talk, like Waithe with Ansari) is a big movie star, so she gets to talk as much as she wants, whereas Brown is a mere TV star, even at a TV awards ceremony, so nobody really cares what he has to say. Blurgh.
Colbert's stint as host was a mixed bag. The filmed musical opening was fun, if a bit of a cliche by now, and the initial phase of his monologue was fine, but then we got an extended Donald Trump harangue. This was perhaps unavoidable given Colbert's persona, the contentious mood of the country, and the particular mood of the night, when even some winners like Glover and SNLer Alec Baldwin suggested their wins were a result of Emmy voters' displeasure with the current administration. But when you take so many shots at POTUS and then bring out Sean Spicer — who for the better part of the year was the public face of the administration and Trump's chief defender — as a comedy prop and act delighted to have him there (Spicer spent much of the night posing for photos with Academy members in the lobby), well, maybe you lose some of the moral high ground behind the screeds?
The winners were almost all wonderful, and often historic. The show was, well, an awards show, with all the bloat and self-congratulation that tends to come with that.
What did everybody think, of both the results and the telecast itself?
Alan Sepinwall may be reached at sepinwall@uproxx.com. He discusses television weekly on the TV Avalanche podcast. His next book, Breaking Bad 101, is out 10/10 and available for preoder now.