There are few things sports fans like debating and discussing more than which teams are the best of all time. Part of what people love about sports is greatness. That's why we keep hearing about the '72 Dolphins and the '85 Bears and the Niners of the '90s and the Patriots of the '00s. The great teams are the ones that stretch across history, that will live on forever.
Not every franchise gets to be great, though. Some teams are condemned to not just mediocrity, not just run-of-the-mill badness, but infamy. By the nature of things, there are teams that have to be the worst of all time. That's just a cruel fact of life.
As we gear up for another NFL season, we decided to chronicle some of those teams that are amongst the worst to ever take the field. We are not here to lampoon these teams for their incompetence. No, we are here to try and chronicle how things went so horribly wrong.
Up next, the team that taught us the perils of drafting the wrong quarterback, the 2000 San Diego Chargers. Previously: the 2008 Detroit Lions; the 2001 Carolina Panthers.
There have been NFL teams that have only one a single game a season before, but the the 2000 San Diego Chargers are a special case for one simple reason: Ryan Leaf, a man who is forever held up as a cautionary tale for all teams.
In 1997, the Chargers went 4-12. One of those wins came against the Indianapolis Colts, who therefore finished 3-13. That meant the Colts got the first overall pick in the 1998 NFL Draft, while the Chargers got the third overall pick, which they then traded to Arizona to select second overall. There was a quarterback debate at the top of that draft involved Peyton Manning and Ryan Leaf. It was pretty clear that these two were going to go with the first two picks. It was just a matter of who went first.
In the end, Indianapolis took Manning, the player with the football bloodlines. The Chargers then took Leaf, who had just led Washington State to the Rose Bowl. He finished third in the Heisman voting. Leaf had an impressive college career and a big arm. The issue with Leaf was never talent nor potential. There were murmurings about his attitude before the draft. One profile described Leaf as "self-confident to the point where some people view him as being arrogant and almost obnoxious." Now, a lot of that stuff that comes out before the NFL Draft, and much of it is bullshit. In Leaf's case, they may have undersold the issues.
Both Manning and Leaf were thrown to the wolves in their rookie seasons, and even Peyton had a season to forget as he led the league in interceptions with 28. Leaf, though, was a disaster in more ways than one. He played in 10 games, starting nine, and threw two touchdowns to 15 interceptions. He completed a little over 45 percent of his passes. This was only part of the problem. Leaf reportedly had a terrible work ethic, and he would get into shouting matches with members of the press. Rodney Harrison, who had a long, successful NFL career, called it "a nightmare you can't even imagine."
In 1999 things were different. The team hired Mike Riley as head coach. Leaf missed the entire season with a shoulder injury. The team turned to the cagey veteran Jim Harbaugh, and somehow strung together an eight-win season. There was a bit of luck to that. Their expected win/loss record was 6.5-9.5. Their offense was terrible. They got by on their defense, led by the late legend Junior Seau. Much like the Detroit Lions in 2007, they were enjoying a season that did not seem to presage a complete collapse.
As the millennium turned, nobody in San Diego knew what they were getting into.
Leaf was healthy for 2000, and there was actually some talk of a redemption story — he was even on the cover of Sports Illustrated with the headline "Back from the Brink." Then, he began the season by throwing five interceptions and one touchdown in the first two games, both losses. So the team turned to Moses Moreno, who wasn't any better. Leaf, Moreno, and a 37-year-old Harbaugh shuffled the role between them all season. Leaf started the most games, nine, while Harbaugh got five and Moreno got two. Harbaugh was the best of the bunch. He completed 60.9 percent of his passes with eight touchdowns and 10 picks. That was the best quarterback play the Chargers could get. Leaf finished with 11 touchdowns and 18 interceptions while completing barely half of his passes. He was under center for San Diego's one win of the season, though. After losing their first 11 games they eked out a victory against the Chiefs at home by a score of 17-16. They were that close to going winless.
While Leaf is the big story, and the easy scapegoat, the Chargers also had an amazingly horrendous running attack. The team ran for 1,062 yards. That's not what their leading rusher did. That's what the entire team did. They barely averaged over 66 yards per game. It was the worst rushing offense for any team in a 16-game season. Their leading rusher, Terrell Fletcher, ran for 384 yards on 116 carries. As a whole, the team averaged 3.0 yards per carry.
Their defense collapsed too, unsurprisingly. They gave up 440 points per game and were 29th in pointed allowed, as opposed to 26th in point scored. Junior Seau did manage to make a Pro Bowl and make the All-Pro team.
San Diego would receive the first overall pick in 2001, which they traded to Atlanta so the Falcons could select Michael Vick. The Chargers got the fifth overall pick as part of the trade. They selected a running back out of TCU named LaDanian Tomlinson. Tomlinson would, of course, go on to be one of the best running backs of his era, winning the MVP award in 2006. Meanwhile, in the second round, the Chargers also selected Drew Brees, who would go on to have a Hall of Fame career. Of course, most of it was in New Orleans.
The Chargers went 5-11 in 2001, leading to Mike Riley being fired. Marty Schottenheimer took over, and in 2004, after getting the first overall pick, selecting Eli Manning, and trading him for Philip Rivers, they broke through with a 12-4 record. This started a real period of success for the Chargers, which only just ended this past year.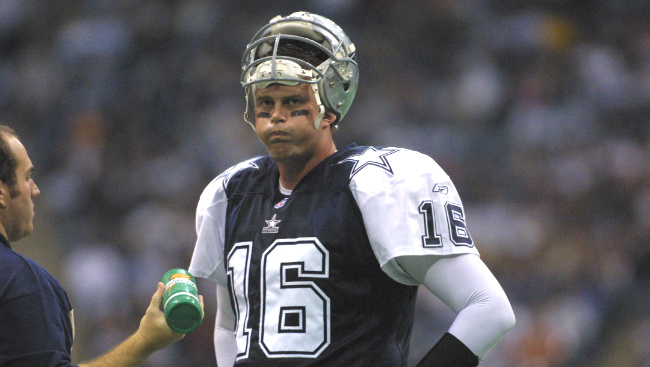 As for Leaf, he briefly played with the Cowboys in 2001, unsuccessfully. Tampa and Seattle took a shot on him too, but he never even played for them. He retired in 2002, at the age of 26. While working as a volunteer coach at West Texas A&M University, Leaf said, "When playing football became a job, it lost its luster for me. I kind of got out of the spotlight, and life's never been this good."
Not long after that, he lost his volunteer position, reportedly for seeking pain medication from a player on the team. Leaf's life then spiraled into repeated arrests for burglary and drug possession. He was in and out of rehab until he was in and out of prison. He was released from prison in December 2014, and recently popped up to speak about Johnny Manziel's problems.
Leaf remains arguably the biggest bust of all time. His career was brief and disastrous on and off the field. When the Chargers drafted Leaf second overall, they hitched their future to him, and Leaf helped drive them into a ditch. They didn't have much talent around him, but a good quarterback can really help lift a team. A bad quarterback, though, can sink a team. Leaf sunk the Chargers.