There are few things sports fans like debating and discussing than which teams are the best of all-time. Part of what people love about sports is greatness. That's why we keep hearing about the '72 Dolphins and the '85 Bears and the Niners of the '90s and the Patriots of the '00s. The great teams are the ones that stretch across history, that will live on forever.
Not every franchise gets to be great, though. Some teams are condemned to not just mediocrity, not just run-of-the-mill badness, but infamy. By the nature of things, there are teams that have to be the worst of all-time. That's just a cruel fact of life.
As we gear up for another NFL season, we decided to chronicle some of those teams that are amongst the worst to ever take the field. We are not here to lampoon these teams for their incompetence. No, we are here to try and chronicle how things went so horribly wrong. 
Up first, maybe the worst team in NFL history relative to its competition, the 2008 Detroit Lions.
This Lions team is both a good and a bad place to start. I am a huge Detroit Lions fan. I've been watching them for decades. As such, I didn't just watch every single game the Lions played that season, I was actively rooting for Detroit to win. Well, at least the games that were on TV — five games were blacked out locally. I was emotionally invested in this team. I was also covering the Lions for another website at the time, so I had to chronicle every single defeat, and there were literally nothing but defeats.
As you probably know, the 2008 Detroit Lions are the only NFL team to ever go 0-16. They scored 268 points and allowed 517. They allowed over 32 points per game. This Lions team was a spectacular failure of the highest order.
While it was certainly not easy as a Lions fan to see them fail to win a single game, the fanbase was having its tolerance for losing built up for many years. You know how the hero in The Princess Bride reveals that he had been ingesting tiny amounts of poison to allow himself to build up an immunity so that he could poison Wallace Shawn? It was sort of like that, but only it wasn't tiny amounts. Lions fans had basically been drinking defeat out of a beer bong for years.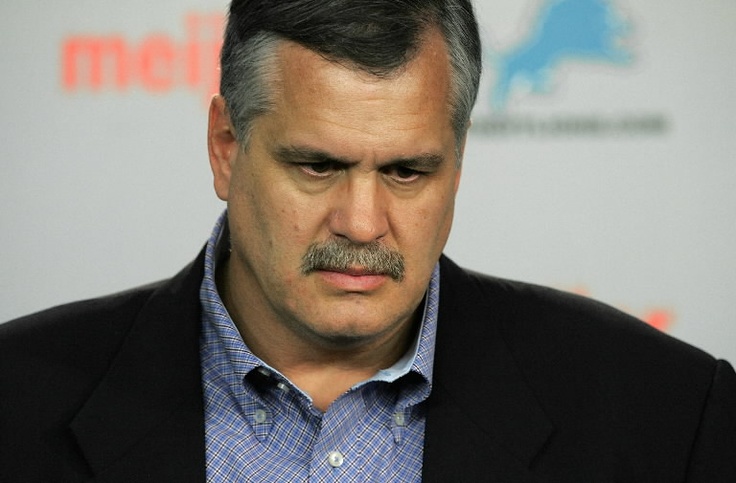 It all began in 2001. In 2000, the Lions actually had a good year. They went 9-7 even though Bobby Ross stepped down in the middle of the season as head coach. Big changes weren't necessary, but big changes were made. The Lions hired Matt Millen to run the team. He had no experience in a front office. He had no experience in coaching. He had been in broadcasting, but the Lions decided to hire him anyway. It was, without a hint of hyperbole, an epic disaster that destroyed the franchise.
In 2001, the Lions went 2-14, which was a sign of things to come.
Millen, as we all know, was terrible when it came to the NFL Draft. A Wall Street Journal article indicated that NFL executives at the time thought Millen "made more bad draft decisions than anyone else in two centuries." He took Joey Harrington third overall, which was at least somewhat excusable because of how important quarterbacks are. Then, of course, came the infamous run where he took Charles Rogers, Roy Williams, and Mike Williams, all wide receivers, all with top 10 picks. Roy Williams was pretty good, but the other two were major busts. Aside from Calvin Johnson, Millen's draft record is staggeringly bad.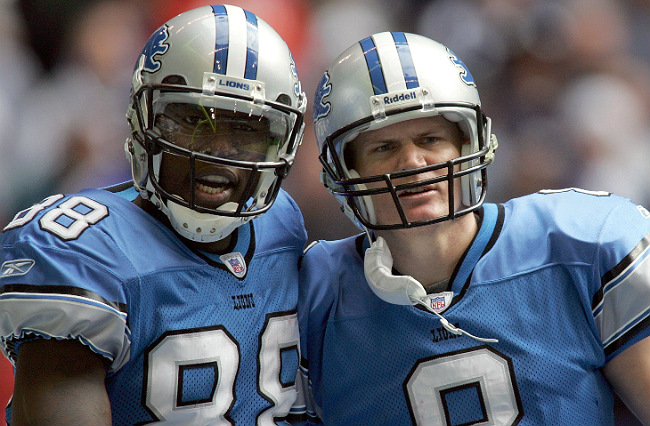 From 2001 through 2006, the Lions were never better than 6-10. They could have been saved if they had fired Millen in 2003 after he called Johnnie Morton a gay slur. The "Fire Millen" chants began in 2005, and were heard at basically every Michigan-based sporting event. The 2007 season offered a smidgen of hope. The team went 7-9. Mike Martz was the offensive coordinator, and he had Jon Kitna throw the ball a billion times and he got sacked a trillion times. Still, they were a traditionally bad team. There was no sign they were one step away from being spectacularly awful.
In the 2008 NFL Draft, the Lions added a few notable players, including offensive lineman Gosder Cherilus, running back Kevin Smith, and defensive end Cliff Avril, the latter of whom has gone on to have an impressive career. Rod Marinelli was still the head coach. Jon Kitna was still the quarterback. In an irony cruel and humorous in equal measures, the Lions actually went undefeated that preseason. There was no reason to fear this season for the Lions any more than usual. Then, the regular season began. The Lions lost to the Falcons 34-21, a score that flatters Detroit. I remember this game distinctively. I remember thinking this team doesn't look very good. If I had known then what I know now.
Their first home game, against the Green Bay Packers, was a 48-25 routing. They were soundly beaten by a 49ers team led by J.T. O'Sullivan under center in Week 3. At this point, Millen was finally, mercifully fired. It was too little, too late. They didn't bounce back after their bye, getting blown out by the Bears. It was the next game, though, that is the one people really remember from this season. Detroit was visiting the Vikings. Dan Orlovsky was under center. Then, he ran out of the back of the end zone, unknowingly and accidentally, for a safety.
Detroit lost 12-10. The safety decided the game. At this point, the Lions traded Roy Williams and put Jon Kitna on injured reserve. The Lions were 0-5, and the season was effectively over. Assistant coach Kippy Brown would go on to say that if they hadn't put Kitna on IR, they would have won a game or two. Maybe that's true, and it would have certainly been better to go 2-14, or even 1-15, than to go 0-16. Of course, at the time, they probably never imagined they would go winless.
Detroit was in some competitive games, but none of them ended up in wins. The Lions signed Daunte Culpepper to play quarterback. The most memorable thing he did that season was wear a fur coat. On Thanksgiving, the day the Lions play on national TV every year, they were obliterated by the Titans, 47-10. It was the most points the team had ever given up on Thanksgiving.
The season ended on the road against the Green Bay Packers. The Lions beat the Packers at Lambeau Field in 2015, but before that they hadn't bested Green Bay on the road since 1991. It would have been amazing for the Lions to win this game, to break their losing streak against the Packers at Lambeau, and to avoid the ignominy of going winless. The Lions lost 31-21, and their place in history was sealed. Lots of teams have gone 1-15. Sometimes you remember them. Everybody remembers the 0-16 Detroit Lions of 2008. Lions radio play-by-play man Dan Miller summed it up as such:
"Clock ticks down here in Green Bay. The Lions find themselves in a very familiar position. For 16 weeks, starting in Atlanta back in September, they took the field thinking this was gonna be their day. Sixteen times they were wrong, and now there are no Sundays left. By record, they are the worst team in league history. Zero and 16, those are the numbers that will forever be associated with the Detroit Lions."
Years later, long snapper Don Muhlbach would declare, "It just, that was the worst thing I've ever had to go through, football-wise. I wouldn't wish that on anybody." "I've got to live with this," said longtime Lions center Dominic Raiola, sounding like the season was going to weigh on him for a long time. Marinelli, perhaps realizing the writing was on the wall, tried to put things into perspective, saying "there's people going through a lot worse." That is true, but from a purely sports perspective, few years, and few fan bases, can argue that they have gone through something this disheartening.
Obviously, there were a ton of changes that offseason. A new President and GM were named, although they have both since been fired. Jim Schwartz was named head coach, but he's also been fired. Scott Linehan and Gunther Cunningham were made the coordinators, and both are gone now. Matthew Stafford was drafted first overall in the 2009 NFL Draft, the first time in all these awful years the Lions got to pick first overall. The 2009 season was rough, they went 2-14, but the fact they even won a couple games felt like a minor miracle at the time. Of course, as the years went on, the team started winning more games, and even made the playoffs a couple of times, although they have yet to win a playoff game.
This isn't about any of these teams, though. This is about the 2008 Detroit Lions. It was bad luck, to a degree, that they went winless. A couple of bounces and they could have been 1-15 or 2-14. However, if there is a lesson to be taken from the terrible struggles of the 2008 Lions, it's that you probably shouldn't hire a GM with no experience, and if he's clearly terrible at his job, don't let him keep it for year-after-year. There are few people who can say they played for a winless NFL team, although none of them want to say it. This was a rare, magical season in its own weird way. We may never see it happen again. The 2008 Detroit Lions were a sight to behold. To think, a future Hall of Famer like Calvin Johnson was on this team. The world of sports is a strange place.