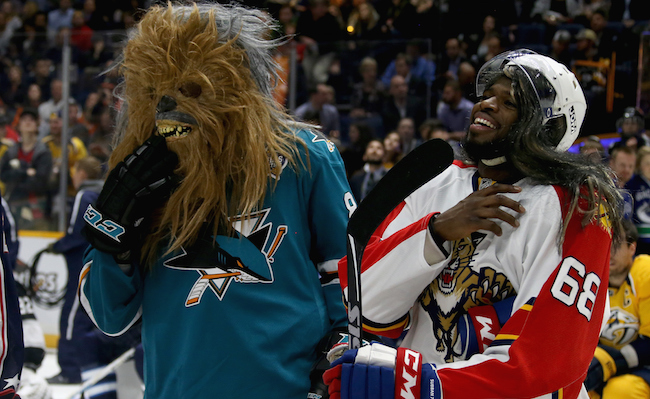 The NHL All-Star Skills Competition took place on Saturday night in Nashville and hockey's biggest stars (and John Scott) were on hand to flash their elite abilities and have some fun in the process. And, oh boy, did they have a whole lot of fun.
So much fun, in fact, that some of the fans who usually shout down meaningless All-Star events probably had to crack a smile and just enjoy the show. Here's a rundown of some of the night's coolest moments:
Patrick Kane got booed loudly (not a shock) during player introductions, and Scott seemed to highly enjoy it. For what it's worth, Scott got one of the biggest ovations.
Montreal Canadiens defenseman P.K. Subban didn't score on this shootout attempt but daaaaaamn.
Subban also paid tribute to ageless wonder Jaromir Jagr, who seemed to appreciate the gesture.
Obviously, Subban had to give the Jagr Salute. It helped him take home the shootout crown.

Brent Burns poked fun at his own hairiness by donning a Chewbacca mask and slapping one home.
It was equal parts hilarious and horrifying.
But Burns' son was the real star of the family, thanks to these dance moves after scoring a goal of his own.

Mark Giordano and Johnny Gaudreau were the latest to get in on the NHL puppy bet craze.
The Panthers' "Spacey In Space" sweatshirt made an appearance, thanks to Aaron Ekblad.
Shea Weber won the Hardest Shot competition in front of his home crowd with a 108.1 MPH heater.
John Scott, who had an odd path to the All-Star Game, got a huge ovation and it was awesome.
And, after the NHL pulled the "what will your children think?" to try and get Scott out of the game, this happened. It was perfect.