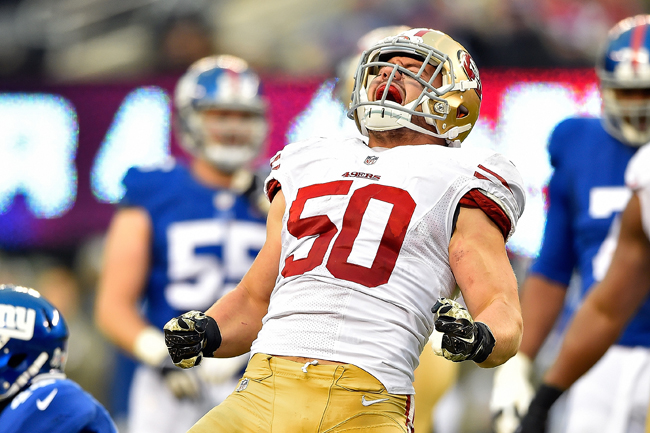 After becoming one of the top rookies for the San Francisco 49ers last season, linebacker Chris Borland is calling it quits. It's not a career ending injury that is forcing the young star out, but the threat of one. Borland has decided to leave football behind due to concerns over the longer term effects of head injuries and other trauma connected to the game.
Borland's retirement comes as a shock to fans and media alike, leaving the 49ers scrambling for answers and piling more doubts onto the safety efforts of the league as a whole. From ESPN:
Borland, 24, said he notified the 49ers on Friday. He said he made his decision after consulting with family members, concussion researchers, friends and current and former teammates, and studying what is known about the relationship between football and neurodegenerative disease.

"I just honestly want to do what's best for my health," Borland told "Outside the Lines." "From what I've researched and what I've experienced, I don't think it's worth the risk."

Borland becomes the most prominent NFL player to leave the game in his prime because of concerns about brain injuries. More than 70 former players have been diagnosed with progressive neurological disease following their deaths, and numerous studies have shown a connection between the repetitive head trauma associated with football, brain damage and issues such as depression and memory loss.
The 49ers released their statement on the matter, attached below via Dieter Kurtenbach of KNBR, noting that while the decision comes as a shock, they respect Borland's wishes.
The decision seems to be a solid one for Borland, describing the road he took towards making to ESPN:
His success last season did not make his decision more difficult, Borland said: "I've thought about what I could accomplish in football, but for me personally, when you read about Mike Webster and Dave Duerson and Ray Easterling, you read all these stories and to be the type of player I want to be in football, I think I'd have to take on some risks that as a person I don't want to take on." Borland was referring to former NFL greats who were diagnosed with a devastating brain disease, Chronic Traumatic Encephalopathy, or CTE, after their deaths. Duerson and Easterling committed suicide.
Borland said he began to have misgivings during training camp. He said he sustained what he believed to be a concussion stuffing a running play but played through it, in part because he was trying to make the team. "I just thought to myself, 'What am I doing? Is this how I'm going to live my adult life, banging my head, especially with what I've learned and knew about the dangers?'"
He said the issue "gathered steam" as the season progressed. Before the fourth game of the pre-season, at Houston, he wrote a letter to his parents, informing them that he thought that his career in the NFL would be brief because of his concerns about the potential long-term effects of the head injuries.
The possible effects reportedly made it an easy choice to make and I don't really think you can blame him. Even if you've just read the news that's featured retired NFL players, you should have alarm bells going off. It's easy to say that players know the risks involved, but how far does it go? How much can you actually buck the trend once you're in a system and you have people drilling you with ideas from day one.
This is certainly a big deal and other players might start following Borland into an early retirement. I enjoy football as much as the next guy, but I'd like to stop reading harrowing reports and depressing headlines about guys who "left it all on the field."
(Via ESPN)