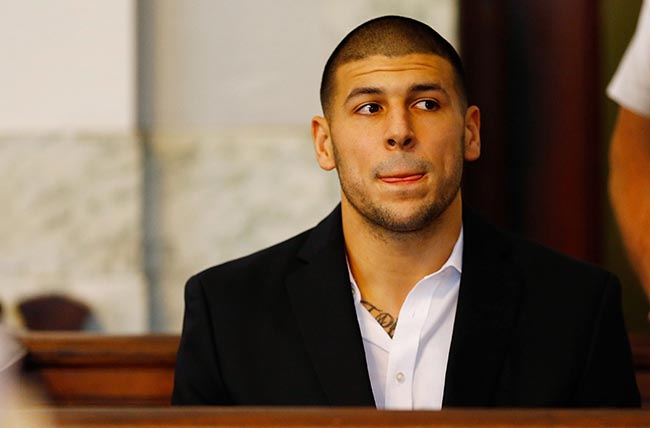 Already convicted of the murder of Odin Lloyd and sentenced to life in prison without the possibility of parole, Aaron Hernandez will be back in court soon to face two more charges of first-degree murder for the shootings of Daniel de Abreu and Safiro Furtado that took place in Boston in 2012.
On top of those charges, the Suffolk Superior Court has now added a witness-intimidation charge for allegedly shooting a witness in the face. Rounding out the charges for the case are three counts of armed assault with intent to murder, and counts of assault and battery with a dangerous weapon and unlawful possession of a firearm. It's quite the array of alleged criminality.
On the morning of Feb. 13, 2013, Hernandez allegedly shot this former associate in the face and left him to die in Rivera Beach, Florida. The victim survived the shooting.

While the Suffolk District Attorney's Office did not identify the victim of the shooting, Hernandez's former friend Alexander Bradley filed a lawsuit against him in Florida, saying Hernandez had shot him in the face following an argument at a Miami strip club.
Even though the shooting took place in Florida, Hernandez can be prosecuted in Massachusetts, where he is serving a life sentence, because he "willfully caused physical injury with intent to impede a criminal investigation." If convicted, the charges carry a maximum of another 10 years in prison.
(Via NECN)