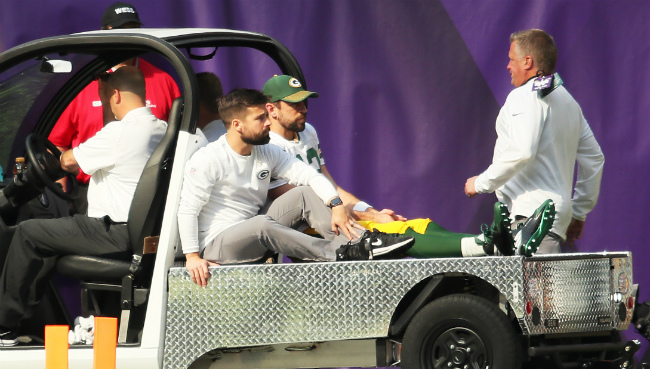 The Green Bay Packers announced that Aaron Rodgers' 2017 season might be over. According to the Packers, Rodgers suffered a broken collarbone during their Week 6 matchup against the Minnesota Vikings. Rodgers was tackled and landed on his right arm, which led to him getting carted back into the team's locker room.
While originally ruled as questionable to return after the hit, the Packers downgraded him to out before announcing the extent of the injury, including how it might impact the rest of the year.
With Rodgers out, Brett Hundley is slated to be the man under center in Green Bay. Hundley, a 2015 fifth-round draft pick, hasn't been great in an extremely limited sample size during his career, going 2-for-10 for 17 yards with an interception as a rookie.

But no matter who the team had slated as a backup, this is the worst possible news for the Packers. Rodgers is the best quarterback in the NFL and has been the face of the franchise for years, so missing him for any period of time would be terrible news. This isn't the first time the team has lost Rodgers due to this injury, though, as he broke his other collarbone in 2013.
We'll keep you updated on whether the news becomes a little better for Green Bay fans and Rodgers is able to return this season.