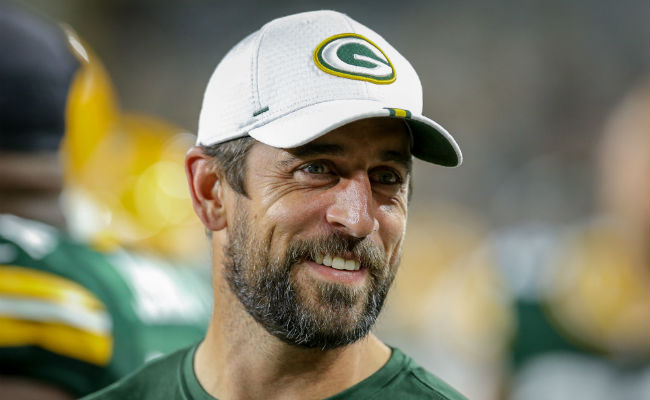 Aaron Rodgers just may be the biggest Game of Thrones fan in sports. It certainly helps his case that he actually got to appear on the show as an extra in its final season, which wrapped up on HBO earlier this year.
Over the years, Rodgers had taken to live-tweeting about the show and breaking down various fan theories both on Twitter and in interviews with the press. He was obsessed with the show, and now that it's finished, like a lot of people, he has to find something else to watch. But that doesn't mean he's done talking about Game of Thrones, especially given how much there is to break down about the show's final season.
It was a final run that disappointed many, and Rodgers sounds like he's among them in some regards. The Packers quarterback talked to Kevin Clark of The Ringer about the show's end and what it was like filming part of the final season overseas. Perhaps the most interesting thing Rogers talked about is all the storylines that he didn't care about once it was all said and done.

Among the things he doesn't care about (spoilers incoming): the fate of King's Landing, Sansa, and Bran, who actually ended up on the Iron Throne. He also says Jon deserved "honor" for always trying to do the right thing on the show.
"Arya, west of Westeros, and then Jon and the wildlings, that's what I care about."

"Don't care what's going on at King's Landing. Bronn … I don't really care about. Don't care about the Unsullied, especially after they caved. Don't care about Sansa."
In fact, Rogers thinks the show would have been much more compelling if Sansa ended up on the throne. He used the show's history of shocking but logical (in the context of the show, at least) events that explain why that would have made sense.
"I think Sansa would have been super Thrones because she got into the game and she played it. She survived a lot of crap—Ramsay Bolton, all that garbage—but she played the game well. She told Tyrion what was going on with Jon—knew it would get back, knew that would stir some crap up. That would have been epic Thrones to have her on there after all that. I also think Arya, in her moment of triumph, there with the Hound, it would have been epic for her to take out Cersei, who I think got a soft [landing]."
You know Rodgers is a big fan because he's heavily invested in the fan theories and the show's lore. No one says 'epic Thrones' or 'super Thrones' with a straight face without being really invested in what's happening on the show. And despite his disappointment with how some things ended, Rodgers isn't nearly as critical of how the show played out as some other superfans.

He did bring up many of the pacing problems that others pointed out, such as how one dragon was easy to kill with a Scorpion bolt and another seemed invincible. And then there's the battle with the Night King at Winterfell, which Rodgers felt needed far more time to unfold.
"I think there was such a buildup that some of the stuff wasn't as believable or maybe as Thrones-y as it has been in previous seasons, such as the big battle with the White Walkers [in Episode 3]. I feel like that should have been a multiepisode one, possibly," Rodgers said. "Or, more people should have died. Because they had so many characters left to resolve so they had to slam everything quick, quick, quick, because episodes were not two hours like we originally thought they were going to be."
Rodgers was sure to note to Clark that he loved the show, through and through, and with the way he talks about it, that love certainly shows. But just because the show's done now doesn't mean he's done talking about TV and pop culture. The interview is great and also ranks his favorite Quinten Tarantino movies and what else he's watching, including both versions of The Office.
That's right, one of the best quarterbacks ever is probably a bigger TV nerd than you are, and still way better at football than most anyone ever will be.