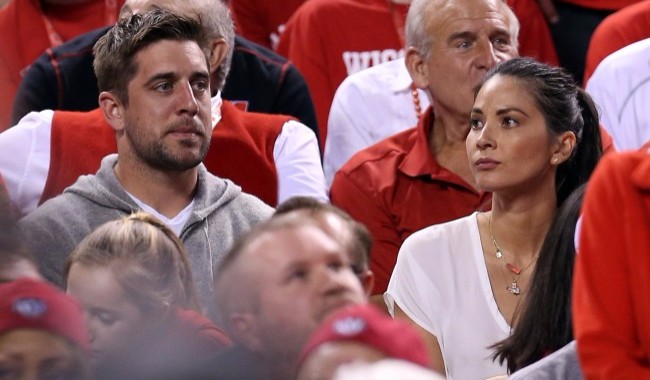 It's a rough day for people that live vicariously through the relationships of celebrities, as Aaron Rodgers and Olivia Munn have let the world know through a publicist that spoke to People magazine — the normal way people break up — that they are broken up. If you took comfort knowing that Rodgers and Munn watched Netflix and ate meals together, take the rest of the day off to cope with this news.
Rodgers and Munn had been dating since 2014.
"They have amicably ended their relationship of three years," a source close to the situation confirms to PEOPLE exclusively. The source says the couple "remains close friends and wish nothing but the best for each other moving forward."

Munn and Rodgers' breakup comes two months after the couple fueled engagement rumors in January when she was spotted wearing a diamond sparkler on her left-hand ring finger.
Sparkler. You mean a ring? She was wearing a diamond ring on her left ring finger, right? Or was it a literal sparkler? Because ring is a word in the English language used to describe a ring. The only way you'd use "sparkler" to describe a ring is if you had written 52 previous paragraphs about a ring and were running low on synonyms. Someone should go dub The Lord Of The Rings so all references to the ring is changed to sparkler.
That sparkler news was shut down by Munn more than a year ago when she also let loose on people who claimed her presence in Rodgers' life was making him play bad sports.
We will always have the good times, though, like when Rodgers and Munn twirled swords together (this was an X-Men: Apocalypse thing, right?). Or when they got pumped for a Star Wars movie. Or when they made a music video.
Hopefully Munn dumped him for his bandwagoning of Wisconsin sports when he went to California.
(People)