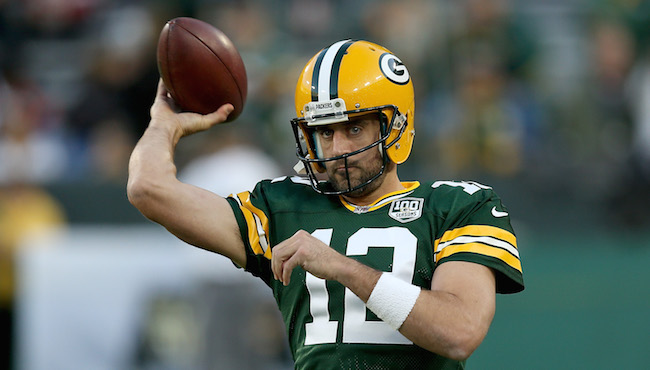 The Chicago Bears led 17-0 at halftime in Lambeau Field after a thoroughly dominant first half performance against the Packers. Everything pointed to a disappointing and frustrating start to the season for Green Bay as they were down to their hated rivals and also saw Aaron Rodgers get carted off with a left knee injury in the second quarter.
However, Rodgers' knee turned out to not be a severe injury, and after the Bears orchestrated a field goal drive to go up 20-0 to open the second half, out trotted Rodgers to lead the Packers offense. Rodgers didn't look right in the second half, moving very gingerly, not really planting on that leg on every throw, and just generally not being his normal, super mobile self. But still, on one leg, he was still Aaron Rodgers and he put together a few magnificent drives to get Green Bay back in the game.
A field goal drive in the third quarter finally got the Packers on the board, and then it was a virtuoso performance in the fourth that allowed them to reel in the Bears. The first touchdown from Rodgers was an absolutely insane 37-yard dime to the back corner of the end zone (from the far hash) to find Geronimo Allison that indicated he was at least somewhat more comfortable driving on that left knee to put some juice on the ball.

The next drive saw him hook up with Davante Adams twice, once for a 51 yard gain and then later for a touchdown to pull within a score. The first was a dime from Rodgers and the second one was simply an amazing individual effort from Adams to get in the end zone.

Finally, Rodgers was bailed out by a dropped interception from Kyle Fuller, which gave the Packers life and Rodgers didn't waste it. The packers quarterback showed some elusiveness despite the injury to shuffle around in the pocket long enough for Randall Cobb to spring open in the middle of the field, and then take off and elude the entire Bears defense for a 75 yard touchdown.
The Bears were able to get to near midfield on their final drive of the game, thanks to a fourth down roughing the passer penalty on Clay Matthews, but the held on fourth down with a strip sack to put the game on ice and allow them to run out the clock for an amazing one-point win.