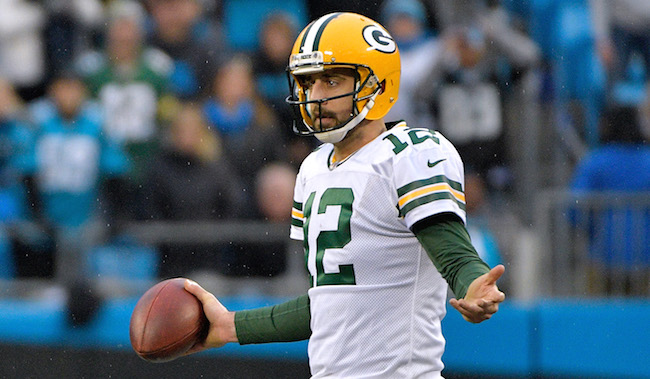 Aaron Rodgers returned from his broken collarbone last Sunday to try and keep Green Bay in the playoff hunt in their game against the Panthers, despite not being 100 percent. After losing that game, the Packers were officially eliminated from playoff contention on Monday night when the Falcons beat the Buccaneers.
With playoff hopes dashed, Rodgers returned to the Packers' injured reserve list to shut him down for the rest of the season. It was an understandable and expected move, but it's one that's caused some other NFL teams to cry foul.
According to ESPN's Adam Schefter, a number of teams have complained to the league about Rodgers returning to the injured reserve list with the same collarbone injury, noting it's a violation of the league's policy. The rule stipulates that a player must have a new injury that would keep them out for six weeks to be placed back on injured reserve.

If that's not the case, the player, by rule, is supposed to be released once he's healthy.
NFL rules stipulate that a player needs to have suffered a new injury that would sideline him at least six weeks to be placed on injured reserve. If that is not the case, the team is obligated to release the player once he is healthy.
The league, per Schefter, has directed all inquiries into the situation and why the Packers seem to be skirting the NFL rule (because there's no way they're releasing Aaron Rodgers) from other teams upset that Rodgers has returned to IR with the same injury to the Packers, who have not commented on the issue.
It would be one thing if the Packers had just shut Rodgers down for the season, but without sustaining a new injury, he shouldn't be able to return to the injured reserve list. The Packers want that extra roster spot, but understanding the NFL rule and knowing they're out of playoff contention it would have been much wiser for them to simply shut him down and eaten that spot to avoid this kind of controversy.