When the NHL returns to the ice this fall, fans will see a very different league than when the Pittsburgh Penguins lifted the Stanley Cup for the second straight year. A new expansion team will hit the ice, and everyone will be wearing new jerseys.
Adidas signed on to outfit every team starting in 2017, and together with the NHL, it unveiled all 31 teams at an event in Las Vegas on Tuesday night. Using its adizero technology, the uniforms are lighter—with special care taken to make sure the jersey crests and numbers were made with lighter materials to reduce overall jersey weight.
Here's a quick spin of all 31 jerseys.
Not a bad looking group! There isn't much new aesthetically to report, though many teams took the opportunity to clean their looks up a bit. The Buffalo Sabres, for example, got rid of a lot of grey in the armpit of their jerseys and removed the piping to make a more streamlined look.
Here's the whole group together.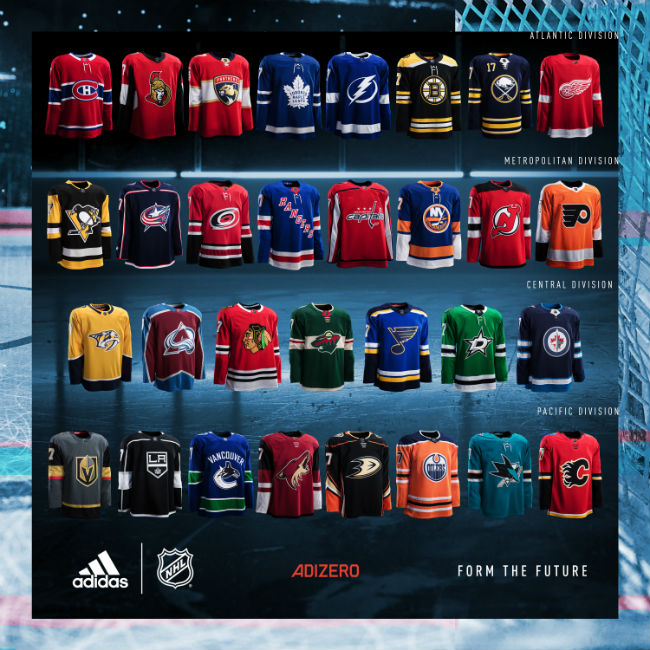 A few teams, however, perhaps took this cleanup effort a bit too far. The Lightning, Red Wings, Senators, and Predators all have extremely simplified looks that might be a bit too minimalist. Nashville's new jersey leaked hours before the official announcement, and fan reaction wasn't great. But overall, it's a pretty strong set of jerseys in Adidas' initial foray into hockey sweaters.
But let's take a closer look at some favorites. The expansion Las Vegas Golden Knights will have a jersey to hand to its first group of players. The team's first jersey was revealed on Tuesday, just in time for the NHL Expansion Draft on Wednesday and the NHL Draft in Chicago on June 23.
This is a great look that makes the helmet logo really pop. The use of accent colors on the mostly-grey jersey are well-balanced here. It's a great start for a franchise that hopes to be competitive right away.
But the best jersey refresh in my mind was done by the Minnesota Wild.
The white stripe running behind the already-excellent Wild logo is really strong. For a team that started playing in 2000, they somehow execute that soft retro feel really well. I think it's a winner.
One interesting addition this year is on the Panthers jersey. Check out the Florida flag complete with a panther walking on it.
Turns out it's actually not new! But no other team appears to have added any fun elements like that, though many did clean up their shoulder/arm situation outside of the Anaheim Ducks, who went with a few of their secondary colors on a mostly black jersey. The league isn't allowing third jerseys this season outside of its outdoor games, so we'll have to wait another season to see what teams do with the adizero technology in some more bold or experimental designs.
We'll also see what their road whites look like closer to the season's start, but really we truly won't know how these look until we see them in action this October.