Sneaker companies are always doing whatever they can to push their products forward. This happens in a myriad of ways — it could be the way a shoe feels on someone's foot, it could be through things like the shoe's color pattern or how it is designed, or it could be with some of the amenities you find on a shoe.
With its newest release, adidas is going to try something new. Their latest kicks are coming just in time for the Super Bowl: The adidas Made For Minnesota football cleats.
The things that makes these so innovative is that adidas went over to its SPEEDFACTORY facility in Germany and, using data, digitally created the cleats.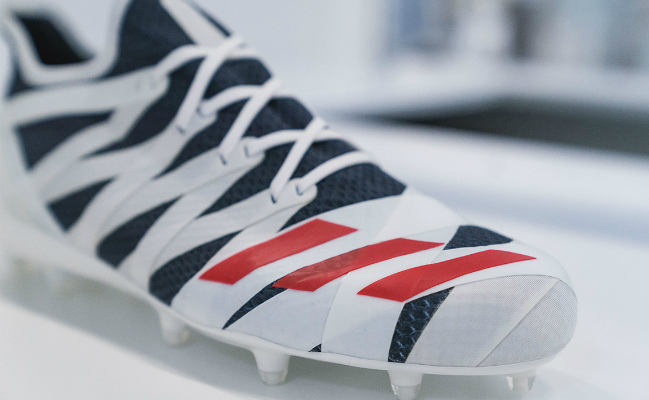 In a release, adidas called the shoes "data driven and digitally produced," and looked to change the way that football cleats are viewed in terms of things like the way they fit and how comfortable they are. They begin with an adidas Primeknit upper before diving into the the process of making the cleats.
"Adidas designers utilized athlete foot scans and ARAMIS motion capture technology used by NASA to understand the precise details of how an athlete's foot moves during a football game," the release said. "The result is the creation of a series of patches that have been strategically placed across different parts of the cleats to harnesses movement, provide stability and support, and deliver a precision fit that is specifically tuned for elite performance for football athletes."
As you can see above, the red, white, and blue ones are really sharp. The second pair, which are black and white, prominently highlight how the adidas logo is displayed.
The Made For Minnesota kicks are the third creation of the adidas SPEEDFACTORY, joining Made For Paris and Made For London running shoes that dropped in 2017. Later this year, adidas will expand this project, both with SPEEDFACTORY kicks for four more cities dropping and with the establishment of a SPEEDFACTORY in Atlanta.