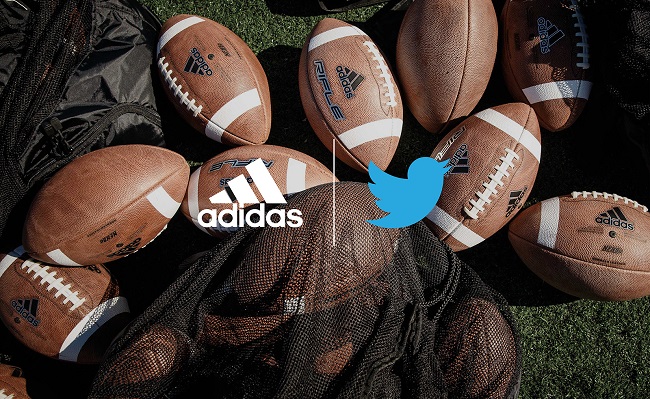 High school football continues to grow in the national consciousness and, with that as the backdrop, adidas and Twitter have partnered on an intriguing new media venture. The two companies will join forces on Twitter's first-ever live streaming series centering on high school football games and high-profile high school programs from states like California, Georgia and Florida will participate.
The eight-game series will commence on Sept. 7 and, throughout the regular season, games will be featured on the Twitter platform through the finale on Nov. 9. Given the increased focus on the high school gridiron, particularly through the lens of recruiting, Twitter is excited to branch out with this innovative partnership.
"High school football fans view Twitter as an indispensable tool to follow what's happening — whether it's the national recruiting stage or their local communities, every Friday night, we see players, teams, coaches, alumni, and fans embrace this passionate culture," said Andrew Barge, Head of Sports Broadcast Partnerships at Twitter. "We're thrilled to partner with adidas and Intersport to help fulfill this massive and untapped opportunity. Both have established credibility as creators in the high school sports arena, and with Twitter's engaged audience, we're excited to deliver eight live games that celebrate the unique, community-based passion for high school football on a national level."

The series, produced by Intersport, will feature major national powers like Ben Davis High School (Indiana), Marietta High School (Georgia) and Chaminade High School (Florida). ESPN and SEC Network play-by-play announcer Courtney Lyle will be joined by former Ohio State and Green Bay Packers standout A.J. Hawk in the broadcast booth and YouTube personality Cameron "Scooter" Magruder will provide color and entertainment as a sideline reporter.
"Combining the passion and excitement of high school football with a premium live video experience from Twitter exemplifies how adidas is the brand that truly fuses sports and culture," said Jeff McGillis, VP of U.S. Sports for adidas. "Friday Night Stripes provides a unique digital stage for the next generation of football players to showcase their skills and an opportunity for adidas to build and share football culture across the globe."
Twitter has ventured into the sporting space with live, streaming content in the past but, with Friday nights all but reserved for high school football in the Fall, this is an opportunity for the platform (and adidas) to grab increased market share. If nothing else, there is a new place to consume high-level high school football and you can do so without leaving the Twitter platform.