Vikings running back Adrian Peterson is 30 years old and currently leading the league in rushing with 291 yards in three games. Granted, at this point in the season, that particular stat doesn't really mean that much. It's only Week 4. Le'Veon Bell hasn't played due to his suspension, and he was projected by many to be the best back this season. Plus, many teams now use a backfield by committee, utilizing two or three backs with different skill sets to keep the defense off-balance and keep their players fresher. The time of the single back-dominated game is over. Passing is in style now, and Adrian Peterson may very well be the last meaningful single workhorse we ever see.
But if any back currently in the NFL can lead the league in rushing at age 30 or above, it's Adrian Peterson. Age 30 is generally considered "the wall" for running backs. The wear and tear of your 20s catches up to you, you lose your speed and quickness, and most simply default into becoming a short-yardage bruiser if you remain in the league at all. After years of being the driving force of a team, it's to be expected. But then again, 10 years ago, an ACL tear might have been career-ending. Twenty years ago, it pretty much was.
Peterson tore his knee to shreds in December of 2011 and then became the MVP in 2012, leading the league in rushing and coming nine yards short of Eric Dickerson's single-season rushing record. Peterson is one of the most determined, driven players in the league, and after sitting out a year last season for what he seems to perceive as unjust reasons, you better believe Peterson is angry. Not to mention the year off gave his legs some recovery time that may aid in his longevity. So, Peterson will be an interesting watch this year, to see if he can continue to have the season he is on pace to have.
What other running backs have had great seasons past the age of 29? Let's look at this exclusive club that AP is trying to join.
1. Curtis Martin
2004 – Age 31 (1,697 yds)
2003 – Age 30 (1,308 yds)
Curtis Martin, the former Jets great and current Hall of Famer, deserves the top spot in this list because, at age 31 in 2004, he was the oldest player to ever lead the league in rushing. In fact, he's one of only two players in history to lead the league in rushing at age 30 or above, the other one being Marion Motley in 1950 at the age of 30. Curtis Martin doesn't have the legend about him like Walter Payton, Emmitt Smith, or Barry Sanders, but he absolutely should. He finished his career strong and might have kept going if not for a knee injury forcing retirement.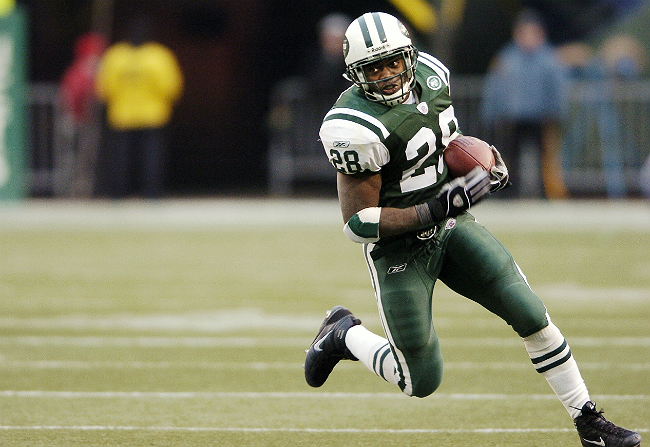 2. Tiki Barber
2005 – Age 30 (1,860 yds)
2006 – Age 31 (1,662 yds)
Wait, what? Tiki Barber's legacy these days isn't great. He's forgotten by most and viewed as a joke and a traitor amongst Giants fans for blasting Eli in the media in 2007, which turned into delicious irony when they won the Super Bowl that year. It's easy to forget that Tiki was a real stud for quite some time, and may have retired at the height of his powers. Tiki's two best seasons were his final two seasons, and his 1,860-yard 2005 season is the highest total yards in a season by any player age 30 or above, ranking 13th on the single-season record list. His 2006 is ranked 41st, the fourth-best season by a plus-30 back. Tiki deserves credit where it is due.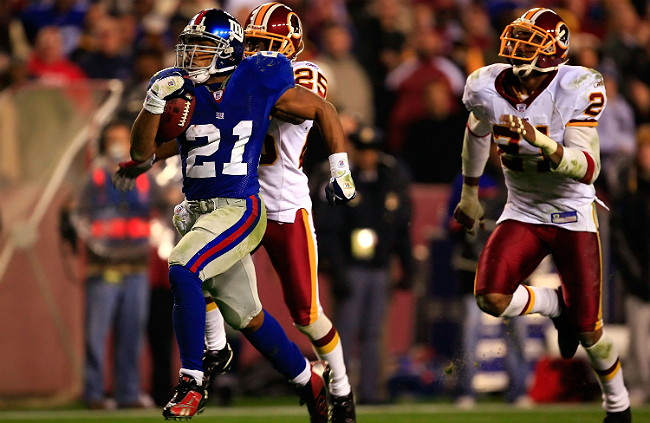 3. Walter Payton
1984 – Age 30 (1,684 yds)
1986 – Age 32 (1,333 yds)
Sweetness had to show up on this list somewhere. Payton is a legend, and it wouldn't be a list of greatest rushers without him. In 1984, it was the year of Eric Dickerson's single-season rushing record, so Payton's achievement is sort of ignored, but he was second in rushing that season with 1,684 yards at age 30, which is nothing to sneeze at. To end up on this list again, two years later, is a true testament to how good Payton was.
4. Barry Sanders
1998 – Age 30 (1,491 yds)
Sanders is another legend, a mysterious one especially with his early retirement and general introverted nature. Barry had the fourth best single-season rushing performance at the age of 29 just the year prior (and is one of only seven players to ever crack 2,000 yards in a season). Believe it or not, this season ranks as a disappointment in Sanders' legacy, his first season in five years to rush for less than 1,500 yards. While his '98 season wasn't quite as grand, it showed he still had it. Sadly, Sanders retired abruptly after the '98 season, and we'll never know what he was capable of past that point. Barry is in the record books for good reason, and he belongs here. His 1998 performance remains the 88th best single rushing season ever.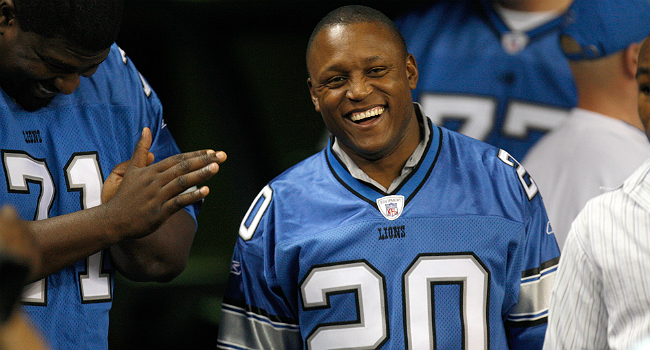 5. Warrick Dunn
2005 – Age 30 (1,416 yds)
Warrick Dunn? Do people remember Warrick Dunn? This happened just a decade ago in 2005, the same year as Tiki's highest point. Dunn was eighth on the rushing list that year, and yet his yardage that season is good enough to be the sixth best season by a back 30 or older in history. This is probably the first time anyone in years has thought about Warrick Dunn, but he's been doing great things off the field since his retirement.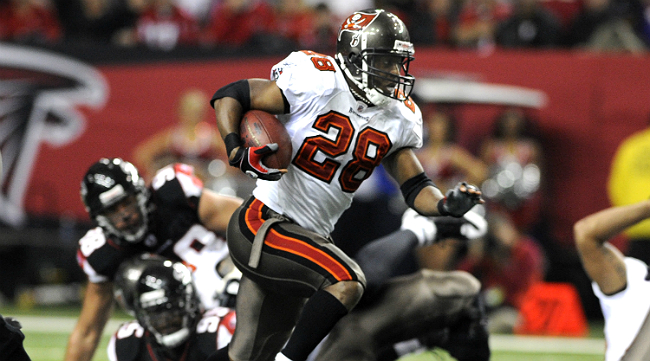 6. Thomas Jones
2009 – Age 31 (1,402 yds)
2008 – Age 30 (1,312 yds)
Thomas Jones, believe it or not, is in the top 25 rushers in league history (he's No. 24 and will likely be down to No. 25 within a few weeks when Adrian Peterson passes him). This might come as a surprise to a lot of people, because Jones was never a star. He drifted from team to team every few years, a solid player, but not a franchise keeper. His greatest moments came in the late 2000s with the Jets, where the old-timer journeyman back actually managed to play better at age 31 than he did at 30, with both years ending up on the greatest list.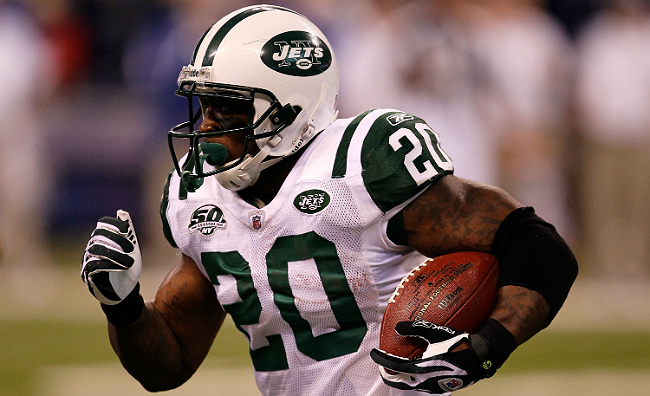 7. Emmitt Smith
1999 – Age 30 (1,397 yds)
No rushing list is sacred without Emmitt. Smith kept rushing the ball for years beyond what was effective, but he at least managed to do alright when he hit the wall for the first time. He would go on to have two more 1,000-yard seasons in Dallas after '99 before floundering around in Arizona until age 35.
8. John Riggins
1983 – Age 34 (1,347 yds)
His '83 total of 1,347 yards isn't the biggest number ever, but special note has to be given to that age number. Riggins was a monster and is the only player to end up on the top 250 single-season rushing list at age 34. In fact, no one else did it past the age of 32 (Payton). Read his Wikipedia page — Riggins may be the biggest outlier in rushing history as he holds almost every "oldest player to rush for ___" record in existence. The Diesel was a one of a kind player who we will likely never see again.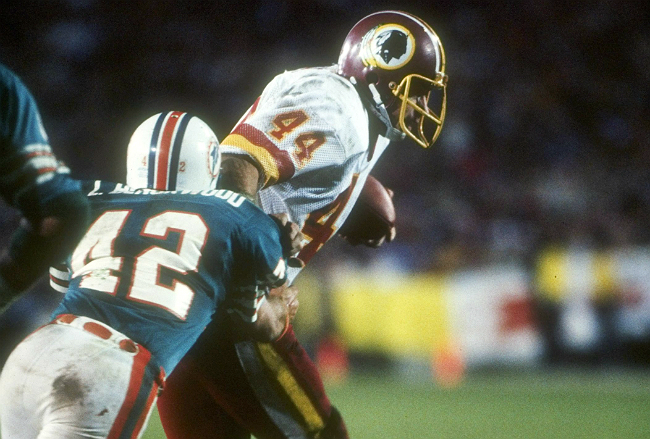 –//–
With the age of the passing game in full swing, the chances of a player like this showing up again are low, but Peterson should manage it if he keeps this up. The barrier for entry to the list of 250 best rushing yardage seasons is 1,244 yards, held by C.J. Spiller (2012) and Thurman Thomas (1989). Out of 250 players (actually more, because there are many ties), only eight players over 30 have made it, holding 12 positions. On the other hand, who knows? With more teams using tandem backs and being less reliant on workhorses, maybe we will have more players entering their 30s with less wear and tear keeping them down, and some will continue to crop up.