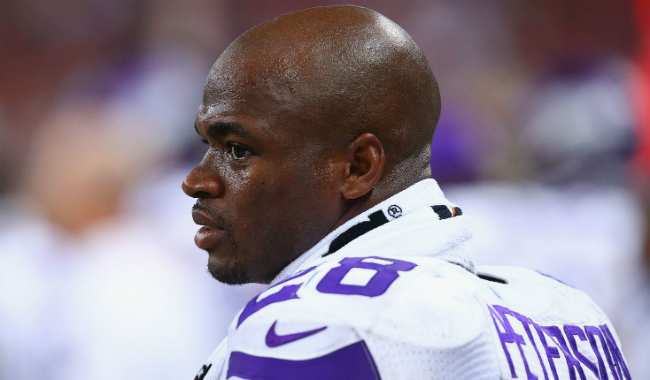 Adrian Peterson's situation with the Vikings is as complicated as an athlete-organization relationship can get. After Peterson's appeal of Roger Goodell's predictably arbitrary suspension was upheld, he once again was eligible to play for the Vikings, the only team he's ever known. The Vikings want to build a public image on being tough on domestic violence (now that it's in vogue to be), so they clearly want no part of Peterson now that he's back — aside from the fact that he's the greatest running back of his generation, one of the greatest ever, and one of the very best ever to wear a Vikings uniform.
The Vikings haven't released Peterson outright, probably because he's so good that they feel as if they can get something for him in return via trade. However, the (extremely) public feud between Peterson and Vikings management has torpedoed their leverage. Of course, that's all speculation, because the Vikings' public stance is that they want Peterson to stay and they won't let him go for anything.
Peterson, for his part, doesn't want to be a Viking anymore either, presumably because they tried their hardest to distance themselves from him when his domestic violence charges went public instead of standing by him (which, come on AP, you saw what happened after the Ray Rice debacle, didn't you? No one was going to touch you after that). So, when the Vikings' OTAs (they're like the preseason's preseason) started, Peterson didn't show up. It would have been a shock if he had.
In the wake of Peterson's no-show, Vikings head coach Mike Zimmer decided to go into tough-guy mode when speaking to reporters about AP after the first day of OTAs:
"He's really got two choices. He can either play for us, or he can not play. He's not going to play for anybody else, and that's just the way it's going to be."
When 99 percent of the public believes that there's no way Peterson will play another game for the Vikings, and when plenty of Vikings fans don't want him back, the hard tack the team is taking doesn't make sense. That (and the opinion of some that Peterson should shut up and play) also angered Peterson so much that he took to Twitter to air his grievances (faster than he could edit them for grammar or spelling):
There's a bit to unpack here, but let's just hit the big points: Peterson has laid out, in no uncertain terms, that he wants to leave the Vikings and they won't let him. He also (rightly) points out that NFL teams frequently release players before their contracts are over without being forced to pay the remaining years of salary (guaranteed money and signing bonuses notwithstanding). It is indeed unfair that NFL teams are allowed to breach their contract but NFL players aren't. Oh sure, they can not show up to work, but when the real preseason starts, teams levy fines against contract holdouts — and of course, players can't switch teams of their own volition during their contract (or even after it expires, thanks to provisions like the franchise and transition tags).
But it bears repeating that all of this is outlined in the collective bargaining agreement that the owners signed with the NFL Player's Association. That the current CBA is a horrible deal for players isn't Peterson's fault, but it is partly the fault of the leadership of the NFLPA. Of course, the owners still bear the large majority of the blame for presiding over a severely unbalanced labor system, but none of these nuances are relevant to Adrian when he's this angry. The one part of his rant that no one can argue with is that he's lucky that a team refuses to release him when he considers how many players would beg for his roster spot.
There's no end in sight to this situation. Both sides seem dug in, with their rhetoric only growing stronger. Peterson's 30, which is the witching hour for NFL running backs. He already sat out essentially an entire year, and his value is only going to diminish further. I'd still put my money on the Vikings releasing him, but I would not be surprised if a few months and dozens more angry tweets pass between now and AP changing teams.