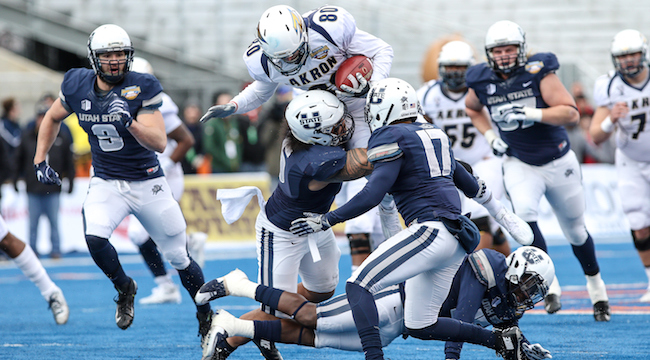 An Akron football player suffered a gunshot wound early Sunday morning, reportedly after being mistaken for a burglar by his own teammate. According to the Akron-Beacon Journal, Zips senior wide receiver Andrew Pratt was accidentally shot by Scott Boyett, an offensive lineman on the team, after entering his apartment without notice.
According to Akron Police Lt. Rick Edwards, the incident unfolded like this:

Pratt, a receiver, and Scott Boyett, 23, an offensive tackle from Dania, Fla., have separate apartments at an off-campus house in the 500 block of Rentschler Street.

About 3 a.m., Pratt entered Boyett's apartment without knocking or announcing himself.

Boyett shot Pratt because he thought he was a burglar.
Pratt was shot in the stomach, is listed in stable condition but is expected to recover. He uploaded a post to Instagram from the hospital with the following caption:
Thank you everyone for the love and support I have been receiving in the past 24 hours. Life is one crazy game and anything can happen to anyone at any given time. One minute I'm getting measurements and showcasing my skills in front of several NFL scouts, to being involved in a horrible accident just 12 hours later that could have easily ended my life. Just two inches higher and I might not be here today. Life is so precious and it should never be taken for granted. I am very lucky. Again thank you all for the thoughts and prayers, I'm going to be ok and make a full recovery. I'll be back before we know it !
Police questioned the two men separately and called the incident "an honest mistake," saying no charges will be filed as a result. Akron athletic director Larry Williams released the following statement in response to the news:
"We are saddened and concerned to learn of this situation and we hope that Andrew recovers fully," he wrote. "While we know the incident occurred at an off-campus location, we will wait to learn more from the Akron Police Department about what occurred. We are keeping Andrew in our thoughts and prayers."
It's a strange story but also one that could have had a much darker ending than the one it did, so thankfully Pratt seems to be doing okay.
(Via Akron-Beacon Journal)