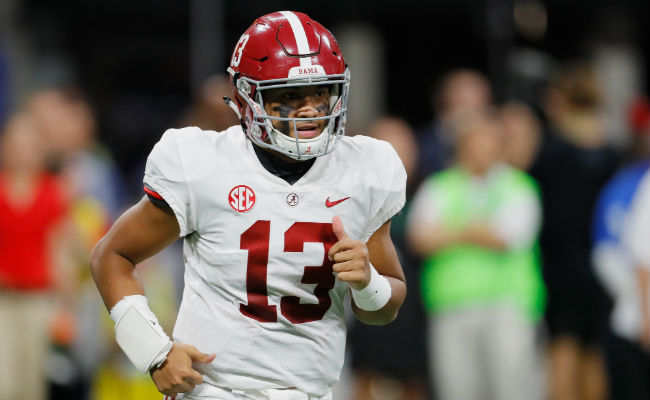 While Alabama was viewed as an overwhelming favorite to take down Oklahoma in Saturday night's College Football Playoff semifinal at the Orange Bowl, the Sooners had a glimmer of hope in the form of their dynamic offense led by Heisman Trophy winner Kyler Murray. Unfortunately for Oklahoma, while Murray was outstanding, he ended up getting outdueled by the guy who served as the runner-up for the Heisman: Alabama signal caller Tua Tagovailoa.
The Crimson Tide offense was dominant against the porous Sooner defense, while Alabama's defense was able to limit Oklahoma from ever getting into a groove. When the clock hit zero, Nick Saban's bunch found themselves punching their ticket to the College Football Playoff championship game yet again, coming out on top with a 45-34 win.
Alabama opened up the game by pouring it on, racing out to a 28-0 lead early on in the second quarter. The Sooner offense just was not on its game, while the Crimson Tide gashed them on the ground and through the air. Tagovailoa picked up a pair of passing scores, one to Josh Jacobs in which he mowed over an Oklahoma defender and one to Henry Ruggs.

Oklahoma's offense woke up a little, scoring 10 points in the second quarter, but the Crimson Tide were able to keep them at arm's length. That ended up being the case for much of the second half, too, because every time Murray did something hilarious like this…
…Alabama found a way to respond. Whether they'd win at the line of scrimmage in the running game or Tagovailoa would place a ball in a window that only a few people on earth could squeeze a football into, the Crimson Tide reminded everyone why they've been the best team in the sport this year.

On the night, Tagovailoa went 24-for-27 with 318 yards and four touchdowns. Murray, to his credit, was also outstanding, going 19-for-37 with 308 yards and two scores through the air, along with 17 carries for 109 yards and a touchdown on the ground. It was quite the battle, and fans can't help to wonder how much differently this game would have gone if Oklahoma was able to get going before falling down by 28 points, but in the end, Saban and co. were just too much.
Alabama will get a little more than a week to rest up, but college football fans are in store for a heavyweight battle on Jan. 7 in Santa Clara. This is the fourth time that the Crimson Tide and the Tigers have squared off in the Playoff, with Alabama winning their matchup convincingly last year. The last time they played with a title on the line, however, a Clemson team led by Deshaun Watson came out on top in 2017.
It's been viewed as something of an inevitable for much of the year, but Alabama-Clemson IV is now official. While it's easy to feel fatigue because these teams are playing yet again, this one has the potential to be special