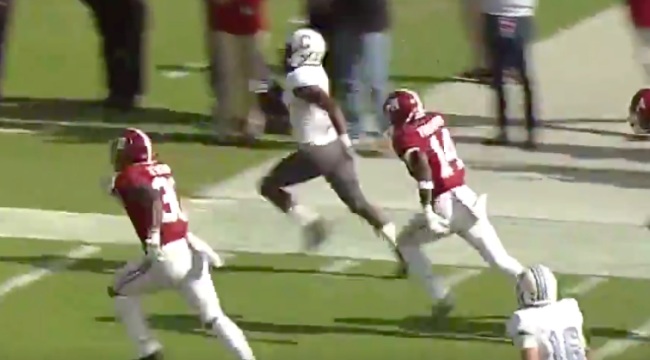 The Alabama Crimson Tide have been dominant throughout the 2018 season and that excellent performance has propelled Nick Saban's team to the status as an overwhelming favorite to claim the national title. In recent days, Alabama's defense has been tremendous, pitching back-to-back shutouts against LSU and Mississippi State and, with that as the backdrop, the team entered Saturday's tilt as more than 50-point favorites over The Citadel.
However, the Crimson Tide weren't dominant prior to halftime. After Alabama scored a touchdown in the first quarter, the visiting Bulldogs scored a touchdown to tie the game in the second quarter.
At that point, the social media folks from The Citadel elected to take a victory lap.

In some ways, this one writes itself, as the FCS program was able to do something that neither LSU or Mississippi State (two ranked teams) were able to do against Alabama. Still, it is undoubtedly amusing that the Bulldogs chose to celebrate this one and, in all honesty, things became even more interesting when (somehow) The Citadel completed the first half in a 10-10 tie against the Crimson Tide in Tuscaloosa.
Of course, no one believes that the upstart Bulldogs will actually be able to pull off the biggest upset in the history of the sport but, for one half (and one entertaining social media moment), The Citadel was even with Alabama and stunting on two SEC programs as a result.