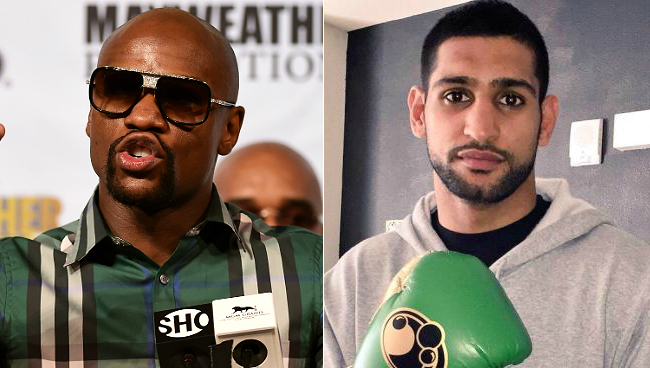 British boxer Amir Khan has made it known in the past that he wants to fight Floyd Mayweather,  Jr. before Mayweather retires, and as it is appearing to be less and less likely that Khan will get his wish, he's taken to calling out the undefeated boxer in the media.
In an interview with John Dennen of Boxing News, Khan had some pointed quotes for the former WBO Welterweight Champion.
"I wanted the Floyd Mayweather fight. Floyd in a way he chickened out, he didn't give me the fight. Three years he was saying he was going to give me the fight, then he didn't give me the fight."

"Mayweather's very beatable. If you look at when he fought against Berto. He was making a few mistakes, he was getting caught a lot, something I've never seen before. Mayweather normally is a sharp fighter and never normally gets caught. But you could see him, maybe the age is getting to him, maybe that's why he's called it a day and maybe that's one of the reasons why he didn't fight me. Because he knew that Amir Khan's going to give him the biggest problems in his career."
Khan does have some signature victories on his resume, but no one anywhere near the status of Mayweather, so it's understandable that he would want to fight the best if he wants to really make a name for himself. With that said, all of his personal issues aside, Mayweather is unbeaten in his career for a reason.
If he can't get to Mayweather, though, Khan appears to be settling for the next best thing: Manny Pacquiao, who he had some much kinder words towards.
"The Pacquiao fight, basically my team's taking care of everything. If it's going to happen, it's going to happen. I'm one of those guys, I'll fight anyone. Whoever's in front of me. Pacquiao is a fight I'd like to have because styles make fights. Me and Pacquiao used to train together as well, used to spar together, we are friends but sometimes friends have to fight each other.
If Khan gets a fight with Pacquiao and beats him, he will certainly get the attention he's seeking and just maybe Mayweather will come out of "retirement" to give him his shot.
(Via Boxing News)