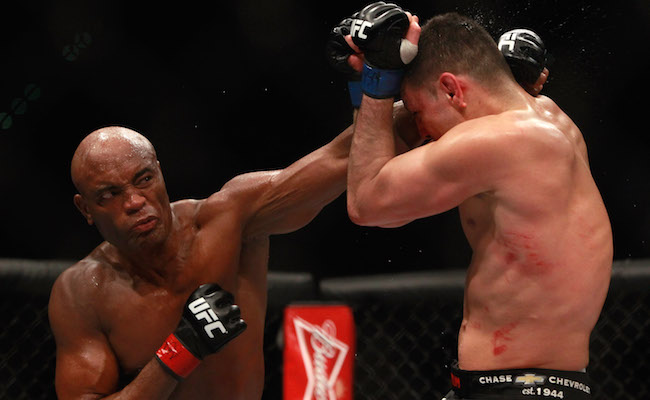 To put things diplomatically, the last time Anderson Silva and Nick Diaz fought the end result was a bit messy. And to put things accurately, the Silva vs. Diaz debacle out of UFC 183 was a total sh*tshow. Their bout finished with a Silva win turned no contest thanks to the Spider getting popped for drostanolone and androsterone. (Diaz was unsurprisingly hit for pot use, too.) Even with the baggage of that last fight, Silva's game for a rematch at UFC 212 and he's dismissing some notable names at middleweight in the process.
A positive test for marijuana sidelined Silva's previous UFC 212 opponent Kevin Gastelum and at a press conference for the event, Silva noted that he was disinterested in fighting potential fill-ins Luke Rockhold and Vitor Belfort on the June show. As reported by MMA Fighting, the UFC legend has a (somewhat flexible) criteria laid out for what he wants in his next fight.
"I'm coming off a win (over Derek Brunson), right, after a long time without wins, so it doesn't make sense to fight any of them because they are both coming off losses," Silva said at a UFC 212 press conference in Rio de Janeiro. "It's not something that will add anything for me. It doesn't make sense.

"I'm ready to fight whoever the UFC puts there. It doesn't matter who that is, be someone who's coming off wins and adds something to my legacy, otherwise it doesn't make sense."
Nick Diaz is coming off a loss, which you'd imagine might disqualify him from Silva's fight agreement sweepstakes, but, uh, no.
"It's something that was on the table ,too, it's possible that it happens this fight with Nick," shared Silva. "I respect him, he's an excellent fighter. It would be an interesting fight. It would be cool because this fight makes sense. The (first) fight was a no contest, so we'll see. Anything can happen."
To be fair, Diaz has enhanced name brand value, an unfinished business storyline with Silva and would be stepping into the Octagon for the first time in roughly two-and-a-half years. That might not quite be a legacy "add," but it's just sensible money generating sense. UFC 212 is scheduled for June 3 at Rio's Jeunesse Arena with the featherweight unification bout between José Aldo and Max Holloway headlining the card.
(Via MMA Fighting)