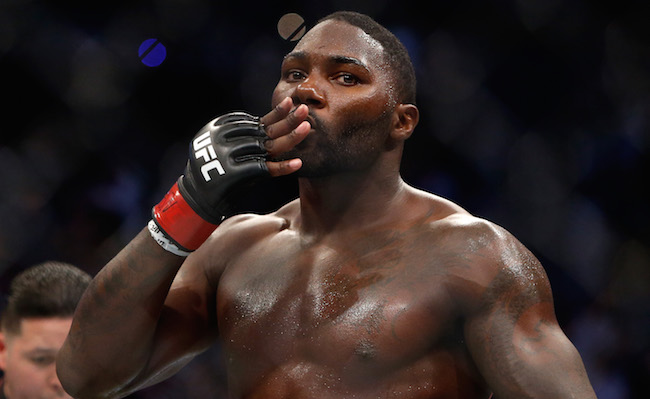 It's not easy being a top-ranked MMA fighter. In addition to weathering liver kicks, elbows to the brain and the interview stylings of Joe Rogan, there's also the unofficial gig of being your own matchmaker. In 2017, if you're not strategizing your fight marketability, you're half-assing it. The opportunity to get that "red panty" money from the UFC's new brass is there and savvy competitors aren't shy about thinking ahead. For example, Anthony "Rumble" Johnson is already musing about what else is in store for him in the light heavyweight division beyond UFC 210.
Johnson, who will be taking on current light heavyweight champ Daniel Cormier in Buffalo this April, discussed his post-fight options on Monday's The MMA Hour. He expressed interest in fighting former gold standard Jon Jones when he returns from his USADA gifted vacation this summer.
"He should be (next). I think he still should be," said Johnson.
This news will likely give Dana White warm sensations throughout his shiny dome. The UFC prez spoke in glowing terms about that potential tilt last summer and with attractions like Conor McGregor playing hardball and Ronda Rousey out possibly forever, the value of another pushed name brand fighter (including one in exile over drug penalties) is pretty high at this stage. Still, Johnson has other contenders in his field of vision in the division too.
"A lot of guys in the weight class have been putting in good work," Johnson said. "Jimi Manuwa, he just came out of a fight with OSP and knocked him out. That was a clean knockout on his part. Who else is out there? Gus is still out there. I wouldn't be surprised if they tried to make Gus and Jon fight again, just to see if you have a different result. So there's a couple of guys up there who definitely have my attention.

"I think, besides DC, the one guy that has my attention is, what's him name, Misha (Cirkunov). That dude is a beast," Johnson continued. "He's a beast, man. I like his style, and he's built like a brick house. I think his ass is gangster. I don't think he's close, but he's definitely somebody you've got to watch out for."
Of course, Johnson's future plans still have a Daniel Cormier shaped obstacle in the way. On the very same program, Cormier predicted that he'll make Johnson tap out on April 8.
"Yes, I do. I don't ever change. He'll give up. We've seen it too many times," said Cormier. "And you're making me be kinda mean to this guy when that's not who I am to him, but it's the truth. You can point to it, (Josh) Koscheck and me and Vitor (Belfort) and all these. It's only the truth. I'm only speaking the truth, and here's the thing, I'll say it in front of him too. It's not like I won't say this in front of Anthony Johnson."
If only there was some sort of eight-sided structure these professional fighting men could sort out their differences in. Help us, pay-per-view!
(Via MMA Fighting)