Over the course of the 30 years it has existed, the iconic Madden franchise has sought out some of the most dynamically skilled and vibrant personalities in the NFL to grace its cover. For Madden 19, the obvious choice was Antonio Brown.
Complimenting his explosive speed, quick twitch agility, and all-world hands, Brown's mega-watt smile, one-of-one hair styles, and unique fashion sense make him one of the most transcendent characters in the game. It's no coincidence that, for the first time, EA Sports specifically featured Brown as the cover athlete without a helmet.
"I was glad they wanted to expose my face and show people who I am outside the helmet," Brown says with that signature smile.
Considered a career highlight for the league's elite players, the Madden cover is a significant accomplishment for a guy who is smack dab in the middle of significant accomplishments. Brown is a five-time All-Pro who also competed on Dancing With The Stars. He played in a Super Bowl in 2011 and appeared in the video for Drake's 2018 hit, God's Plan. Twice he's led the league in receptions (2014 and 2015) and receiving yards (2011 and 2017), while also landing on pages of GQ and ESPN's Body Issue.
No stranger to the spotlight, the Madden cover is an absolute thrill for the Steelers receiver. Brown knows it is a statement and a career achievement to rate yourself among the NFL's all-around favorites.
"I found out early this year, like February," Brown recalls of receiving the news. "I was just ecstatic."


When it comes to entertainment value, Brown is the league leader. He understands the line to walk between life as a working athlete and harnessing the power of celebrity culture. It is something he's clearly embraced, but also has dutifully prepared himself for, which may not be something you'd expect out of a sixth round pick from Central Michigan.
"It's about just being a real person, not minimizing my role, not complaining or bitching, or worrying about what people say," Brown says, again flashing that smile. "Not minimizing my role. Not making excuses. Not seeking comfort. Just continuing to believing and working, and willing myself to be in the position you desire to be."
Before he settles in on his ninth NFL season, Brown and his crew have set up camp in the Hollywood Hills to take in the Los Angeles summer. He's there to train and for the endorsement opportunities that come to one of the most marketable players the league.
EA has its team posted up in a highrise Hollywood hotel suite, of course with the upcoming edition of Madden available for competition. Decked out in a Nike sweatsuit, chunky diamond encrusted chain ,and a fresh pair of the sought after John Elliott x LeBron Icon, Brown ducks out onto the balcony to field calls and set up his next move. Two of his sons, Autonomy and Ali, are joining their dad for the day's media festivities.
While he continues to push the envelope for NFL stardom, Brown is well aware that he has to keep his priorities in line with his perspective.
"It's just being disciplined and understanding what your purpose is," Brown says. "You just got to keep the right spirituality. Know how to unplug, have a moment to unwind and refresh."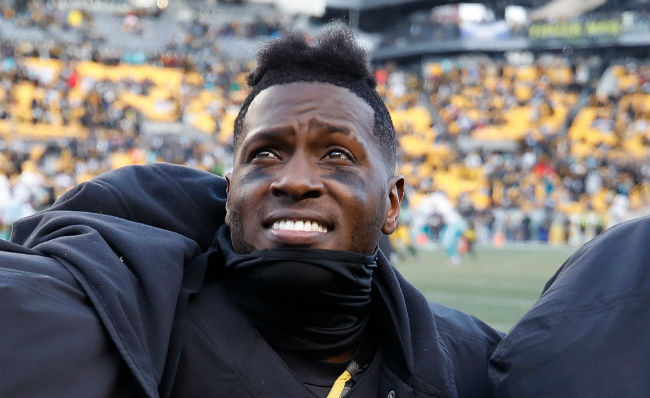 Right on cue, his young son, Autonomy, needs his shoe tied. Brown leans over from his chair to offer some fatherly guidance.
"Over. Under. Pull it through. Now you try it."
Brown, who hails from the cradle of special football talents in Miami, followed course set by Chad Ochocino, Edgerrin James and Antonio Freeman. Yet he points to another product from the University of Miami, Dwayne Johnson, as an influence when it comes to his combination of athleticism and showmanship.
When asked about the concept of athletes as entertainers, Brown rocks back in his chair and nods in agreement. "I mean, we are," he says. "It's business, but at the end of the day it's a game and it's all entertainment."
So while his team worries about franchise tags, an aging quarterback, and vanquishing a foe in New England, Brown will continue to break for the end zone, get the best of defense, and find new ways to celebrate touchdowns.
"People look forward to what we do, how we inspire them, how we make a play to get everyone excited," Brown says. "Everyone's looking for that entertainment."
Unsurprisingly, while Brown says this, the million dollar smile comes across his face one last time.