https://www.instagram.com/p/BKRu1eaBPuj/?taken-by=milliondollarlistingsabq
Antonio Brown's twerking, or as he calls it, "boomin' dance" will probably cost him around $10,000 when the fine officially comes down from the league office. Typically, taunting or unsportsmanlike conduct penalties run a player up to $12,000, but we don't know officially what he was fined for, yet. That doesn't mean Brown isn't going to change his ways — he is going to adjust his celebrations. He doesn't want any penalties affecting his team or his bank account.
When he discussed the penalty with Doug Gottlieb on CBS Sports Radio, Brown was introspective about his celebration.
"Well, I got to be smart in regards to that. I never want to put my team in a bad predicament. Maybe I'll keep (the twerking) to a minimum of two pumps instead of three."
Here's the thing — Antonio Brown pumped at least five times. Let's break it down.

As you can see in the above video, Antonio Brown immediately pumps four (4) times before a slight hesitation, then, the longest period of times between pumps comes (just over a second) and we get a final, punctuating twerk.
That's five twerks. Please refer to the .gif below: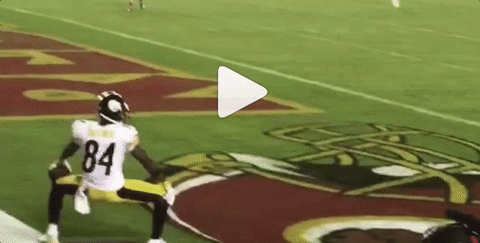 So at what point does the twerking become excessive? Was it at two twerks? Three? Four? Was it that final thrust at the end that sent the yellow flag flying? It seems so. There is no flag until AB's hips push forward for the fifth time. You can see for yourself that the referee is seemingly letting the twerking happen until that final jiggle.
And so, now we know how many twerks are too many. Go forth with this information and live your life the best you can.
(Via CBS Sports)