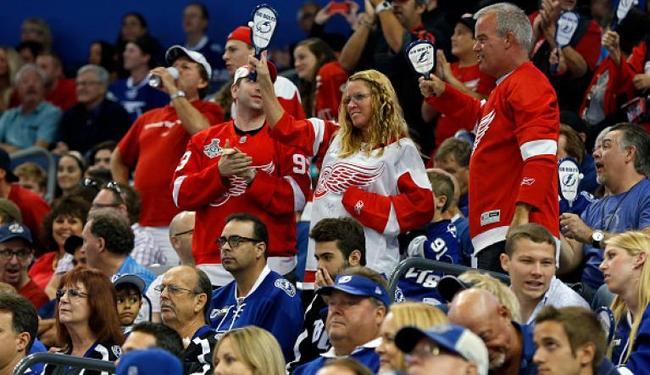 Army captain Paul Dhillon, 32, is a Tampa Bay Lightning season-ticket holder with seats directly behind the Lightning bench. Throughout the season, you could often catch him on TV just over the shoulder of coach Jon Cooper during a coach's interview, decked out in his Lightning gear.
However, earlier this spring, Dhillon was sent to Kentucky for Army training, and since he would be unable to attend the rest of the Lightning games in person, including the Stanley Cup Final against the Blackhawks, he has been forced to sell them. During the Lightning's first-round playoff series against the Red Wings, he turned to a secondary ticketing market like StubHub, and that's where he says his problems with the Lightning's ticketing office began.
Throughout the playoffs, the Lightning have tried to ensure their home games are filled with Lightning fans instead of visiting fans. This tactic is not a new concept for teams trying to advance their fanbase. However, the way in which the Lightning went about it in the case of Dhillon was highly questionable, to say the least.
According to Dhillon, the ticketing office began threatening to take away his season-tickets in the future if he didn't begin either using them personally, or if he didn't sell them back to the team so they could ensure they ended up back in the hands of Lightning fans. He said they also temporarily blocked his ability to manage his tickets online, and if he wanted them, he'd have to pick them up in person at will-call.
That's tough to do, of course, when you're in Kentucky serving your country.
"I'm willing to comply with any policy they show me in writing, but they're just making up stuff as they go," Dhillon told the Tampa Bay Times. "I really feel that they're strong-arming me into complying with what the Lightning want."
Thankfully, Lightning CEO Tod Leiweke intervened and admitted the team overstepped their boundaries in this case, and since this story broke last week, the Lightning have changed their tune and are allowing Dhillon to sell his tickets to whomever he chooses, and via any method. "If a gentleman serving our country feels he was slighted, oh my god, we owe him an apology," Leiweke said.
So, all is well that ended well. But it's a shame it had to even come to this. It also makes you wonder if Dhillon hadn't been a member of our armed services, would the reaction from the Lightning have been the same?
[via Tampa Bay Times, Chicago Sun-Times]