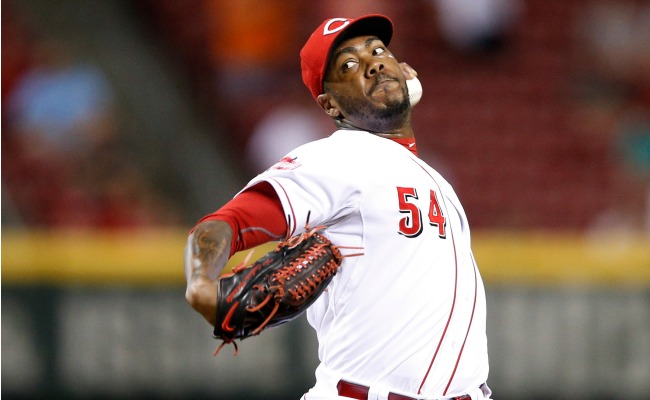 Less than one month after a trade to the Los Angeles Dodgers crumpled under the weight of domestic abuse allegations, now-former Cincinnati Reds closer Aroldis Chapman is headed to the New York Yankees for a solid, yet unspectacular return.
Heading to the Reds is former first-round pick and corner infielder Eric Jagielo, RHP Rookie Davis, second baseman Tony Renda, and RHP Caleb Cotham. With the state of the rebuilding Reds, all four players could conceivably see some time at the Major League level in 2016, but Jagielo and Davis are the best bets to make a big impact in the future if the former can wash away a disappointing 2015 and the latter can continue to harness his mid-'90s fastball and his mild control issues.
For the Yankees, the question isn't if Chapman will make a difference, it's when and for how long. The left-hander is still being investigated by Major League Baseball for those domestic abuse allegations, and with the league eager to evade any hint that they aren't taking these matters seriously following the NFL's disastrous track record, Chapman could miss a significant portion of the 2016 season.
As MLBTradeRumors points out, however perverse as it may be, losing Chapman to a lengthy suspension might actually provide the Yankees with more value in this deal thanks to service time requirements that would push off Chapman's pending Free Agency one year to the 2017-2018 offseason.
The uncertainty with Chapman also complicates what the Yankees intentions are with what is now, on paper, one of the most intimidating bullpens of all time with Chapman, and incumbent late inning relievers Andrew Miller and Delin Betances. Do the Yankees trade Miller (whose name has been mentioned in trade rumors this offseason) to upgrade the team's aged and somewhat ragged starting rotation or bolster their farm system for future trades? A Miller trade would doubtlessly fetch more in terms of prospects than Chapman ultimately did thanks to his own track record of dominance, his reasonable contract (which has three years and $27 million remaining), and the absence of troubling baggage like Chapman has. Think something between what the Padres got for Craig Kimbrel and what the Phillies got for Ken Giles.
According to New York Post columnist Joel Sherman, though, the Yankees seem ready to stand pat, shortening games in an effort to protect their rotation.
Whether that winds up being true or if the Yankees are eager to get that message out so as to strengthen their bargaining position remains to be seen. There is also the possibility that they'll hold onto their rockstar bullpen for the season's first half, see what happens with Chapman, and then deal from a position of strength should they need to shore up another area at mid-season.
While all these questions swirl, though, there are two things that are certain: the Reds were able to move a seemingly immovable object and the Yankees were not scared off by Chapman's seeming baggage. Will it bite them in the ass? We shall see. Though his sins are less onerous than the ones that Chapman allegedly committed, no one thought Alex Rodriguez would swim back to land amidst the ocean of boos that greeted him when he returned from his exile last year. But then, his unfathomably strong first half performance turned him into a crowd favorite all over again. Will the same thing happen to Chapman if he hits triple digits on the radar gun and buckles knees with his curveball at Yankee Stadium? Even if he winds up serving a suspension at some point? You know the answer and so do the Yankees.
Source: Josh Norris, Ken Rosenthal, Jack Curry