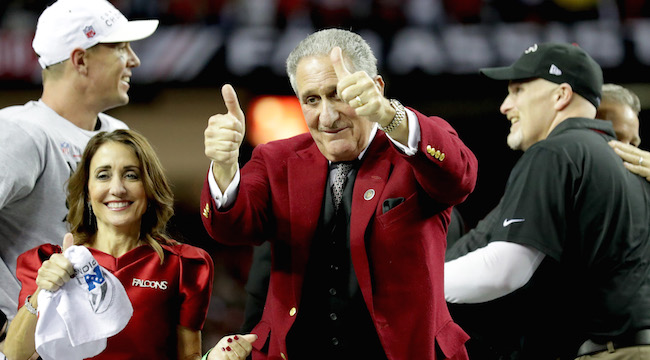 The Atlanta Falcons will make their first trip to the Super Bowl since 1998 after dominating the Green Bay Packers on Sunday to win the NFC Championship. It's the first time any Atlanta sports team has made the championship game since the Braves made the 1999 World Series.
That's a super huge deal for a city that has been mired in sporting mediocrity for almost its entire existence, and Falcons owner Arthur Blank knows that. Blank understands the rarity of a Super Bowl trip and, according to Jeff Schultz of the Atlanta Journal-Constitution, he wants to reward all of his employees, at every level of the organization, with the Super Bowl experience.
This is a really cool move by Blank and follows in the footsteps of Warriors owner Joe Lacob, who flew all of his employees to Cleveland for Game 3 of the 2015 NBA Finals on the way to a Warriors' championship victory. That move by Lacob required him to book an entire flight, plus a reported 155 hotel rooms in Cleveland.
Blank is running hot right now, with the Falcons headed to the Super Bowl and his brand-new (partially public-funded) Mercedes-Benz Stadium opening later this year, so he's probably not too worried about the cost of taking hundreds of people to the Super Bowl. Let's just hope he stops dancing before he hurts somebody.