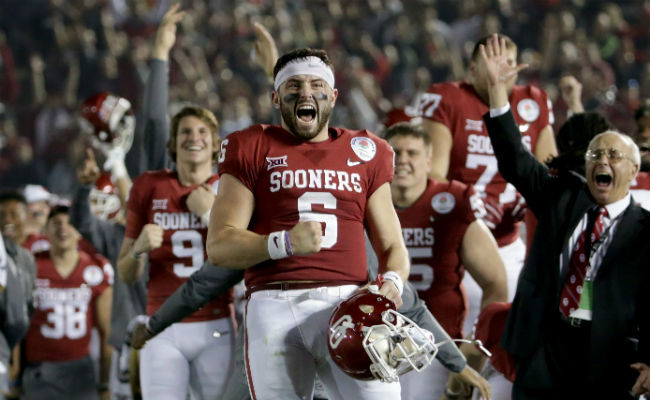 There was plenty of intrigue surrounding who the Cleveland Browns would take atop the 2018 NFL Draft. Would they go with the strong arm of Josh Allen? The pinpoint accuracy and unparalleled swagger of Baker Mayfield? The undeniable coolness and ridiculous upside of Sam Darnold? The all-around abilities of Saquon Barkley? The possibilities seemed endless, partly because when the Browns are drafting, anything is possible.
Cleveland decided to make the top pick as drama-free as possible. Reports all day on Thursday indicated that the Browns were enamored with Mayfield, and with the first pick, they selected the Heisman Trophy winning signal caller.

Mayfield is short, coming in at a hair under 6'1, but the dude is an absolute gamer. He started his collegiate career as a walk-on at Texas Tech before walking onto Oklahoma. He masterfully orchestrated the Sooners' offense each of the last two years, setting the FBS record for passer rating as a junior and breaking it as a senior.
The Browns aren't done doing things in the first round, as Cleveland sits at No. 4 thanks to their trade last year that led to the Houston Texans drafting Deshaun Watson. Perhaps they'll use that to go with a defensive ace like Bradley Chubb, or maybe that pick will get shopped around. One thing is for sure, though: The Cleveland Browns have the guy they hope will be their quarterback of the future, even if he might sit this year behind Tyrod Taylor.