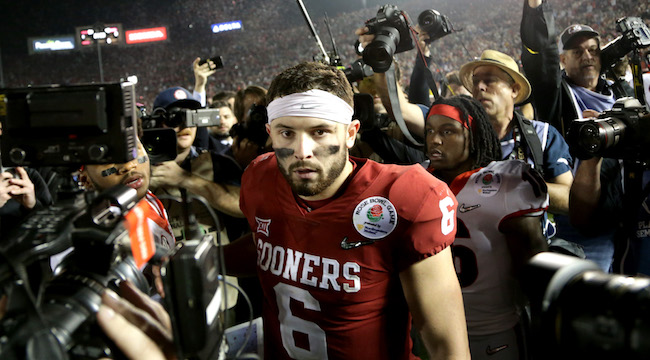 Baker Mayfield is an incredible football player whose best asset may be his unwavering belief in himself and his team. Mayfield's swagger and moxie are undeniable, and it is a major reason why he won the 2017 Heisman Trophy and is viewed as the kind of guy who could go on to have a solid NFL career.
Like many athletes who possess this trait, though, Mayfield's confidence can cross over into arrogance rather quickly. It's the kind of thing that has turned him into a villain in the eyes of many college football fans, and on Monday night, a Georgia player wanted to try and put Mayfield in his place.
While the Bulldogs and the Sooners were dapping one another up after one of the greatest Rose Bowls ever, Georgia linebacker Davin Bellamy wanted to use his team's win as an opportunity to send a message to Mayfield. Bellamy was caught on camera screaming "humble yourself" at the Sooners' star signal caller.

Seeing as how Mayfield did this earlier in the game after Oklahoma found the end zone, it's not a surprise that Bellamy felt the need to call him out.
This is the kind of thing that just happens to players like Mayfield, who have a target on their backs and play a role in putting that target on there. Mayfield got trolled by an opponent after Iowa State stunned the Sooners earlier this season, Bellamy made sure he got trolled on Monday night, and as long as he's in the NFL, he'll receive the ire of opponents there, too.