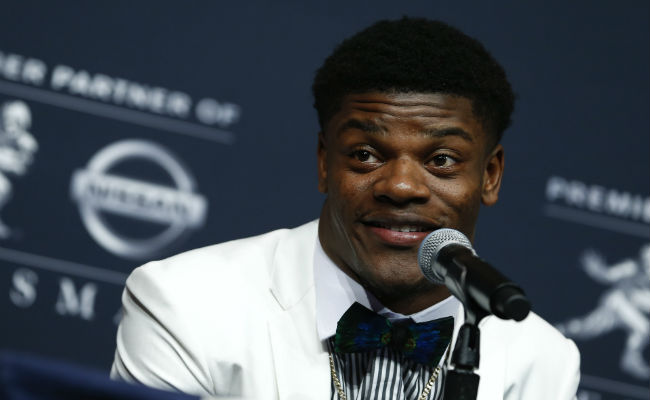 One of the biggest stories of the 2018 NFL Draft was the fall of Lamar Jackson. Four quarterbacks went in the top-10 of the draft, all while Jackson was left sitting in the green room. Teams kept trading up, teams with quarterback needs kept picking, and despite this, no one selected the dynamic signal caller from Louisville.
But with the final pick of the first round, the Baltimore Ravens traded up and sent a handful of picks to the Philadelphia Eagles. With the 32nd pick, they decided to stop Jackson's fall and give themselves a quarterback for the future.
As Adam Schefter of ESPN pointed out, the Ravens could have a hole at quarterback which Jackson could fill in the near future.

Jackson is an absolutely fantastic athlete, and when he is able to take off and run, his mix of speed, agility, and ability to make dudes miss means he is a matchup nightmare. This is also partially why teams wanted to see if he'd be willing to work out as a wide receiver, which Jackson didn't want.
This is because the 2016 Heisman Trophy winner can really sling it. He has a strong arm and became more accurate each year in college, culminating in completing 59.1 percent of his attempts last year. In three years, Jackson accrued 9,043 passing yards, 4,132 rushing yards, and 119 total touchdowns.
Jackson could use some time to become a more refined passer, but he should have that in Baltimore and he's also much better throwing the football than anyone who wanted to move him to wide receiver would lead you to believe.