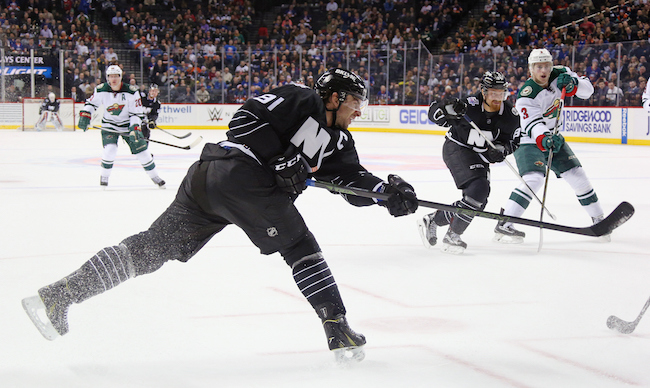 The New York Islanders are in their first season of residency at the Barclays Center in Brooklyn and, although the team is doing pretty well, things could be going better. After the closing of their beloved (but severely outdated) Nassau Coliseum, Isles fans are still trying to adjust to life away from Uniondale.
The team's attendance numbers have dipped considerably — to be fair, Barclays' 15,700-seat capacity is about 2,000 seats less than Nassau — and they currently rank 28th among NHL clubs with an average crowd of just over 13,200. Home attendance has been climbing, but, at the moment, only Arizona and Carolina have lower averages.
Even so, Barclays — also home to the Brooklyn Nets — has presented more issues than just a lower seating capacity. The arena, which clearly wasn't designed with hockey in mind, features several sections that have obstructed views of the ice.
The building's CEO, Brett Yormark, was recently asked about those seats (and the criticism of them) in an interview with Sports Illustrated, and his response was…well, it was something.
Our seating capacity is over 15,700. Within that capacity there's a lot of great seats. Do we have some obstructed seats? Yes we do. Are fans aware of those obstructed seats before they purchase them? Yes they are. There's really nothing we're going to do from a capital-improvement standpoint. You can watch the game on your mobile device. The game is on the scoreboard. There are many ways to view the game if you're in one of those obstructed seats. We aren't going to be able to change the seats in the building. That is what it is. But there are certainly other ways we can enhance the experience.
In fairness, Yormark is in a tough spot. As previously noted, the building wasn't designed for hockey, and construction surrounding the site since its opening in 2012 has made it difficult to renovate the bowls. I've never been, but I'm sure it's a fine place to watch a hockey game if you're in the right seat.
That being said, there are probably better ways to sympathize with fans with obstructed views than telling them to shut up and watch the game on their phone or the jumbotron. First off, nobody who buys tickets to a sporting event should have to follow the action through a screen (especially a three-inch mobile screen) when they can do that for free at home. Second, even if somebody did want to watch the game on their phone, local blackouts would likely make that impossible.
Instead of telling fans "you bought the ticket, you figure it out," Yormark probably could have been a lot less tone-deaf and offered up some discussion as to ways the arena is trying to work around the issue, or possible solutions down the road. But whatever, I guess slapping fans in the face with a "just give me your money and shut your mouth" works, too.
(Via Lighthouse Hockey)
Now Watch: Everything You Need To Know About The NFL's Most Expensive Stadium