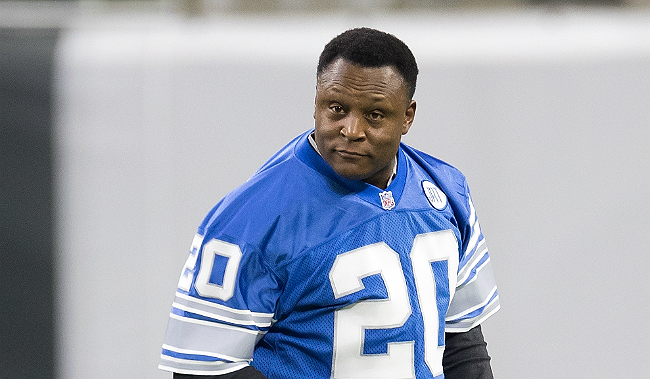 There are many great running backs in the history of professional football. It is very possible that none of them have ever been as good as Barry Sanders. The former Detroit standout was simply dominant during his decade in the NFL, making defenses look foolish as he became the face of the Lions' franchise. By the time he hung up his cleats in 1998, Sanders had accrued 15,269 yards and 99 touchdowns on the ground during his career.
Sanders has managed to stick around the game since his retirement for a myriad of reasons — he's a Hall of Fame inductee, his name is synonymous with the Lions franchise, etc. He most recently popped up in Miami, where he attended the fantasy football world's premier event, the DraftKings Fantasy Football World Championship.
Before things got kicked off in South Beach, Sanders sat down with Uproxx Sports to talk about the best running backs in the game now, why he's not a fan of comparing any one player to himself, and much more.
Who are your favorite running backs to watch right now, whether it be in the NFL or college?
NFL wise, I think it's been a great year, or at least a solid year, for running backs. You look at the kid [Kareem] Hunt from Kansas City, who I think's leading the league at the moment. You look at [LeSean] McCoy, he's just had a solid career, Buffalo's right in the middle of things.
Of course, Le'Veon Bell, who really is central to Pittsburgh's offensive attack, the kinda dual threat that he is. Even think about, you wonder what would have been with [Ezekiel] Elliott missing so many games with Dallas. But all in all, just a solid year for those guys. You look at what [Mark] Ingram has done in New Orleans, on pace for over 1,000. It's been a good year.
It seems like running backs are kind of having a resurgence after the league started focusing so heavily on throwing the ball. Is there anything you attribute that to or do you think that narrative might be inaccurate?
I'm not sure how accurate it's been, but certainly the language surrounding the game, very pass oriented. There are some teams that are certainly, that is the case. Past Super Bowl winners, there's a good mix of teams that run the ball, you look at your Seattles and teams like that. You go back even the Ravens and look at the run the Niners had when they were perennial playoff and Super Bowl contenders.
But certainly this year, like I said, guys that are having a good year running the ball whose teams that are doing well who are right in the middle of the playoff hunt. For me, it's nice to see.
Who is the one guy who reminds you the most of yourself, and in what ways do they accomplish that?
That's always an awkward question for me, honestly, because I grew up watching the game and there's so many guys who had an influence on me. It'snot like I did anything that wasn't done before, and I was so inspired by so many guys, guys that you sometimes hear about, other guys you never hear their names mentioned.
Tony Dorsett was obviously one that everyone was familiar with, he had a great influence on me and I'm sure I borrowed a lot of his stuff, or Gale Sayers or O.J. Or even, you take a guy like Terry Metcalf, a little squirrley running back for the St. Louis Cardinals in the early-70s. Joe Morris, when I saw him run, I was in high school, I saw a guy like that dominate the game, it gave me so much inspiration.
But to answer your question, I would say probably LeSean McCoy. I think he's shifty and quick and elusive and slippery in a lot of the same ways that I was.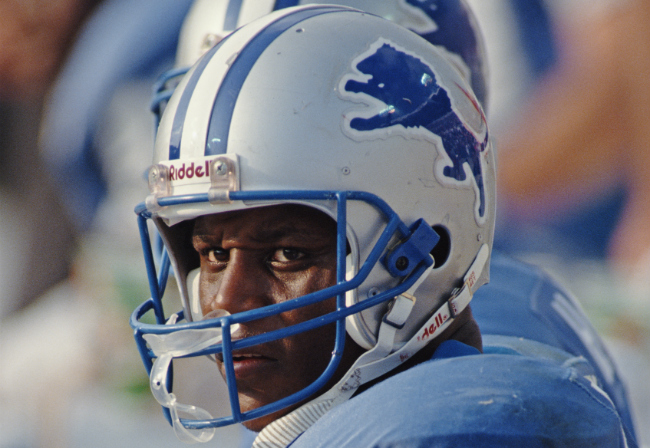 What do you get asked about more by fans: Your playing career or your decision to retire?
A lot of people about why I retired and when I retired and that thing and did I wanna go and play for someone else. And so certainly that's a very common question.
You are the most notable player to retire early, but recently more and more guys have cited health concerns as a reason to leave the NFL. You retired for a different reason, but what goes through your mind when you see a player cite their long-term health as a reason to retire after a few years?
It's a real concern and it's a tough decision to have to make for a player. Everyone has their own priorities — although it is very much a team game you do have to sometimes think about your own future within the game and if you see yourself playing a long time or what priorities are important to you as an individual. But it's certainly a tough call to make.
You played on a few teams that made it to the postseason, but you're also one of the first players people think of when they think of great players on a team that didn't have that great of a year. Did you ever find it hard to keep chugging along when you're the best player on a team that wasn't doing especially well?
I don't know, for me, when I think about my mindset coming into the NFL, going to the Lions, just being drafted high and being able to be on a team that changed its own reputation, things like that. That was more important to me. I just loved playing, I loved competing against the best players, and I guess over time you start thinking about … initially I assumed on playing a lot of Super Bowls because I didn't understand how difficult this game was and how few opportunities you get. And after my third year, we went to the NFC championship and I just assumed we'd be back and I'd get a chance to play in one or two Super Bowls. That's how it would happen. I didn't think that I would never make it there.
To answer your question, though, I think we did make great strides over my time there, looking back, you can say I never played in the big game. But I think if you look at what we were able to accomplish, we certainly were a contender and teams knew that when they played us, it was gonna be a dogfight. Whereas before I got there, teams chalked it up to an easy victory.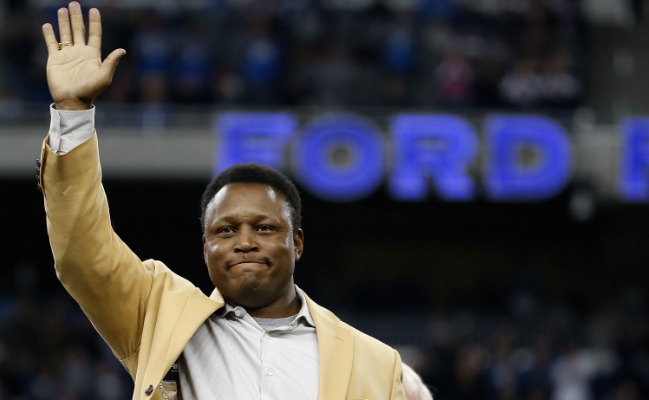 So what do you have going on with DraftKings?
I'm here in Miami at the DraftKings Fantasy Football World Championship. We're here, it's just like the Super Bowl of fantasy football, we have people here from all over the country and even internationally competing in this event. I think you have over 100 individuals that are hoping to win $2 million. It's just a great, interactive experience for me and football fans in how DraftKings really bring the fans into the game and sort of the insight and inner workings of the game. So that's what I'm up to.
It seems like Daily Fantasy Sports have been everywhere over the last few years, do you play them?
They are everywhere, I have a few players in the household. Me personally, I'm not, but I'm certainly inundated with it with a couple of my boys that play.
If it was during your prime and DFS was a thing, would you advise people to pick up Barry Sanders or do you think the cost might have been a little too steep?
I think I would have always been a good bet, absolutely.
Do you think that DFS and fantasy football as a whole have made the sport more accessible? Why or why not?
Absolutely has made it accessible. I think it's really brought them to the inner workings of the game and really becoming familiar with the players and teams, a lot of the backstory on all of the players. It's absolutely done that.