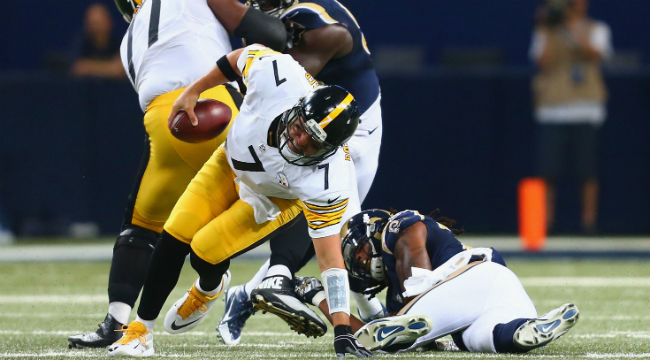 When Ben Roethlisberger went down with a knee injury on a low hit from St. Louis Rams safety Mark Barron, everyone knew what was coming, besides Mike Vick as the Steelers starting QB — a debate on whether the hit was dirty.  Most have been in agreement that Barron was clearly stumbling, and Roethlisberger hadn't released the ball yet. The "Brady Rule" about hits below the knees only applies once the ball has been thrown, so the rule is on Barron's side.
Here are two angles of the hit that show Barron falling, or perhaps diving, into Roethlisberger's knee:
On Tuesday, even Roethlisberger publicly said he doesn't have a problem with the hit (though he needs a refresher on the rules):
"I don't think it was a dirty hit. I don't think (Barron) was trying to take me out," Roethlisberger said. "According to the rules, it was a low hit, so maybe it should have been flagged. But I don't think he intentionally tried to do anything to hurt me."
That's refreshing, coming from a league full of chest-puffing at the slightest of slights. Big Ben's coach, Mike Tomlin, shared his diplomacy, if not quite his attitude. When asked about the play, Tomlin clammed up in a very telling way, saying only, "I'm not going to be critical of the hit or of officiating. You guys know we got a letter [from the league office] a week ago stressing not to do that. So I'm not."
He's referencing a memo sent out by the NFL threatening fines for any coaches who publicly criticize officiating, so this is Tomlin's own version of "I'm just here so I won't get fined." You can pretty much read between the lines here. Yet Tomlin's unwillingness to open his wallet is just as well; it means that the controversy can pretty much die the early death it was meant to. Now the Steelers can focus on how in the heck they can stay afloat with Michael Vick as their quarterback.