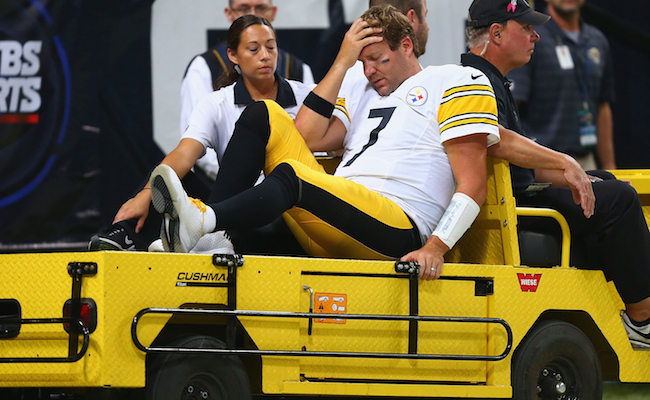 The collective butts of Steeler Nation clenched very hard this afternoon when Big Ben got hit in the knee during a scramble and went down. Ben dropped the football and didn't even attempt to recover the fumble, instead choosing to grab his knee in obvious pain. It looked very bad. The knee bent at a weird angle, and Roethlisberger was left with a very limited amount of movement. Big Ben is a tough cookie, so seeing the big man go down and stay down is about the most horrifying sign you can imagine as a Steelers fan.
But, as luck would have it, he's still a tough cookie – even in the knees. We weren't supposed to find out until Monday about the extent of the injury, but the Steelers still gave him an MRI on Sunday night and it revealed better news than expected.
In the meantime, the Steelers will have to rely on Michael Vick. Vick didn't look good on the job last year with the Jets, but he was working with almost no support in New York and has possibly the best offensive situation he can in Pittsburgh.
Antonio Brown is still amazing, Le'Veon Bell has returned, and Martavis Bryant will be back soon. Vick doesn't have to be a hero to keep the Steelers in shape, he just has to take care of the ball and get it in the hands of his playmakers. Let the Michael Vick Experience begin.