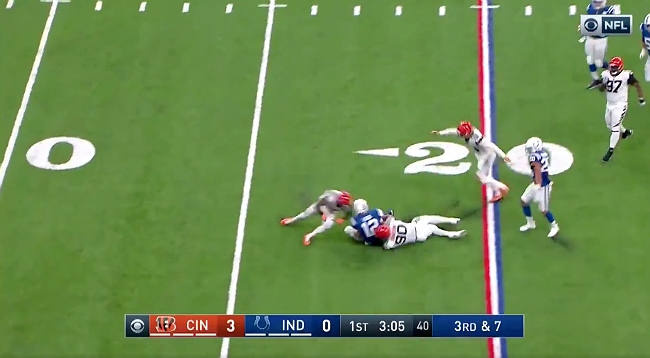 Week 1 of the NFL season brought with it the first ejection on a high hit to the head on a quarterback. Andrew Luck played his first game in more than a year on Sunday as the Indianapolis Colts took on the Cincinnati Bengals on Sunday.
Luck almost immediately got tested when Bengals safety Shawn Williams hit Luck high as he scrambled on a run in the first quarter. The Colts quarterback was rushing to get a first down on third and seven and dove for the marker in the middle of the field. As Bengals defender Michael Johnson dragged Luck to the ground, Williams came over the top and hit Luck with his helmet and shoulder.
Williams was flagged for the hit for a personal foul penalty and was ejected from the game.
Al Riveron, the NFL's senior vice president of officiating, posted on Twitter Sunday that he confirmed the ruling.
The NFL's policy on helmet-to-helmet contact has changed this year, with stronger penalties for head contact that can result in ejections. Luck seemed to be OK and came back to throw his first touchdown in more than a year. He did not enter the NFL's concussion policy after the hit.