Basketball jerseys, by and large, used to be fairly simple affairs. Every now and again, some company would try something drastic – like giving North Carolina Sate singlets – but for the most part, jerseys were pretty tame. The ugliness of a uniform would normally be a product not of experimentation, but a victim of the era's fashion zeitgeist.
In the past few years, however, we've seen companies such as adidas, Nike and Under Armour create jerseys specifically for the NCAA Tournament. They get bold with their designs – sometimes far too bold. School colors become more of an inspiration for these designers, rather than the foundation of the jersey. This can result in some pretty awesome jerseys, but it can also produce jerseys that make you want to gouge your eyes out faster than Oedipus. Let's take a look at some of the best and the worst, shall we?
OH GOD MY EYES Division
Cincinnati Bearcats – 2013
Adidas designed these for the Bearcats, going, I guess, for some mix of zubaz and camouflage, and instead ending up with, well, vomit. Cincinnati wasn't the only squad to sport these adidas designs – Baylor, Notre Dame and Kansas were among the other schools that joined in on the "fun" – but these were by far the most atrocious of the bunch.
Kentucky Wildcats – 1996
DENIM. THEY WORE DENIM UNIFORMS.
Marquette Golden Eagles – 1977
Marquette's designs always draw split opinions, but I think everyone can agree that these "bib" uniforms are just the worst. The absolute freaking worst.
Albany Great Danes – 2014
Congratulations, Albany, you made it to the big dance. Now, please, would you wear something befitting this special occasion. Purple and yellow isn't the worst combination, if used properly. A great example of how to not use it properly: making one side of your shorts yellow and the other purple.
Wisconsin Badgers/Kansas Jayhawks/Basically Every adidas Team – 2015
More like "Come on, Wisconsin." Did they start with one color of the shorts, then run out of thread, so they switched to another color? Are they all just sagging really badly, making their underwear show? Is it supposed to be, like, a kilt or something, allowing them to channel William Wallace as they go into battle?
Oh, These Are Much Better Division
Kansas Jayhawks – 1988
Danny and the miracles rode these babies all the way to the 1988 national championship. There isn't really much here in terms of flair, and that's fine.What really makes the entire uniform, though, is the big "K" on the shorts.
Long Beach State 49ers – 2012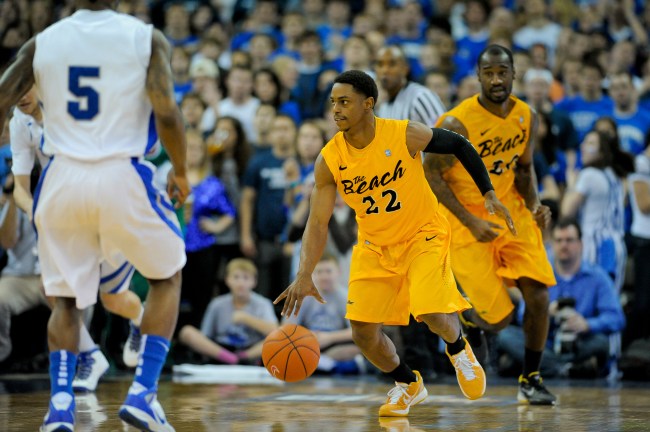 It's extremely difficult to pull off something like "The Beach" on the front of a jersey without it looking horribly corny, but Nike did it perfectly here. The jerseys are at once simple yet different enough to pull you in, with the burned yellow and black working beautifully together.
North Carolina Tar Heels – 1982
There are many classic combinations when it comes to basketball uniforms, from Georgetown's blue and gray, to Kansas' crimson, to blue Duke's white and blue. But classic doesn't necessarily mean good-looking, or even appealing. North Carolina's powder blue and white is an exception, and it's never looked so good as when Michael Jordan won the Tar Heels the title in 1982.
Kentucky Wildcasts – 2010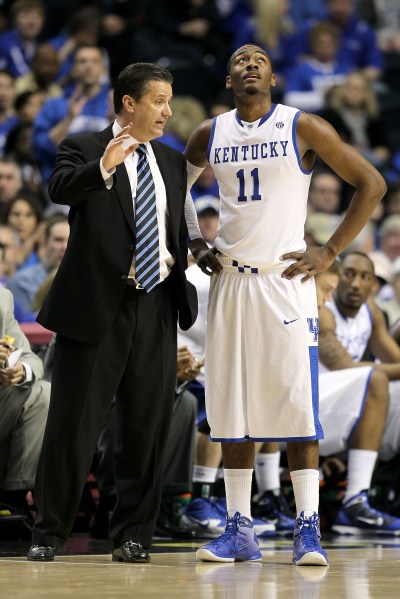 Yet another example of how you can make simple appealing. The type is terrific, giving the uniform the perfect amount of retro feel. The slight checkered pattern on the waist band of the shorts and the blue running down the sides are nice accents. The weird, gray patterns on the back of the jerseys are a little odd, but they're not intrusive enough to where they take away from the uniform. If anything, they give the jerseys an added sense of allure, a sort of now-meets-then aura.