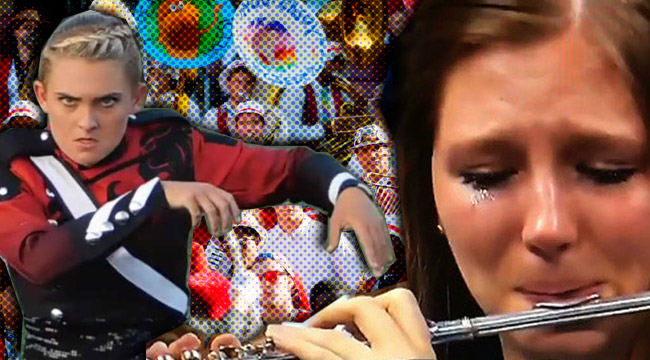 A few weeks ago, an unsuspecting keyboardist from the Boston Crusaders Drum & Bugle Corps went viral after a video of her facial expressions during a performance made the rounds on the internet. Anna Eberhart of Texas said that at first the video blowing up bothered her a little bit, but then explained the facial contortions as her mimicking the story with her facial expressions and "trying to represent the music to show the audience" what she is feeling, so the intense popularity of the video was actually okay.
Anna's playing was so intense – and so real – that we would trust her to be a part of any marching band anywhere.
Of course, we don't have a say in the formation of real marching band lineups. That would be far too much responsibility and we'd probably muck things up by adding too many drummers and not enough French horn players or something. (Drumline was a great Nick Cannon movie, and that is not up for discussion.)
Instead, we've compiled a viral marching band lineup that would win any competition out there – as long as said competition is based on online popularity first and actual talent second.
First up is Stanford's spazz-tastic cowbell player from way back at the 2014 NCAA Tournament.
While there's no actual evidence that this cowbell player is adding to the musical prowess of Stanford's pep band, his enthusiasm more than makes up for any chance that he's off the beat or distracting the horn player next to him with his gyrations. He'll be our fictional band's hypeman, always ready to swing his arms around and clang away on that cowbell to up the band's energy quotient.
The next addition isn't one person, but more of an entire formation that made headlines during the 2015 college football season. You probably remember that one time the Kansas State Marching Band may or may not have organized a halftime show in which the Kansas Jayhawk ate something besides birdseeds.
Despite the K-State bandleader apologizing profusely about any confusion and insisting that the formation was meant to be Kansas' mascot "battling" the Starship Enterprise from Star Trek, we are content to believe that Kansas State planned something really inappropriate and got away with it in the end. For that, their band wins a spot in this fictional band. However, this band isn't meant to be a great marching band, but just a hilarious one that will entertain crowds in unorthodox ways.

With that in mind, only the band members who were tasked with making "the Starship Enterprise" are welcome to join in on this endeavor. The students who made the Kansas Jayhawk carried out their duties well and were clearly a bird – which makes them too good for this list. Congratulations, kids. You're too good for random internet lists.
All the other Kansas State marching band members are more than welcome. The first practice will consist of an hour-long brainstorm of other inappropriate formations that can be passed off as two Death Stars next to each other or the ship from Pirates of the Caribbean "attacking" the Duke Blue Devil. The possibilities are endless.
There's nothing particularly unique about Cornell's Big Red Band playing a great version of "Pinball Wizard" during a practice one day, but there is something awesome about Bill Murray showing up out of nowhere to conduct the band.
There's no reason to add the Cornell band itself to this list, it's a good performance but nothing memorable. We can always listen to a remastered Who album if we want to hear "Pinball Wizard." We definitely want Bill Murray to join the group, though. He doesn't even have to conduct or anything, he can just show up in salmon pants and a backwards hat like the entire world is a Nantucket beach bar ready to be conquered. The only thing we ask is that he show up for a few minutes so that he can whisper in our ears "no one will ever believe you" before practice ends.

Fine, Slash can come to practice too.
No marching band is complete without a group that has the ability to make an audience remember their last major breakup and cry a lot during halftime. Which is why Southern University gets the nod for their on point cover of Adele's "Hello." Their mission, if they choose to accept it, is to learn the Brit sensation's entire catalogue so that we can tear up at "Someone Like You" or "Rolling in the Deep" at a moment's notice. Marching bands can be fun, but there should also always be a chance that someone will burst into tears. Otherwise, where's the emotional stakes?
Speaking of bursting into tears, this band has to have a member that counterbalances the distilled joy of cowbell boy with sadness. Who better to fill that role than the person who gave us one of the best marching band moments of all time – Crying Piccolo Girl. Even though CPG has redeemed herself now that Villanova walked away from the 2016 basketball season as champs, her overwhelming emotion after NC State upset Nova in 2015 will live forever.
It's everything that makes March Madness great, plus tears. What better to round out this motley crew of marching band members and moments than that?