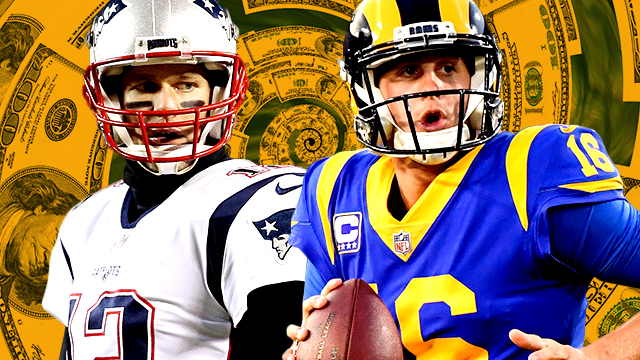 There is no sporting event that provides more wagering opportunities than the Super Bowl. There are literally thousands of different bets you can make on the Super Bowl, as every sportsbook, on and offshore, releases prop sheets for the game.
In Las Vegas, New Jersey, Mississippi, and other states with legal, brick and mortar establishments, the props list is restricted to things that can be quantified by officially kept stats. Offshore books aren't beholden to those rules so you get much wilder props, like how many times Donald Trump will tweet the over/under on the national anthem, and much more.
For the purposes of this betting guide, we'll stick to the Vegas props, because there are more than enough to keep a degenerate like myself occupied without having to go way off board with a "Dilly Dilly" prop bet or something. All of the bets you will find below come from the prop offerings of the Westgate Las Vegas SuperBook (which you can see in its entirety below, courtesy of the Las Vegas Review-Journal).
When betting on props, my best advice (so far as there is any good advice on how to bet props) is to pick a scenario and go with it. The best way to maximize your profits is to lean into the game going one way or the other, and riding that side. For example, if you think it will be a defensive struggle, you take a lot of yardage and touchdown Unders. If you think it's a shootout, you go the opposite direction. Whatever the feel you have, ride with it. It's the way to make money, but also incurs the risk of it all going horribly wrong. As you'll see in my picks, I see the Pats throwing a good bit and the Rams trying to run the ball a lot. We'll see if that works out, but the props will follow that line of thinking throughout.
A quick note, all of these props are from earlier in the week and, as such, may have shifted a bit by now. Always double check the number if you go to wager on any of these, because lines are fluid and odds can change based on action. With that out of the way let's get into it, with my 20 favorite bets available in Las Vegas for the Rams and Patriots in Super Bowl 53.

1. First Half UNDER 27.5 (-110)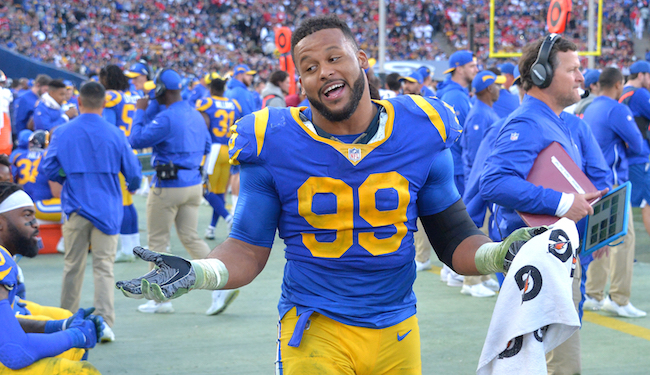 The full game total has gone from 57.5 to 56.5, and while I think there's some value there as well, I feel better about hopping on the first half Under (which has not moved despite the full game drop). It's not fun betting on 1H Unders in Pats games because they tend to have a great script for their opening drive, which often yields points. Still, the hallmark of this Pats team is methodical drives that chew up some clock with a short passing game, and I think the Rams will want to establish the run early after a miserable NFC Championship from Todd Gurley.
2. First Gross Punt by Johnny Hekker OVER 45.5 yards (-110)
I feel fairly comfortable on this one because the Rams rarely punt from across midfield, especially in a dome, with Greg Zuerlein. Most anything under 60 yards is doable for Greg the Leg (who banged home that 57 yarder to send them to the Super Bowl in the other Benz dome in New Orleans), so Hekker's first punt will most likely be from Rams territory. Hekker averaged 46.3 gross yards per punt in the regular season (which includes all the dimes he's dropped inside the 20) and he'll be amped up for his first Super Bowl boot. I look for Hekker's first punt to be a field-flipper of 50-plus yards so we'll rock the Over here.
3. Todd Gurley OVER 3.5 yards first carry (EVEN)
Gurley is coming off his worst game of the season in which he was stymied almost completely by the Saints' rush defense. New Orleans allowed just 3.6 yards per carry in the regular season while New England allowed 4.9 yards per carry this year. I'll take the EVEN odds on Gurley to get over 3.5 yards on his first rush and, as you'll see later, we're looking for the Rams to run the ball early and often in this one.
4. First Touchdown: Any Non-Passing Touchdown (+130)
I have to take the juice here with the first TD being any non-passing TD. The Rams and Pats will both happily hand it off inside the five yard line for at the very least the first attempt. I won't be surprised to lose this, but the value's too good not to take it (also for the potential for a defensive score).
5. Will There Be A Two-Point Conversion Attempt? YES (+145)
You can get even more juice on there being a successful two-point attempt, but given these two coaches, I'll happily take +145 that at some point, someone goes for two.

6. Will There Be A Missed Extra Point? NO (-310)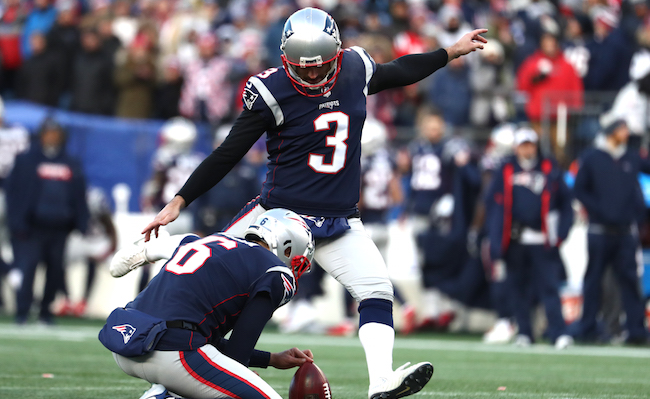 By far the most I'll lay on a prop. But in a dome, with these two kickers, I'll happily take them to both rip through their extra points without incident. The two-point conversion prop also serves as a bit of a hedge here, because if anyone does miss an XP, they'll almost assuredly go for two later.
7. Rex Burkhead OVER 4.5 Rush Attempts (-120)
The Pats trust Burkhead not to fumble, so he's often their go-to man late in a game, as we saw in Kansas City. This might feel dicey throughout, but I feel like we'll get to the Over by the final whistle.
8. James White OVER 4.5 Receptions (-150)
If you go to certain offshore sites you can tease this out to get closer to EVEN odds and I'd suggest it. The Pats throw to James White like 15 times a game in the playoffs, so I'll guess he eventually hauls in five catches.
9. Will Julian Edelman Have A Rush Attempt? NO (-110)
Edelman has rushed the ball in six games this season. He's not rushed it in eight. I feel like with the odds at -110 both ways, that gives NO some value.
10. Will The Patriots Convert A 4th Down? YES (+115)
I feel like the Pats will go for it a couple of times and if one of those is from inside a yard, it'll be a Tom Brady sneak which is essentially guaranteed money. Give me the candy and Yes.

11. Jared Goff UNDER 285 Passing Yards (-110)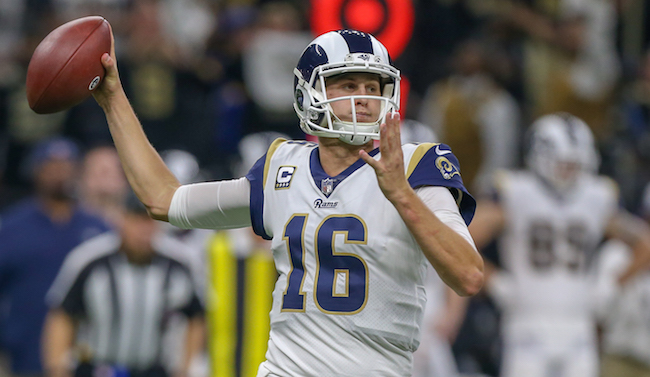 As noted earlier, I think the plan for L.A. will be to run the dang ball. If that's wrong, then I'll probably go down in flames on like six of these props, but so be it. I see a 250-260 yard performance from Goff in this one, with the load being put on the backs against an at times shaky Pats rush defense. We'll see.
12. Jared Goff UNDER 38.5 Passing Attempts (-110)
See above. Even in games when he's had big yardage days, he's often had fewer than 38 passing attempts. This might be better value than the yards, but I'm rolling with both.
13. C.J. Anderson OVER 10.5 Rushing Attempts (-110)
Anderson hasn't had fewer than 16 attempts in the last four games. They love the change of pace he brings and how he can soften up the interior of the opposing defense. They'll feed him double-digit carries.
14. C.J. Anderson OVER 42.5 Rushing Yards (-110)
Same reasoning as above, plus the fact that the Pats aren't as good of a rush defense as the Saints were a week ago, so I think a few of those runs will be for 8 or more yards.
15. Tom Brady More Gross Passing Yards Than Jared Goff (-110)
I think the Patriots will look at the Rams secondary as the point of weakness and use the short passing game as a supplement to the rush game. The Rams, on the flip side, will maybe run more than usual to dictate pace and keep Brady off the field as much as possible. Give me the Brady yards over Goff.

16. Rams Team Total UNDER 28.5 (-110)

I like the full game Under at 56.5 so I'll happily take a team total that's across that key number of 28. I think this thing falls in the 20s on both sides.
17. Phil Mickelson 4th Round Bogeys or Worse (+1.5) vs. Josh Reynolds Receptions
Let's get weird as hell. This is only action if Phil makes the cut at the Waste Management in Phoenix, but given Reynolds' reception number at the book being 3.5, This is value if Phil makes two or more bogeys on Sunday, which I think he will.
18. Horizon League Points -8.5 vs. Jared Goff Gross Passing Yards
Let's get even weirder, baby. Four Horizon League squads are in action on Sunday. All four average more than 70 points per game. If you're like me and think Goff finds himself in the 250-260 range, then this is value. Maybe we can get a pair of overtime games just for good measure.
19. Aaron Donald (+2000), Todd Gurley (+1600) To Win Super Bowl MVP
Tom Brady is EVEN to win Super Bowl MVP for good reason, and if the Pats win, voters are quite likely to give it to him. Jared Goff is 2-1, but I'm not so sure he's a lock for it if the Rams win the way Brady is for the Pats. If Gurley goes off, he'll win it. If the defense stands on its head in a low-scoring game and Donald has a big play or two, he'll win it. Those are both just as likely, to me, as the Rams winning a shootout in which Goff outduels Brady.
20. Zion Williamson Points + Rebounds (-5.5) vs. Rams + Patriots First Half Points
My first bet is the first half Under. Zion averages 22 points and 9 rebounds a night, which means if he simply gets has a normal night, I'll just need 25 or fewer in the first half. However, Williamson and Duke are playing St. John's, and I have a feeling Zion's going to have a big game. I'll roll with the top pick in the NBA Draft here, but let's have a 13-7 half for good measure.