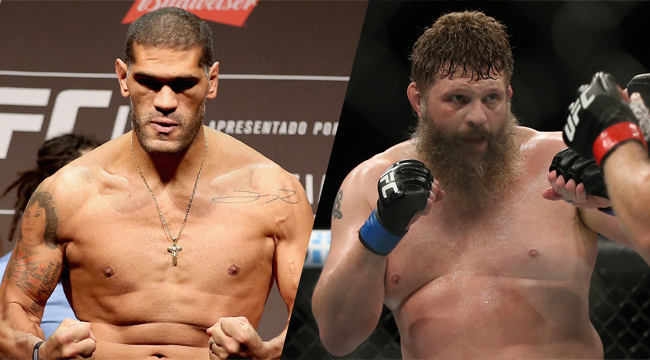 The fight game is tough. It's hard on your body, on your wallet, and on your friendships too. An example of that last one is the fight between Antonio 'Bigfoot' Silva and Roy Nelson this Saturday in Brazil. The two are pretty close, but that didn't stop the UFC from booking a fight between them, or them from signing on the dotted line. The two fight this Saturday at UFC Fight Night Brazilia, and Bigfoot Silva is taking the violence he'll attempt to drop on his friend in stride. Once it's all over, they'll go back to being buds. From a Combate interview translated by Bloody Elbow:
"We're friends," Silva said. "We spent 15 days in Romania shooting a movie. We became brothers because we spent so many hours together, on the same set, staying at the same hotel. Then he came to American Top Team, where we spent another month and a half together. I helped him with his Overeem fight. We have a very good relationship. The first message I got on my birthday was from my wife. The second one was from Roy Nelson.

"We have a good bond, we are professionals," Silva continued. "If we could choose a different opponent, we would, but we have to do what the boss tells us. We will be together after the fight. We'll hug it out and then we'll kill about two cows, five chickens, and three lambs at the barbecue house."
We're not 100 percent sure he's joking about killing all those animals. Both men come pretty close to the heavyweight limit of 265 pounds and could probably clear out an entire farm's worth of animals, especially after fight camps.
As for that movie in Romania they bonded while making, that's the direct to DVD stinker The Scorpion King 4: Quest for Power, which actually featured Roy on the box art. His character's name? Roykus. Alas, Bigfoot Silva's role wasn't deemed important enough for such an honor. He'll have to make up for it by defeating Nelson in the cage instead, and putting some of his win bonus towards the endless heaps of meat they'll devour at the Brazilian BBQ restaurant.