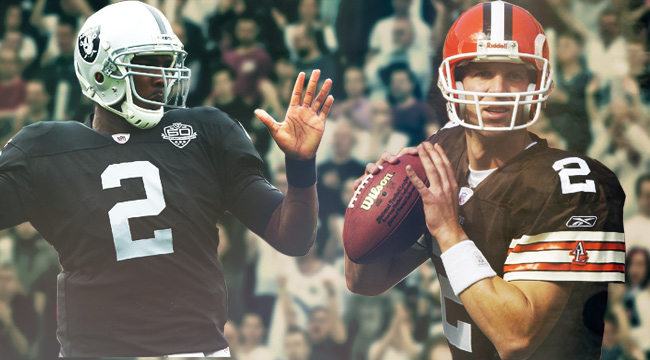 Every NFL team has whiffed in the NFL Draft. Hard.
It's inevitable, but some whiffs are greater than others. Maybe the guy you draft in the first round never makes the Pro Bowl but your rival's pick at the same position does. Or maybe the quarterback you passed over becomes Aaron Rodgers.
With the NFL Draft upon us and speculation (and #smokescreens) in high gear, let's figure out each NFL franchise's worst ever bust. Which bad pick is the worst? It's about to get very sad up in here.

Arizona Cardinals
Matt Leinart, QB, 10th overall, 2006
I've tried to keep these relatively recent because the stakes of the modern draft just seem so much higher. Matt Leinart, for example, was a star at USC that played in one of the most exciting National Championship games of all time. He seemed destined to be a good pro, but it never happened for him in Arizona. He started 17 games over four seasons, going just 7-10. Though he was picked after Vince Young, both star quarterbacks from that USC/Texas game are considered busts. Anyone who watched that title game even to this day would be confused by how that happened.
Dishonorable Mention: Andre Wadsworth, DE, 3rd overall, 1998
Atlanta Falcons
Jamaal Anderson, DE, Eighth overall, 2007
There's a lesson here: never draft the same guy twice, even if he spells his name slightly different. Defensive Jamaal Anderson was a huge miss for the Falcons. He started all 16 games his rookie season and had just 26 tackles and zero sacks. He played four seasons in Atlanta and registered just 4.5 sacks, while players like Marshawn Lynch, Patrick Willis, and Darrelle Revis fell to teams below Atlanta in the draft.
Dishonorable Mention: Jimmy Williams, CB, 37th overall, 2006
Baltimore Ravens
Matt Elam, S, 32nd overall, 2013
Drug charges ended his time with the Ravens, but he didn't do much on the field when given the chance. The proposed replacement of the legendary Ed Reed did little in 26 starts over two seasons, failing to get a single interception. Not even on a deflected ball at the line or anything. Not even, like, accidentally bumping into someone and coming up with a football. A few weeks before free agency, he got busted on drug charges. It was over after that.

Buffalo Bills
Mike Williams, OL, Fourth overall, 2002
What's amazing about this pick is that he's actually the most busty Mike Williams, and the competition is tough. Wide receiver Mike Williams, 10th overall to the Lions out of USC in 2005, is a close second. He was picked by Cleveland amid an ocean of Pro Bowlers in the top 15 in a draft that saw Roddy White and Vincent Jackson go later in the first round.
Offensive lineman Mike Williams never became the left tackle the team envisioned the massive player would be. He got moved to the right side, suffered some scary injuries in 2004, and was out of football shortly after that. A huge, huge bust that directly impacted the team's ability to protect large, immobile quarterbacks like Drew Bledsoe.
Dishonorable Mention: Aaron Maybin, LB, 11th overall in 2009
Carolina Panthers
Rae Carruth, WR, 27th overall, 1997
Kerry Collins was a bit disappointing as a franchise quarterback, but Rae Carruth's pro football career ended in the worst way possible. The once-highly touted wideout lasted just three seasons before he was arrested on charges of conspiring to kill his girlfriend and their unborn child. Just four touchdowns and 62 catches is bad, but the draft bust label is nothing compared to the label of convicted felon.
Dishonorable Mention: Tshimanga "Tim" Biakabatuka, RB, 6th overall, 1996
Chicago Bears
Cade McNown, QB, 12th overall, 1999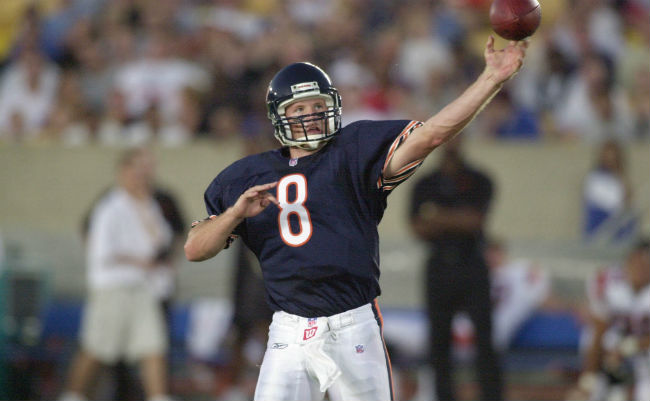 Good lord the 1999 draft had some quarterback misses. And so do the Bears in general, I suppose. This is already getting too depressing. Let's just move on.
Dishonorable Mention: Curtis Enis, QB, 5th overall 1998

Cincinnati Bengals
Ki-Jana Carter, RB, First overall, 1995
This is a bit early and goes against the overall theme of the piece, but everyone who was in elementary school in 1995 has at least a dozen Ki-Jana Carter rookie cards that are absolutely worthless. Myself included. That's why he's here over Akili Smith. Gotta take this L and move on, Ki-Jana.
Dishonorable Mention: Akili Smith, QB, 3rd overall, 1999
Cleveland Browns
Tim Couch, QB, First overall, 1999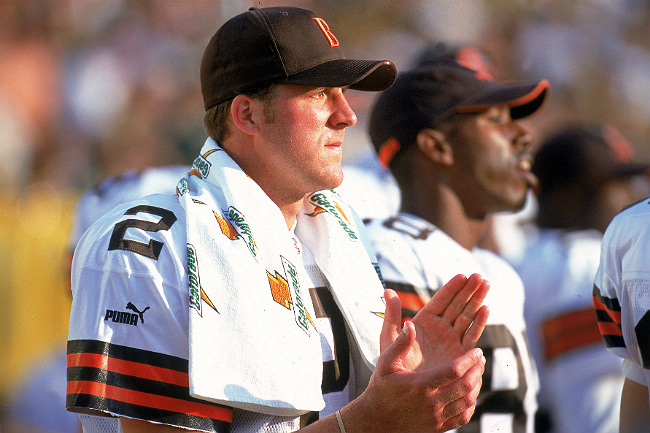 How? How do you narrow it down to just one player for the Cleveland Freaking Browns? Fine, let's go with only Browns players from the team that didn't turn into the Ravens. Goodbye, David Klinger. Now let's just say quarterbacks, so out goes Trent Richardson (No. 3, 2012) and Courtney Brown, their second straight first overall pick in 2000. He was bad, too.
Now we're left with Tim Couch (No. 1, 1999), Johnny Manziel (No. 22, 2014), Brandon Weeden (No. 22, 2012), Brady Quinn (No. 22, 2007). It has to be Tim Couch, right? He was a non-starter as a franchise quarterback and was picked over Donovan McNabb. The top 10 in 1999 had seven Pro Bowlers. He was not one of them.
And Cleveland? Maybe stop picking a quarterback at 22. You're only hurting yourselves at this point.
Dallas Cowboys
Morris Claiborne, CB, Sixth overall, 2012
Claiborne was supposed to be the best cornerback in the draft, and the Cowboys moved up to take him by giving up their second round pick that year. But through five years in Dallas, Claiborne was never healthy and never played a consistent role in the defense. He had just four career interceptions in his Cowboys career.
Dishonorable Mention: Felix Jones, RB, 22nd overall, 2008

Denver Broncos
Alphonso Smith, CB, 37th overall, 2009
The first round pick Denver used to trade up for Smith became Earl Thomas. If that's not bad enough, Smith played two seasons in Denver before he was traded away for Gronk's brother. The move was called a disaster, among other things. The whole thing was a mess.
Dishonorable Mention: Tim Tebow, QB, 25th overall, 2010 YEAH I SAID IT
Detroit Lions
Charles Rogers, WR, Second overall 2003
Hot damn do the Lions love to take wide receivers in the first round. Rogers had bits and pieces of competence splattered in his nightmare of a professional career. Matt Millen bet big on him to anchor the Lions offense but he had just 22 receptions and three touchdowns in a rookie season that lasted five games. He broke his collarbone and played just 15 career games in three seasons before he left the league. What a mess.
Dishonorable Mention: Andre Ware, QB, 7th overall, 1990
Green Bay Packers
Justin Harrell, DT, 16th overall, 2007
The 2007 Draft is full of booms and busts. Harrell is a bust because he never played and was also part of a great draft class that involved Darrelle Revis and Lawrence Timmons. Those two were actually taken before Harrell, but the defender never registered a sack and played in just parts of three seasons, starting just two games. For the Packers, that's a considerable miss.
Honorable Mention: Tony Mandarich, OT, 2nd overall, 1989

Houston Texans
David Carr, QB, First overall, 2002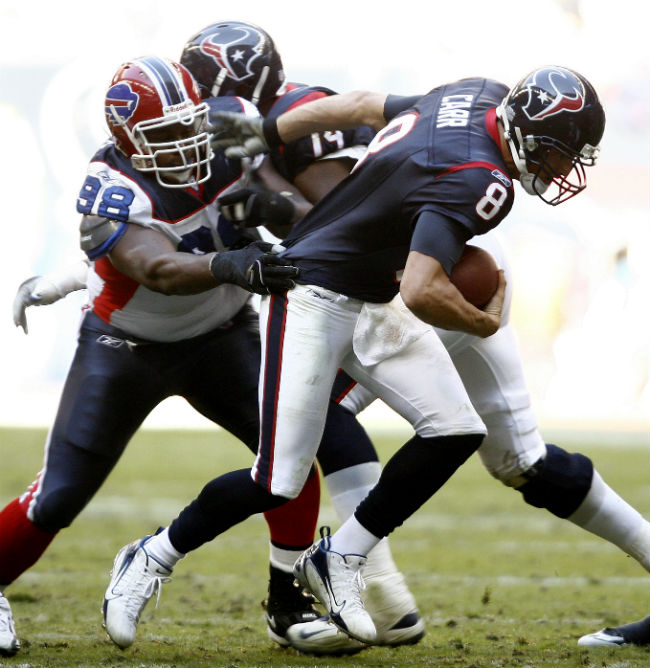 Not a great start to the Texans franchise here. Carr struggled with a bad expansion team that had the odds stacked against it in the first place. He played in Houston for five seasons, where he led the league in quarterback sacks three times. He really was never able to get settled in Houston, but at least they'll always have that first game win at home against the Cowboys.
Dishonorable Mention: Travis Johnson, DT, 16th overall, 2005
Indianapolis Colts
Bjoern Werner, DE, 24th overall, 2013
This is just one of Colts general manager Ryan Grigson's many draft mistakes, but it's a big one. Werner was never a major factor in the Colts defense and finished his career with just 6.5 sacks. The Colts have had draft classes that just flat out missed, but this guy is one of the worst by far.
Dishonorable Mention: Tony Ugoh, OT, 42nd overall, 2007

Jacksonville Jaguars
Justin Blackmon, Fifth overall, 2012
Justin Blackmon just couldn't stay out of trouble, and the Jaguars can't stop themselves from making terrible draft picks. Matt Jones is another bad wideout that kept getting suspended, so this was a tough decision to make.
Honorable Mention: Blaine Gabbert, 11th overall, 2011
Kansas City Chiefs
Jon Baldwin, WR, 26th overall, 2011
Whom? This fella was supposed to help Matt Cassel make the transition from backup in New England to franchise quarterback. But Baldwin was a complete bust, lasting just two seasons before he was traded to San Francisco for another draft bust, A.J. Jenkins. Baldwin had 44 career catches and two touchdowns and was out of the league after three seasons.
Dishonorable Mention: Todd Blackledge, QB, Seventh overall, 1983
Los Angeles Chargers
Ryan Leaf, QB, Second overall, 1998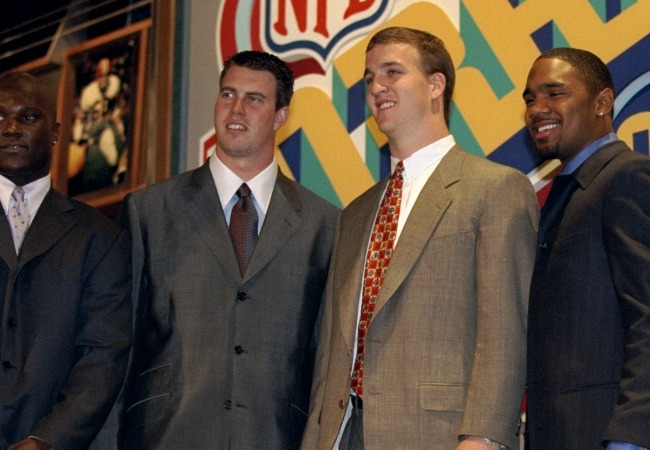 Oh, San Diego. This one wasn't even really your fault. The Colts made the right pick in getting Peyton Manning first overall. It seemed like an obvious choice to take Leaf and battle it out in the playoffs with Indianapolis for years to come. But it would be with Some Other Quarterback that the battling happened. By 2001, Doug Flutie was under center and Drew Brees would wait in the wings for the Chargers to give up on the very short man with the wobbly arm.
Dishonorable Mention: Sammy Davis, 30th overall, 2003

Los Angeles Rams
Jason Smith, OT, Second overall, 2009
The former tight end-turned tackle at Baylor was all but useless with St. Louis. Though similar projects have worked out in the NFL —undrafted free agent Jason Peters became a Pro Bowler in Buffalo and later Philadelphia — Smith was not a success story. His concussion troubles didn't help him any, and by 2012 he was out of the league.
Dishonorable Mention: Lawrence Phillips, Sixth overall, 1996
Miami Dolphins
Ted Ginn Jr., WR, Ninth overall, 2007
Ginn was not a good NFL wideout while he was with Miami. Ankle issues — he got hurt returning a kickoff for a touchdown in Ohio State's national championship game — definitely hurt his pro career. But this is another case of expectations making the failure seem so much worse. Miami thought they were getting an explosive, franchise wideout in Ginn. What they got was a decent return man with missed expectations on the offensive side of the ball. Ginn eventually carved out a pretty productive career (which is still going), but it wasn't with Miami.
Dishonorable Mention: Pat White, QB, 44th overall, 2009
Minnesota Vikings
Troy Williamson, WR, Seventh overall, 2005
This is the classic case of a team looking to the Draft to replace a massive hole in their offense and whiffing badly. With Randy Moss off to Oakland, the Vikings went to the 6-foot-1 Williamson out of South Carolina. Unfortunately, he struggled with drops and only lasted three seasons in Minnesota. Moss, um, still had some good years left in him after that.
Dishonorable Mention: Christian Ponder, QB, 12th overall, 2011

New England Patriots
Chad Jackson, WR, 36th overall, 2006
Jackson may seem like a stretch as a second round pick, but you have to understand the context here. Jackson was among the two top wideouts in the 2006 Draft. The other, Santonio Holmes, went to Pittsburgh at 25. The Patriots were hoping to replace Deion Branch and traded up to get Jackson, giving up the 52nd and 75th overall picks in the draft to take Green Bay's spot at 36.
Jackson caught 14 balls in his career with the Patriots and was cut two games into the 2007 season. Oh, and Green Bay used the the 52nd overall pick to draft Greg Jennings.
Dishonorable Mention: Dominique Easley, DT, 29th overall, 2014
New Orleans Saints
Ricky Williams, RB, Fifth overall, 1999
This is completely unfair to Ricky, as he did not trade away his entire draft class to draft himself. That's on the Saints, who traded with Washington to move up to fifth and take the Texas running back. The cost? The Saints' 12th, 71st, 107th, 144th, 179th, and 218th picks in the draft and what became the 2nd and 64th picks in the 2000 Draft. Mike Ditka and Co. essentially picked Williams and packed it in for the Draft, and he was never going to make it worth it.
Williams was gone to Miami after three seasons, where he was one of the league's best players. But the damage to New Orleans was done. Then again, Williams signed a professional contract that lost him millions and essentially cratered a pro sports agency, so this disaster must be noted for the record.
Dishonorable Mention: Johnathan Sullivan, DT, Sixth overall, 2003
New York Giants
Ron Dayne, RB, 11th overall, 2000
Ron Dayne had one of the most successful football careers in history. Well, college football. He's the all-time leader in rushing yards in Division I history and won the Heisman Trophy with Wisconsin in 1999. But Dayne never found much running room in the NFL, never breaking 800 yards in a season. He played four years in New York, then a season in Denver and two more in Houston. His 3,722 career pro yards is barely half his college total.
Dishonorable Mention: Eli Manning (lol jk he's really good)

New York Jets
Vernon Gholston, DE, Sixth overall, 2006
Gholston was the only defensive end drafted in the top 10 to ever not record a sack since the league began counting them in 1982. But that video really says it all.
Dishonorable Mention: Fullback… OH NOOOOOOOOOOOOO
Oakland Raiders
JaMarcus Russell, First overall, 2007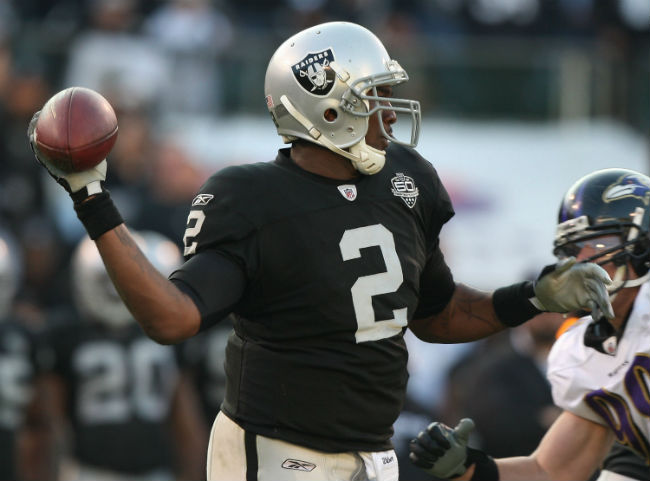 My word. Russell was a huge quarterback prospect out of LSU. He quickly became an even larger bust that couldn't stay in playing shape. Russell lasted just three seasons in Oakland, with 18 career touchdowns and 23 career interceptions. Oakland missed out at 2007 draft studs such as Calvin Johnson, Joe Thomas, Adrian Peterson, Patrick Willis and Darrelle Revis in taking on Russell. What a disaster.
Dishonorable Mention: Robert Gallery, OT, 2nd overall, 2004
Philadelphia Eagles
Jerome McDougle, DE, 15th overall, 2003
The Eagles traded up to get McDougle and add him to an impressive defensive squad that made its way to four straight NFC Championship games. But McDougle was used sparingly and appeared in just eight games his rookie year. He never started, and over the next five seasons saw action in just 29 games, registering three sacks.
Also keep in mind that I tried to keep things within the last few decades, so we can't get into the amazing story of Jay Berwanger, the first Heisman Trophy winner who just flatly refused to sign a contract and play for the Eagles after he was drafted in 1936 NFL Draft. In hindsight, that's a very bad sign for the franchise in general.
Dishonorable Mention: Freddie Mitchell, 25th overall, 2001

Pittsburgh Steelers
Jamain Stephens, OT, 29th overall, 1996
You have to go pretty far back to find a significant bust for the Steelers, but this one is pretty good. Stephens was an exciting player who essentially gave up on football three years into his career. Steelers coach Bill Cowher cut him in training camp in 1999 after Stephens couldn't finish a conditioning test.
The rest of the potential busts that could be here were picks made much later in the draft. The Steelers have been good for a while, and there's a very specific reason for it. They always seem to draft well.
Dishonorable Mention: Limas Sweed, 53rd overall, 2008
San Francisco 49ers
Rashaun Woods, WR 31st overall, 2004

Woods was, perhaps unfairly, pegged to be the answer to Terrell Owens leaving to play for the Eagles. It probably didn't help that he wore Owens' 81 in his rookie season, which was doomed all around. San Francisco went 2-14 in their first year without Owens, and Woods was nowhere to be found. Woods had 7 catches in 14 games, good for 160 yards and a single touchdown.
The numbers on Woods are actually pretty unbelievable. Out of those 14 career starts, three of his grabs and 79 of his career yards came in one game. Woods casually had the game of his life in a Week 16 blowout at home in a loss to the Buffalo Bills. Everyone went on with their lives after that game, and he was out of football the next season.
Dishonorable Mention: Jim Druckenmiller, QB, 26th overall, 1997
Seattle Seahawks
Aaron Curry, LB, Fourth overall, 2009
Not only was Curry a mistake, he was an expensive mistake. The Seahawks signed the promising rookie to a huge rookie contract, which included $34 million in guaranteed money. That's the most for a non-quarterback rookie in NFL history. Curry only played 35 games and managed 5.5 sacks in his career. The defensive studs Seattle passed on here include B.J. Raji, Brian Orakpo, Malcolm Jenkins, and Brian Cushing, who all went in the Top 15 after Curry.
Dishonorable Mention: Rick Mirer, Second overall, 1993

Tampa Bay Buccaneers
Bo Jackson, RB, First overall, 1986
Bo Jackson never played for the Buccaneers, and it's their own damn fault. In 1986, Jackson was a two-sport star at Auburn who hoped to be a two-sport star professionally. But when Jackson took the team owner's airplane to Tampa, the NCAA ruled him ineligible for the rest of his baseball career.
Furious, Jackson said he wouldn't sign with Tampa Bay. They took him anyway, and he refused in kind. Jackson was taken by Oakland in next year's draft, and the rest was history.
Tennessee Titans
Vince Young, QB, Third overall, 2006
It all started so well. Young won Rookie of the Year honors and looked to be the first strong replacement for Steve McNair in Tennessee until it all fell apart in his third NFL season. Even before that, though, the warning signs were there. He struggled with the attention that came with being an NFL quarterback, and felt a long way away from his glorious college years at Texas. He's still playing in the CFL, but it felt like there should have been so much more to say about Young's NFL career.
Dishonorable Mention: Jake Locker, QB, Eighth overall, 2011
Washington Redskins
Robert Griffin III, QB, Second overall, 2002
Washington traded up to nab the Heisman Trophy winner from St. Louis, who got eight players for the pick. Most of those players did not work out, but we've already covered the Rams' draft struggles. and for a brief time he was. His rookie season was one of the most impressive in NFL history, but injuries and drama derailed the dream of many Washington fans. Even after his departure from Washington, injuries have continued to damage his career. The hype was hard to maintain. The fall was, in the end, just sad.
Dishonorable Mention: Heath Schuler, QB, Third overall, 1995