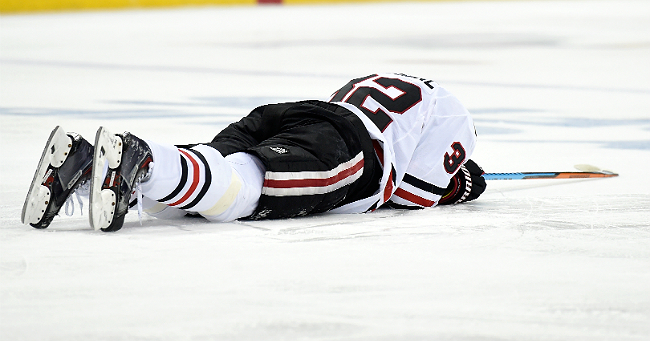 On Thursday night, the Chicago Blackhawks finished off a sweep of the Minnesota Wild in the second round of the NHL Playoffs, but they didn't emerge unscathed, as defenseman Michal Rozsival turned his ankle when attempting to track back to cover Thomas Vanek's breakaway. A turned ankle might not have been a big deal, had Rozsival not been wearing skates at the time, but he was. When a skate catches the ice wrong, and a player puts all of his weight on it, it can get ugly.
Unsurprisingly, it looks like a serious injury, and the Blackhawks announced it on Twitter in classic hockey parlance:
When your ankle bends the opposite way that it should, it's a safe bet that you're not coming back in the game.
After the game, Blackhawks coach Joel Quenneville confirmed the seriousness of Rozsival's injury, thought not in great detail:
If you're not having trouble keeping your lunch down yet, here's a close-up:
We hope Rozsival has a speedy recovery, and that his ankle always faces forward from now on.
(Thanks to Stephanie Vail, Dave Lozo, and the Chicago Blackhawks)