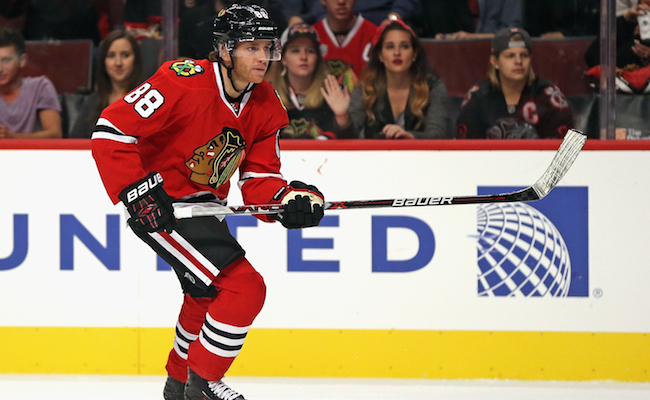 Despite all the weird twists and turns the Patrick Kane sexual assault investigation has taken since it began in early August, one thing is for certain – that investigation is still ongoing. Police are still attempting to determine if the 26-year-old Chicago Blackhawks superstar forced himself on and raped a 21-year-old woman in Buffalo this summer like the woman alleges.
That's why – despite the fact that Kane has yet to be charged by police or suspended by the NHL or his team – it's a bit odd that the Blackhawks would feature a bobblehead giveaway night to celebrate a star player who is currently being investigated for rape.
But here we are.
The team released its giveaway schedule for the upcoming season on Thursday, and January 24 will be Patrick Kane bobblehead night at the United Center in Chicago. As you can imagine, that decision was received with raised eyebrows. Regardless of whether or not Kane is ultimately charged with the heinous crime he's being accused of, the fact that the organization would plan (and publicly announce, nonetheless) a celebration for an employee who even faces the remote possibility of a rape charge not only seems unnecessary, but pretty callous as well.
To many, the Blackhawks came off as tone-deaf last month when they not only allowed Kane to attend preseason training camp, but led a misguided press conference in which they talked about the recent success of the team and requested the media direct only hockey-related questions at Kane.
Now, it seems they've doubled-down.
Even if Kane's name is cleared – which it very well might be at some point in the near future – this decision will still reflect pretty poorly on the Blackhawks, who seemingly have a lot more to lose than to gain by announcing the promotion right now.
(Via Vice Sports)