ATLANTA – Bradley Chubb knows what you want to ask before you ask it, so he'll get to the point. Yes, he's disappointed the Denver Broncos didn't make the playoffs. He's learned a lot from Von Miller, and he loves playing with him. He was proud of his rookie season and he's excited to enter his second year. Super Bowl week is a blur, but it's also a microcosm of our overwrought, brand-first society where if you aren't looking out for yourself, nobody is, and it's possible to see the same piece of information twisted and turned 100 different ways until it's barely recognizable anymore.
By the end of Super Bowl week, it's hard to remember your own name. But it'll be difficult to forget about Brandon Chubb heading into the 2019 NFL season.
Chubb was coveted enough by Denver that the Broncos traded up for him almost immediately after the Browns opted to select defensive back Denzel Ward at No. 4 overall. It's hard to call a Top 5 draft selection "slipping," but it almost felt like that. Chubb was a no-brainer pick, the type of can't-miss defensive talent that you can't overthink. And he rewarded the Broncos with 12 sacks, a number good for fifth all-time among rookie pass rushers.
While the season wasn't what he'd hoped from a wins standpoint — Denver went 6-10 and fired coach Vance Joseph at the end of the year — it was clear he was more than ready to put forth the same sort of effort he did at N.C. State under Dave Doeren. It didn't hurt he had a more than willing mentor in Miller, a former Super Bowl MVP.
At the adidas VIP suite on Friday, Miller didn't sugarcoat when asked what he expects out of the Broncos defense next season.
"We gonna wreck sh*t next year," Miller says, "me and Bradley Chubb."
UPROXX Sports got the chance to sit down with Chubb to discuss his new home in Denver, the strangeness of Super Bowl week, and more.

UPROXX Sports: With this trajectory of coming into this week where you have an opportunity to showcase your personality. You get the chance to meet with people. What's been the biggest thing you've learned from this week?
Bradley Chubb: That putting your personal brand, putting your personal twist on things is very important cause if you want to be successful off the field, you got a lot of people networking and stuff now. So, I feel like if you want to be successful off the field, this is the perfect opportunity to do it. I'm kind of a "to myself," quiet guy, so I've learned to be more open and show how I really am to people so they can build a connection with me.
Did you get any tips from anybody on that stuff? Obviously you've done media so you've prepared for that, but it's a different kind of media. It's one thing when you talk about the game, but then you start talking about yourself a little bit and your interests. It's not always easy to do that if you're a keep to yourself kind of guy.
Yeah, exactly. I had to continue to learn, and I'm still learning. I don't say I hide, but sometimes by the end of the day, I'm just letting it all out and just being myself. So, it's cool.
What was the biggest transition for you from college off the field into playing in Denver?
I think the fact that the mental aspect of the game, you know what I mean? In college I could get away with doing different things off of pure athleticism. I would study film and all that, but now it's to a whole other level. I feel like just having that fundamental edge and that mental edge on people is what makes you successful now in the league.
You know, Raleigh is a big city, but compared go Denver where it's night and day, what have you been able to do to find time for you and establish yourself and make a new home?
I've just been roaming the city, trying to get my bearings and all that. Make sure I try to see the mountains as much as I can because if I'm gonna be in Denver, I gotta see the mountains. I was telling somebody the other day, it would be a lot better if I wasn't an athlete in Denver because I could go skiing and do all the fun stuff, but right now, every time I'm up here, it's for business. It's still fun. I still go see the mountains every time I can. I got me a little spot. I watch film and over the mountains on it, so it's pretty cool.
It's tough to beat that view, even if you're not doing stuff. I finally got it the first time I moved to L.A. from Carolina, and I walk out my front door, and I can see those mountains. I've never had them before so I just look at them.
They're there. It's a little added scenery, so that's a plus.


I see that the hat for your foundation. Why is that so important to you, and what are you doing to help build it moving forward?
I feel like it's important to me because I just like to use my platform to help the youth, and even kids who aren't in the same situation I grew up in, whether it be underprivileged homes or whether it be their parents aren't together or whatever. Just trying to help those kids out as much as I can, because even though I can't make a connection to that, I remember going to Georgia Bulldog games all the time, and those athletes meant the world to me.
So I can imagine if a NFL player, me and my brother, go and talk to you and stuff like that, so I already know the impact it has. Just trying to make sure we continue to do that and then we just got different events planned. We got a camp. We got our entrepreneurship program going right now, so there's a lot of stuff goin on.
How did it get started?
Actually my brother pretty much started it. We both came up with the idea, but he pretty much put the plan into action because I was in college at the time. NCAA rules, you can't do all that stuff. So then when I got out of school, we kept collaborating on different ideas and stuff like that. Then we had our first camp, and it's just been rolling since then.
What's it mean having the Super Bowl down here in Georgia specifically? It's an opportunity for Atlanta to shine, it actually feels like the city has beaten the brands, which is hard.
Yeah, for sure. When it comes to Atlanta, I feel like what we pride ourselves on is the culture. Everybody getting a chance to be around it, be a part of it, is pretty cool.
Outside of taking time to yourself and trying to learn things, what are your favorite things to do outside of football?
Play video games, relax, keep my feet up as much as I can. That's pretty much it, honestly. I don't like to do none of that other fishing, hunting and all that. I'm good. I just like chillin'.
What's your go-to game?
2K.
2K?
2K or FIFA.
Who's your team in 2K?
I usually go randoms, but if I had to pick, I like to go with the Trail Blazers. Damian [Lillard]'s nice on 2K. C.J. [McCollum]'s got that outside shot too.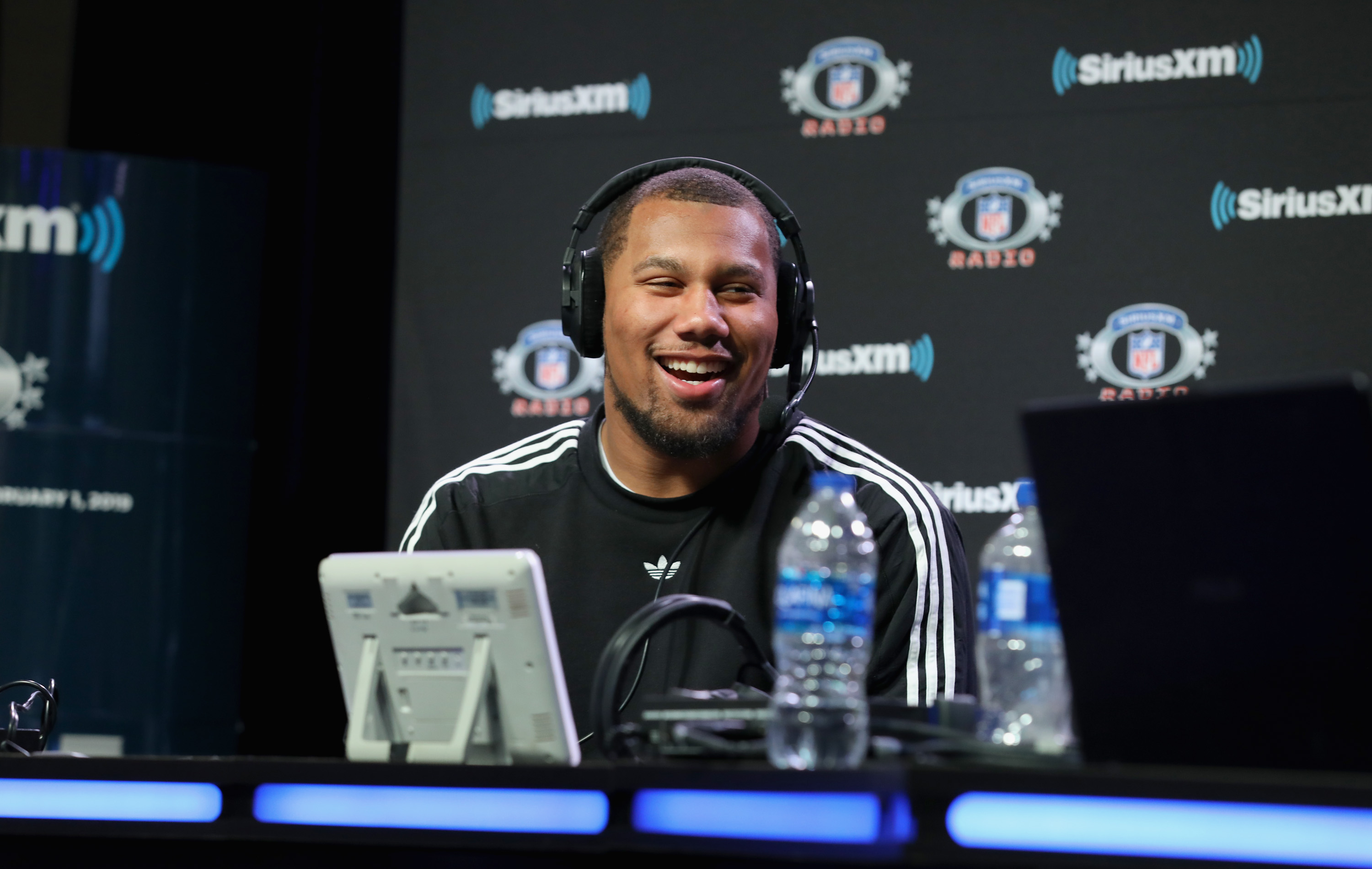 What got you started playing 2K?
I always liked watching basketball, but never was really good at it, honestly. I never really played it. I always been a fan of the game so it's just cool seeing and being able to play it. And football, I feel like, I don't want to say it's too hard to play, but you can just pick up the basketball game. You can do whatever. In football, you gotta have a game plan, all that stuff. That's what made me start liking 2K a little bit better.
You still follow the league?
The NBA?
Yeah.
As much as I can. Right now in the off-season I'm trying to a little bit more, but once the season starts up there's not really much I can do.
Yeah, you're so busy.
Yeah, yeah, yeah, but as much as I can though.
You got a team that's yours, that you followed growing up?
I mean, growing up in Atlanta, I followed the Hawks.
You're a Hawks guy?
And I've been a Kevin Durant fan since he got into the league, so even though people don't like it, I cheer for the Warriors just because Kevin Durant's there.
He might be in New York next year.
Yeah, yeah, yeah.
So you just follow him.
I'll just follow him.
You ever met him?
Nah, I never have met him. Not yet. But that'd be pretty cool if I did.
What's been your coolest person you've met, whether another athlete in another sport or somebody that's retired or even a celebrity?
I would say in football it'd probably be … I met a lot of legends, man. Brian Urlacher was probably up there, and Ray Lewis. DeMarcus Ware this year. A lot of people. And then today I actually met Aly Raisman, the gymnast. So I talked to her. I was a little starstruck when I saw her. I remember when she was in the Olympics and all that. So that was pretty much the coolest person I've met.
Uproxx was hosted by adidas for this story. You can find out more about our policy on press trips/hostings here.