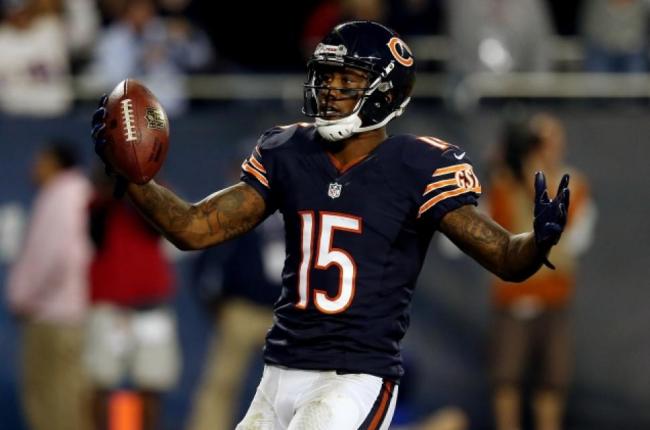 The Chicago Tribune is reporting that the Bears are exploring the possibility of trading wide receiver Brandon Marshall. If he is not traded or released before March 12, his $7.5 million base salary for 2015 becomes guaranteed.
Marshall will be 31 this year and is coming off a season in which he finished with only 61 catches for 721 yards and eight touchdowns, his least productive season since he was a rookie in 2006. In addition to his streak of seven consecutive 1,000-yard seasons coming to an end, he also made headlines throughout the year for several off-the-field incidents, including a verbal spat with a Chicago sports radio host, challenging a Lions fan to a boxing match, a locker-room shouting match with his kicker, and that odd press conference where he spent 30 minutes or so discussing his past domestic violence accusations.
With this news of the Bears seeking trade possibilities, Marshall remaining a Bear seems unlikely. At this point, finding a trade partner would be the best-case scenario for new GM Ryan Pace. And according to the Tribune, releasing him would create only $3.95 million in cap space while leaving the team on the hook for $5.6 million in dead money.